I didn't grow up in a big city, but I have become a lover of all things big city—endless things to do, people watching, public transit (most of the time) and more. Interning in New York during college was my first non-Midwestern big city experience. Weekends were spent exploring on foot or by subway. While wandering around Soho I discovered the meticulously stocked shelves at gourmet food emporium Dean & Deluca. Not the spot for a student budget, but I left with a black & white cookie in hand, a modest purchase.
More mini-cake than crisp cookie, I was hooked after a nibble through the two-tone frosted shell. The subtle lemon flavor of the cookie surprised me perfectly offsetting the sugary sweetness of the vanilla and chocolate icing. Wanting to recreate that excitement, I attempted homemade black & whites. The batter came together like most other cookies except with cake flour for the tender crumb. Not fussed with flawless frosting, the cookies were complete in a flash leaving me impatiently waiting for the icing to harden before taking that first bite.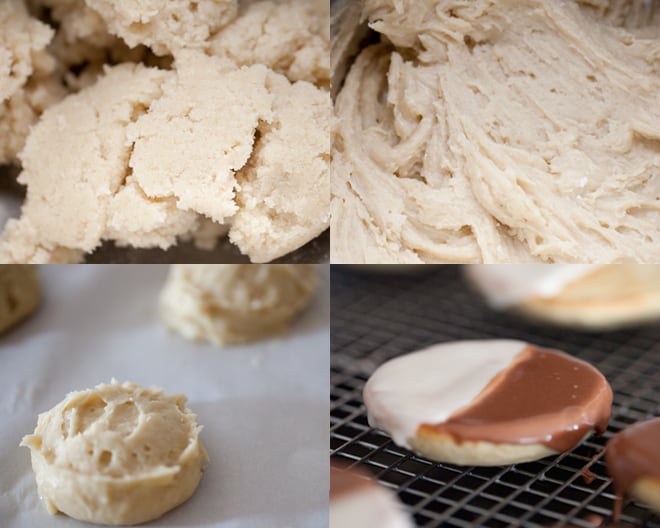 Black and Whites
Adapted from Butter Sugar Flour Eggs by Gale Gand
Makes 12 cookies
1 stick (8 tablespoons) unsalted butter
1 cup granulated sugar
2 large eggs
1/2 cup whole or 2% milk
1/2 teaspoon vanilla extract
1/8 teaspoon lemon extract
1-1/4 cups cake flour
1-1/4 cups all-purpose flour
1/2 teaspoon baking powder
1/4 teaspoon salt
For the icing
4 cups confectioners' sugar
7 tablespoons whole or 2% milk
1 teaspoon vanilla extract
2 tablespoons cocoa powder
Preheat the oven to 350 degrees F.
In the bowl of a stand mixer with the paddle attachment or using a hand mixer cream the butter and sugar until the mixture is smooth and pale. Add the eggs, milk, vanilla extract and lemon extract and mix until fully incorporated.
Sift together the cake flour, all-purpose flour, baking powder and salt in a medium bowl. Add the dry ingredients to the wet ingredients and mix until just combined.
With an ice-cream scoop, place portions of dough on a parchment lined sheet pan. Using a spatula spread the dough into 5-inch diameter circles about 3/8-inch thick keeping the cookies 2 inches apart. Bake for 20 minutes until the edges are light golden brown. Cool completely on a wire rack.
For the icing, mix the sugar, 6 tablespoons milk and vanilla extract in a medium bowl until smooth. Turn the cookies, so the flat sides are facing up on the wire rack. Spread the vanilla icing on one half of all the cookies. Add the cocoa powder and 1 tablespoon milk to the remaining icing. Spread the chocolate icing on the other halves of the cookies. Allow them to set for 30 minutes at room temperature until the icing has hardened.