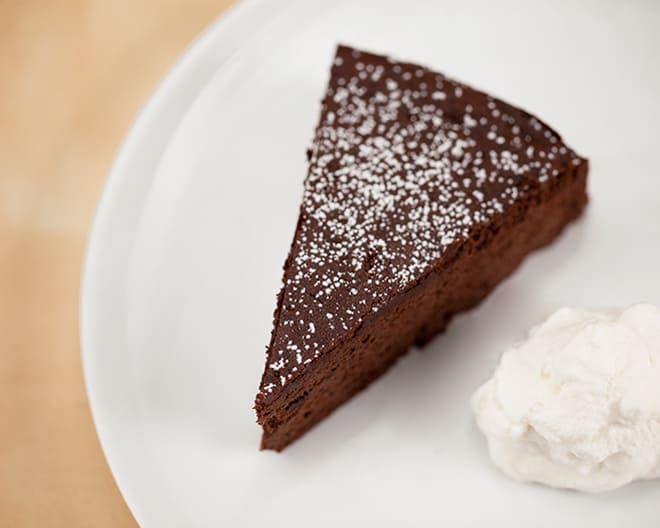 It is no secret that I am a big fan of dessert. My sweet tooth lacks the ability to tell time, and I have been known to nibble on dessert at breakfast. Chocolate in any form is my indulgence of choice, but I have been faced with fudgy creations far too rich for enjoyable consumption even when shared with my husband J., a fellow dessert and chocolate enthusiast. Based on past experience, I approach flourless chocolate cake with caution considering its decadent and dense tendencies.
Wanting a more petite version of the colossal slices served at restaurants, I baked a flourless chocolate cake sans layers and frosting, and I whipped up homemade almond cream to accompany it. Time spent whisking egg whites into soft weightless peaks made for a delicate crumb. The cake was lush and chocolaty balanced with the nuttiness of the whipped cream. I am still hesitant about flourless chocolate cake when dining out, but I will add it to my repertoire at home.

Flourless Chocolate Cake
Adapted from Everyday Food January/February 2004
Serves 8
6 tablespoons unsalted butter plus more for pan
8 ounces bittersweet chocolate, coarsely chopped
6 large eggs, separated
1 teaspoon vanilla extract
1/2 cup granulated sugar
Confectioners' sugar for dusting
For the almond cream
1 cup heavy cream
1 tablespoon confectioners' sugar
1 teaspoon vanilla extract
1/4 teaspoon almond extract
Preheat the oven to 275 degrees F.
Butter the bottom and sides of a 9-inch springform pan.
In a medium saucepan bring 1 inch of water to a low simmer. Place the butter and chocolate in a heatproof bowl over the saucepan without the water touching the bottom of the bowl. Stir frequently until the mixture is fully melted. (Alternatively, melt the  butter and chocolate in the microwave in 30-second blasts stirring to distribute the heat.) Allow the chocolate mixture to cool slightly before mixing in the egg yolks.
In a medium bowl whisk the egg whites until they form soft peaks. Add the granulated sugar and continue whisking until stiff peaks form.
Fold half the egg whites into the chocolate mixture until fully incorporated and then fold in the remaining egg whites.
Transfer the batter to the prepared pan and smooth the top with a spatula. Bake the cake for 45-50 minutes until it pulls away from the sides of the pan. Allow the cake to cool completely before removing from the pan.
For the almond cream, whisk together the heavy cream, confectioners' sugar, vanilla extract and almond extract in a chilled bowl until soft peaks form.
Dust the cake with confectioners' sugar before serving at room temperature with almond cream.