Slow Roasted Tomato Zucchini Orzo

When it is warm outside I expect the farmer's market to be filled with a bounty of fruit and veg all the time, but I should know better considering how small the tomato plants are in their containers on our back deck. I realize it is going to feel like an eternity, and my impatience gets the best of me. I end up buying tomatoes from the grocery store because I just can't wait until August. As much as I want to stay true to the harvest, I break down at the grocery where there is no such thing as out-of-season.
To make up for often lackluster tomatoes and to extend their shelf life, I slow roast them. After being drizzled in olive oil and seasonings and cooked low and slow in the oven, those mediocre tomatoes become packed with personality. They are perfect for salads, pasta, sandwiches or pizza. This slow roasted tomato orzo came together in one of those unplanned moments when I was pondering the contents of the fridge and pantry in hopes of coming up with a healthy meal, and it certainly delivered big on flavor.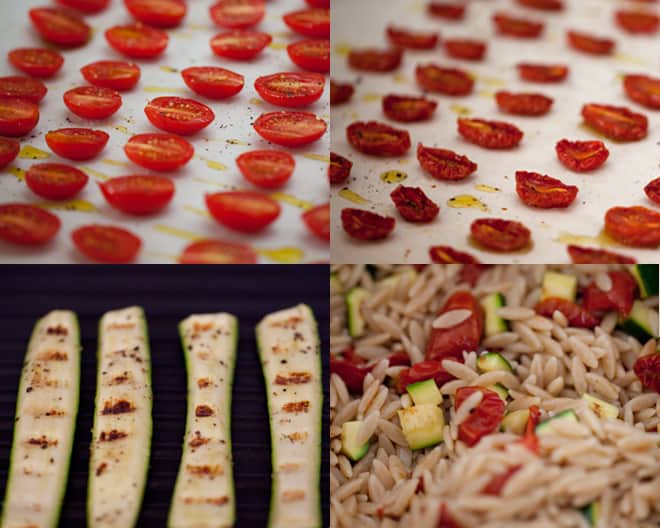 Slow Roasted Tomato Zucchini Orzo
Serves 2-3
For slow roasted tomatoes
1 cup grape tomatoes, halved lengthwise
1 tablespoon olive oil
1/4 teaspoon kosher salt
1/4 teaspoon black pepper
For orzo
1 cup whole wheat orzo
1 zucchini, trimmed, quartered lengthwise and deseeded
3 tablespoons plus 1 teaspoon olive oil
3 garlic cloves, peeled and smashed
1/4 teaspoon kosher salt plus more for cooking water and seasoning
1/4 teaspoon black pepper plus more for seasoning
4 ounces goat cheese, crumbled
1/4 cup fresh basil, thinly sliced
Preheat the oven to 225 degrees F.
For the slow roasted tomatoes, place the tomato halves in rows cut side up on a parchment lined sheet pan. Drizzle with olive oil and sprinkle with salt and pepper. Roast the tomatoes for 2 – 2-1/2 hours until they are wrinkled and mostly dried except for a little juice in the center. (The tomatoes can be made up to 3 weeks in advance. Store in the refrigerator.)
For the orzo, bring 2 quarts of salted water to a boil in a large saucepan. Cook the orzo until al dente following package instructions. Drain and set aside.
Preheat a grill pan over medium high heat. Toss the zucchini with 1 teaspoon olive oil, salt and pepper. Grill the zucchini flesh side down for 4 minutes until grill marks appear. Turn the zucchini skin side down and grill for an additional 3 minutes. Let the zucchini cool slightly and dice into 1/4-inch pieces.
In a skillet heat the remaining olive oil over medium high heat. When the oil is shimmering add the garlic and sauté for 3 minutes until the oil becomes fragrant. Remove the skillet from the heat and set aside. (If you are using slow roasted tomatoes that have been stored in the refrigerator, sauté for 1 minute with the garlic to warm them.)
In a large bowl combine the orzo with the tomatoes and zucchini. Remove the garlic from the oil and toss the oil with the orzo mixture. Add the goat cheese and basil and season to taste.
Note: Orzo can be served warm, room temperature or cold. If served cold, it will likely require more seasoning to bring out the flavors of the dish.
SaveSave