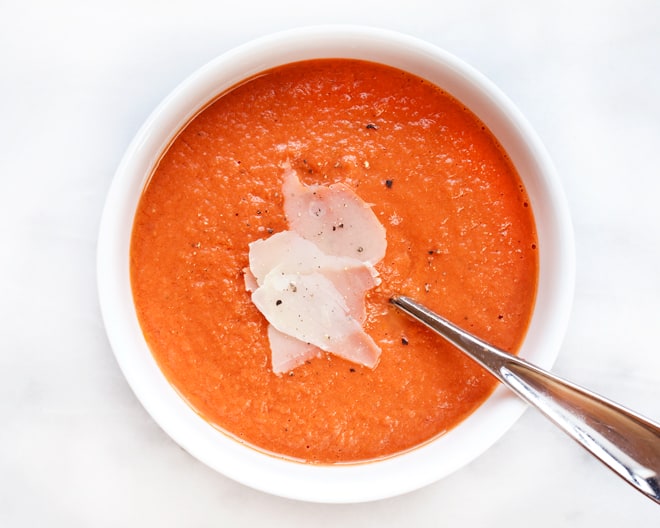 It has taken me lot of time in the kitchen to be able to cook without the security of a recipe as a guide. When I first got into making things from scratch, I needed that reassurance, but now I have the confidence to go on my own. Of course there have been disasters and inedible meals along the way, but those experiments have helped me figure out the basics of certain foods especially soup.
I usually sauté onions and garlic, add a feature vegetable, simmer with stock and puree. Rather than sticking with my routine method, I put halved canned tomatoes, onion wedges and garlic cloves in the oven where they had time to develop a complex, concentrated flavor. I enjoyed this roasted tomato soup so much that no matter canned or fresh I don't think I will make tomato soup any other way again.
Roasted Tomato Soup
Serves 2
1 tablespoon olive oil
1-28 ounce can whole peeled tomatoes, halved, juiced reserved
1 small white onion, quartered
4 garlic cloves, smashed & peeled
1/2 teaspoon dried oregano
1/2 teaspoon dried thyme
Pinch red pepper flakes
1 teaspoon kosher salt
1/2 teaspoon black pepper
1/2 cup water
Parmesan cheese for garnish
Crusty bread for serving
Preheat the oven to 375 degrees F.
In a rectangular baking dish, drizzle the olive oil and arrange the tomatoes, onions and garlic in a single layer. Season with oregano, thyme, red pepper flakes, salt and pepper. Roast for 35-40 minutes until the tomatoes turn darker red and the garlic is light golden brown.
Puree the roasted tomatoes, onions and garlic in a blender. Transfer to a medium saucepan and add the reserved tomato juice and water. Warm the soup over medium high heat to desired temperature.
Garnish with Parmesan and serve with crusty bread.
SaveSave
SaveSave