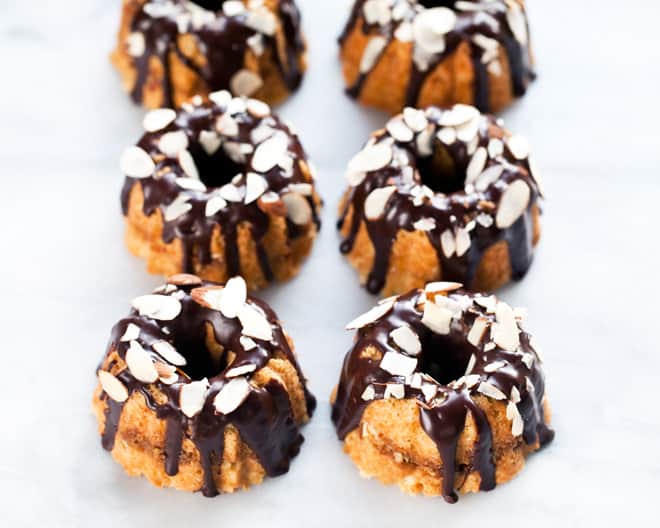 With Valentine's Day coming up I felt obligated to bake something extra special. This year I had trouble figuring out what I wanted to tackle. After hours spent browsing my bookshelf and online, I decided I should use a much-neglected gadget or tool in my kitchen and that the recipe should involve chocolate. This strategy helped narrow down all the options.
I've had a mini bundt pan in my cabinet for years, and I think I've only used it twice. For some reason it has survived multiple kitchen purges. I dusted it off to bake these mini almond bundt cakes drizzled with bittersweet chocolate ganache. The cakes were dotted with almonds and flavored with almond extract. I am pretty sure they won't last until the 14th!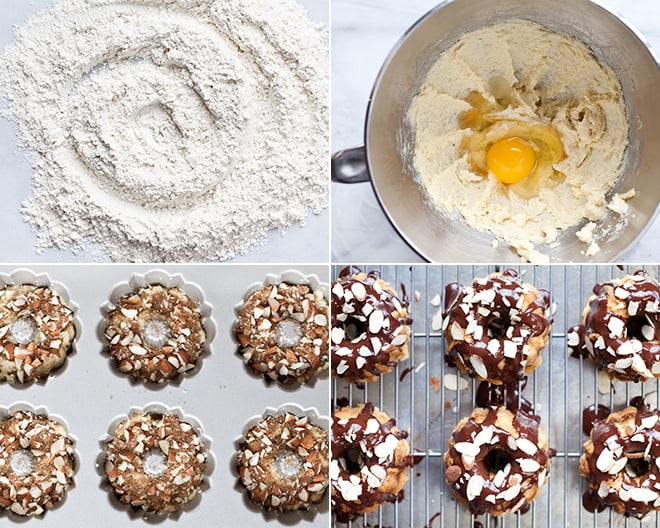 Mini Almond Bundt Cakes
Adapted from Martha Stewart Living May 1998
6 tablespoons unsalted butter at room temperature plus more for pan
1/4 cup sliced almonds
1/3 cup roughly chopped almonds
4 tablespoons packed light brown sugar
1-1/2 cups all-purpose flour
1 teaspoon baking powder
1/2 teaspoon baking soda
1/4 teaspoon salt
3/4 cup granulated sugar
1 large egg
1 teaspoon vanilla extract
1/2 teaspoon almond extract
3/4 cup sour cream
1/2 cup heavy cream
4 ounces bittersweet chocolate, finely chopped
Preheat the oven to 350 degrees F. Grease six mini bundt pans with butter. Spread the sliced almonds on a sheet pan and toast in the oven until golden brown, about 5-7 minutes. Set aside to cool. In a small bowl combine the chopped almonds and brown sugar.
In a medium bowl, sift together the flour, baking powder, baking soda and salt.
In a stand mixer fitted with the paddle attachment, cream the butter and granulated sugar until light and fluffy, about 3 minutes. Beat in the egg, vanilla extract and almond extract until combined. Add a third of the flour mixture and half the sour cream and beat until just combined and repeat and finish by folding in the last of the flour.
Spoon 3 tablespoons of batter into each bundt pan and smooth into an even layer. Sprinkle 2 tablespoons of the chopped almonds on top and cover with an additional 3 tablespoons of batter. The batter should be about a half inch from the rim.
Bake the cakes until golden brown and a toothpick inserted in the center comes out clean, about 20 minutes. Let the cakes cool completely on a wire rack before unmolding them. Arrange the cakes on the wire rack on top of a sheet pan.
Place the chocolate in a small bowl. In a small saucepan, heat the heavy cream until it is very hot and bubbles start appearing at the edges. Pour over the chocolate. Let the mixture sit for 1 minute before stirring until smooth.
Drizzle the chocolate over the cakes and sprinkle with slivered almonds. Let the chocolate set before serving.