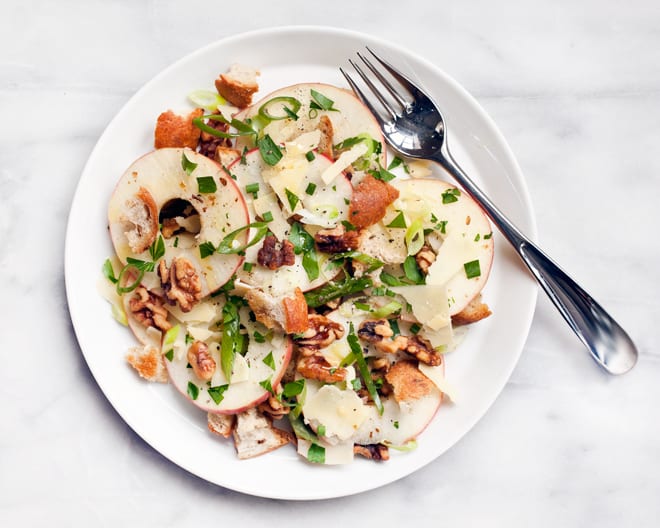 Happy first day of spring! Even though winter hasn't been that bad, I am still hoping that a magical switch will get flipped turning on warm sunshine. A better selection of fruits and vegetables would be nice, too. I know I am asking for a bit much, and I should try to be more patient. I just can't wait for May, when it really feels like spring.
For now, I am alternating between soup and salads depending on what coat I am wearing—puffy or trench—and my mood. With a surplus of my favorite kind of apple, the Pink Lady, I made this apple walnut rye salad. It was snappy, crispy, and I loved the toasty crumbs of rye bread along with scallions, chives and lime juice.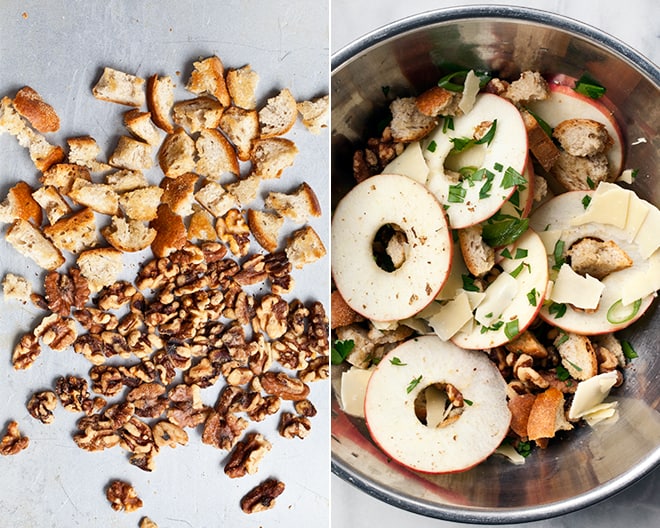 Apple Walnut Rye Salad
Adapted from Bon Appetit September 2013
Serves 4
4 slices rye bread, torn into small pieces
3 tablespoons olive oil
1/2 teaspoon kosher salt plus more to taste
1/2 teaspoon black pepper plus more to taste
1/2 cup walnut halves
2 Pink Lady apples, cored and sliced into rings
1 ounce shaved white cheddar
3 scallions, thinly sliced
1 tablespoon parsley, roughly chopped
1 tablespoon minced chives
juice of 1 lime
Preheat the oven to 350 degrees F.
Place the rye bread on a sheet pan and toss with 1 tablespoon olive, salt and pepper. Bake until light brown and toasted, about 12-15 minutes. In the last 6-8 minutes of cooking, add the walnuts to the sheet pan, baking until golden. Let cool.
In a large bowl, combine the toasted rye bread, walnuts, apples, cheddar, scallions, parsley and chives. Toss in the lime juice and remaining olive oil. Season with salt and pepper to taste.