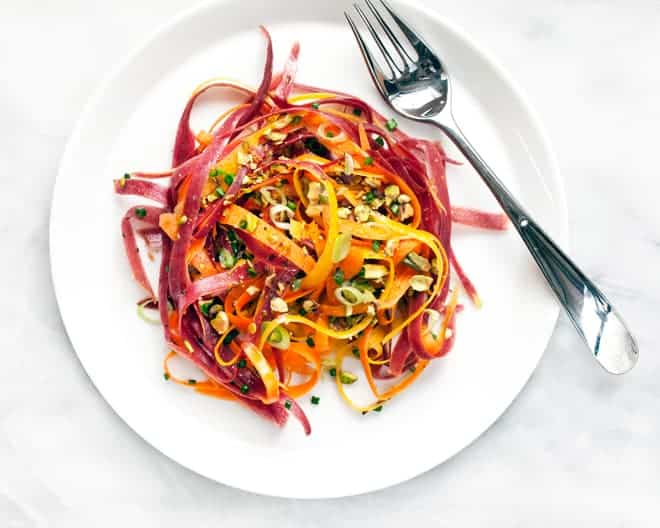 My closet and my pantry have two very different color schemes. I am an interior designer who works at an architecture firm, so I tend to stick to the unofficial uniform of black and gray. It's been this way for so long that I don't think I look good in anything other than cool neutrals anymore, and when I wear the one of the few pieces of colored clothing that's still hanging around I don't feel like me.
When I shop for ingredients, it's the complete opposite of my wardrobe. I can't get enough brights, the more saturated the better. I nearly cut off someone at the grocery when I spotted multihued carrots across the produce department. I made a crunchy rainbow carrot salad by peeling them into ribbons and tossing them with pistachios, chives and scallions in a cumin-spiced vinaigrette.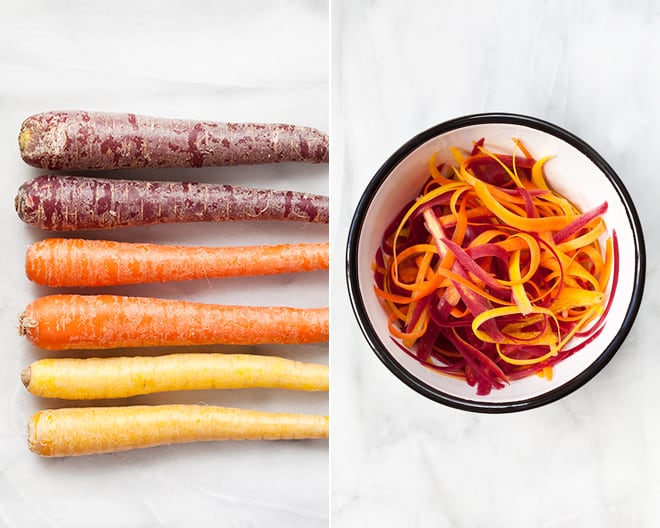 Rainbow Carrot Salad
Serves 4
1 tablespoon fresh lemon juice
1/4 teaspoon cumin
1/4 teaspoon salt
1/4 teaspoon pepper
3 tablespoons olive oil
6 rainbow carrots, peeled
1/4 cup chopped salted roasted pistachios
1 tablespoon minced chives
1 scallion, thinly sliced
In a small bowl, whisk together the lemon juice, cumin, salt, pepper and olive oil. Using a vegetable peeler, cut the carrots into long ribbons. Toss the carrots with the vinaigrette, pistachios, chives and scallions.