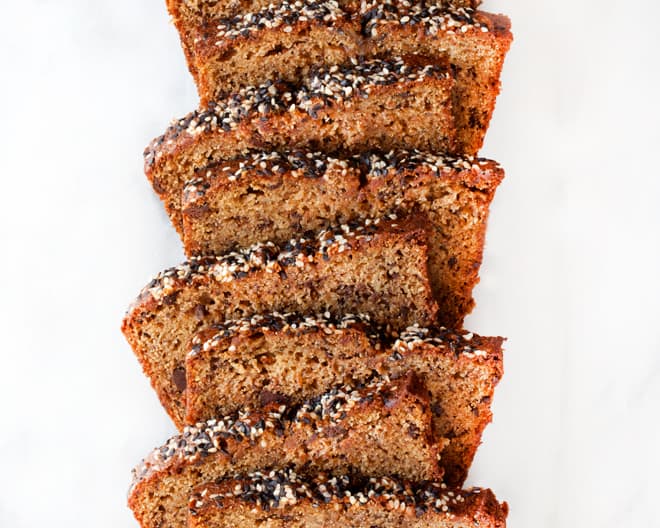 My husband and son are regulars at the coffee shop. It's part of their weekend routine to stop by for a cappuccino and a banana nut muffin. Our little one will pick the walnuts out of the muffin and devour the rest himself. Even sharing a bite can be a challenge, but I can't blame him for being so possessive. They are really good muffins, and it's hard not to like banana baked goods.
Since the habit began, I've tried to bake banana bread at home, but my three-year-old hasn't been interested. I still haven't figured out why, but I finally had success when I baked a loaf of tahini banana bread. Maybe it was the bittersweet chocolate flecks dotting each slice that did it for him. With white whole-wheat flour and yogurt, this was a somewhat lightened version of the usual banana loaf.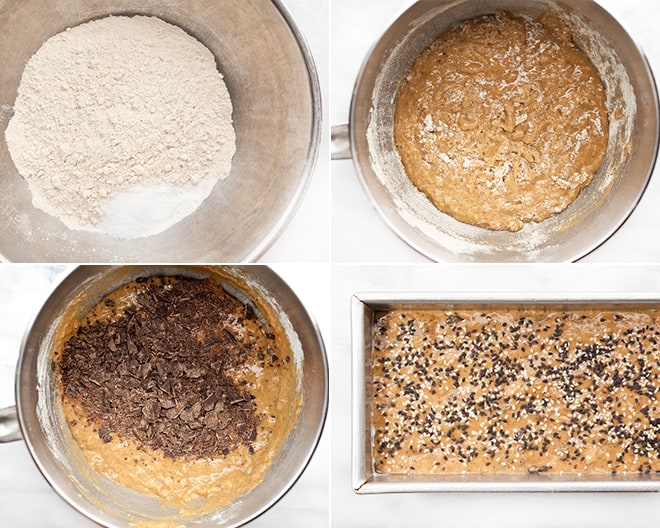 Tahini Banana Bread
Adapted from Cooking Light May 2017
Makes 1 loaf
Non-stick cooking spray
6 ounces white whole-wheat flour (about 1-1/2 cups)
3/4 teaspoon baking soda
1/2 teaspoon kosher salt
1-1/2 cups mashed ripe banana (about 3 bananas)
1/3 cup plain nonfat yogurt
1/2 cup tahini, well stirred
3 tablespoons unsalted butter, melted
1 teaspoon vanilla extract
2 large eggs
1/2 cup granulated sugar
1/2 cup packed light brown sugar
1 teaspoon white sesame seeds
1 teaspoon black sesame seeds
2 ounces bittersweet chocolate, finely chopped
Preheat the oven to 350 degrees F. Grease a 9-by-5-inch loaf pan with non-stick cooking spray.
In a medium bowl, combine the flour, baking soda and salt. In a large bowl, use an electric mixer on medium speed to beat together the bananas, yogurt, tahini, butter, vanilla extract and eggs. Beat in both sugars until combined. Fold the dry ingredients into the wet ingredients and transfer to the prepared loaf pan. Sprinkle the top with sesame seeds.
Bake for 50-55 minutes until a toothpick inserted in the center of the loaf comes out clean. Cool in the pan for 10 minutes before transferring to a wire rack to cool completely.