Roasted Rainbow Cauliflower

As expected, the grocery was a total madhouse the day before Thanksgiving. I thought I was playing it smart getting there before 10am, but everyone else had the same brilliant idea. My three-year-old and I navigated the aisles avoiding traffic jams. With my list in hand, I tried to stay focused, but I got distracted when I spotted cauliflower in every color. I threw three heads in our cart figuring I would make roasted rainbow cauliflower.
I didn't get around to it until after the holiday, so I had no excuse just to roast all those florets. Instead I made crispy cumin chickpeas alongside the cauliflower, and then whisked together lemon tahini dressing. It turned out to be so much more than just a side. Combined with a bowl of quinoa, this cauliflower-chickpea combo became a fresh vegan lunch, much-needed after our Thanksgiving feast.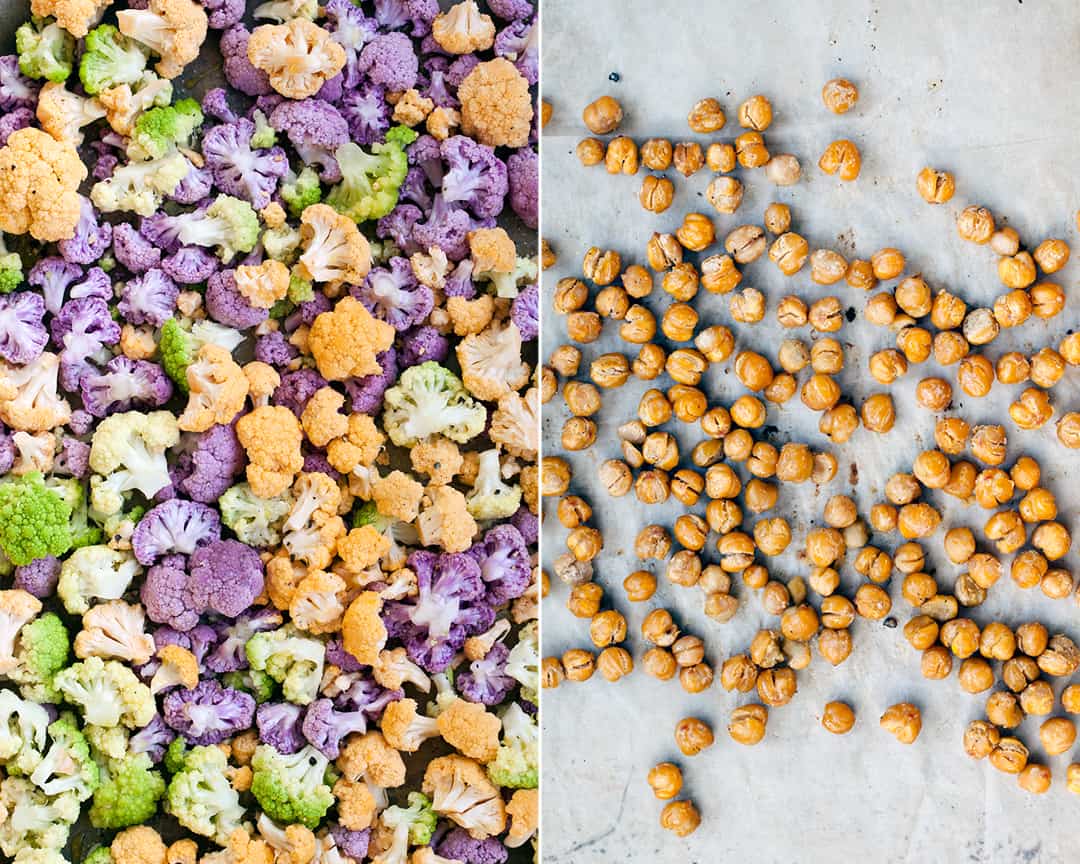 Roasted Rainbow Cauliflower 
Serves 4
For chickpeas
1-15 ounce cans chickpeas
Juice of 1/2 lemon
1 teaspoon olive oil
1/4 teaspoon ground cumin
1/4 teaspoon kosher salt
1/4 teaspoon black pepper
For cauliflower
1 pound cauliflower florets (orange, purple & green)
1 tablespoon olive oil
1 teaspoon kosher salt
1/4 teaspoon black pepper
For dressing
3 tablespoons tahini
Juice of 1/2 lemon
3 tablespoons water
1 garlic clove, minced
1/2 teaspoon kosher salt
1/4 teaspoon black pepper
For serving
1 scallion, thinly sliced
1 tablespoon minced chives
1/4 cup pomegranate seeds
1/4 cup roughly chopped salted pistachios
Preheat the oven to 400 degrees F. Line two sheet pans with parchment.
Drain and rinse the chickpeas. Pat them dry with paper towels and remove any loose outer skins. In a small bowl, whisk together the lemon juice, olive oil, cumin, salt and pepper. Stir in the chickpeas. Use a slotted spoon to transfer them to one of the prepared sheet pans.
Place the cauliflower in a single layer on the other prepared sheet pan. Toss with olive oil salt and pepper.
Bake the chickpeas and cauliflower for 25 – 30 minutes until the chickpeas are crisp and golden brown, and the cauliflower is starting to brown at the edges.
For the dressing, whisk together the tahini, lemon juice, water, garlic, salt and pepper in a small bowl.
In a large bowl, combine the chickpeas, cauliflower, scallions, chives, pomegranate seeds and pistachios. Drizzle with the tahini dressing before serving.
SaveSave
SaveSave
SaveSave
SaveSave