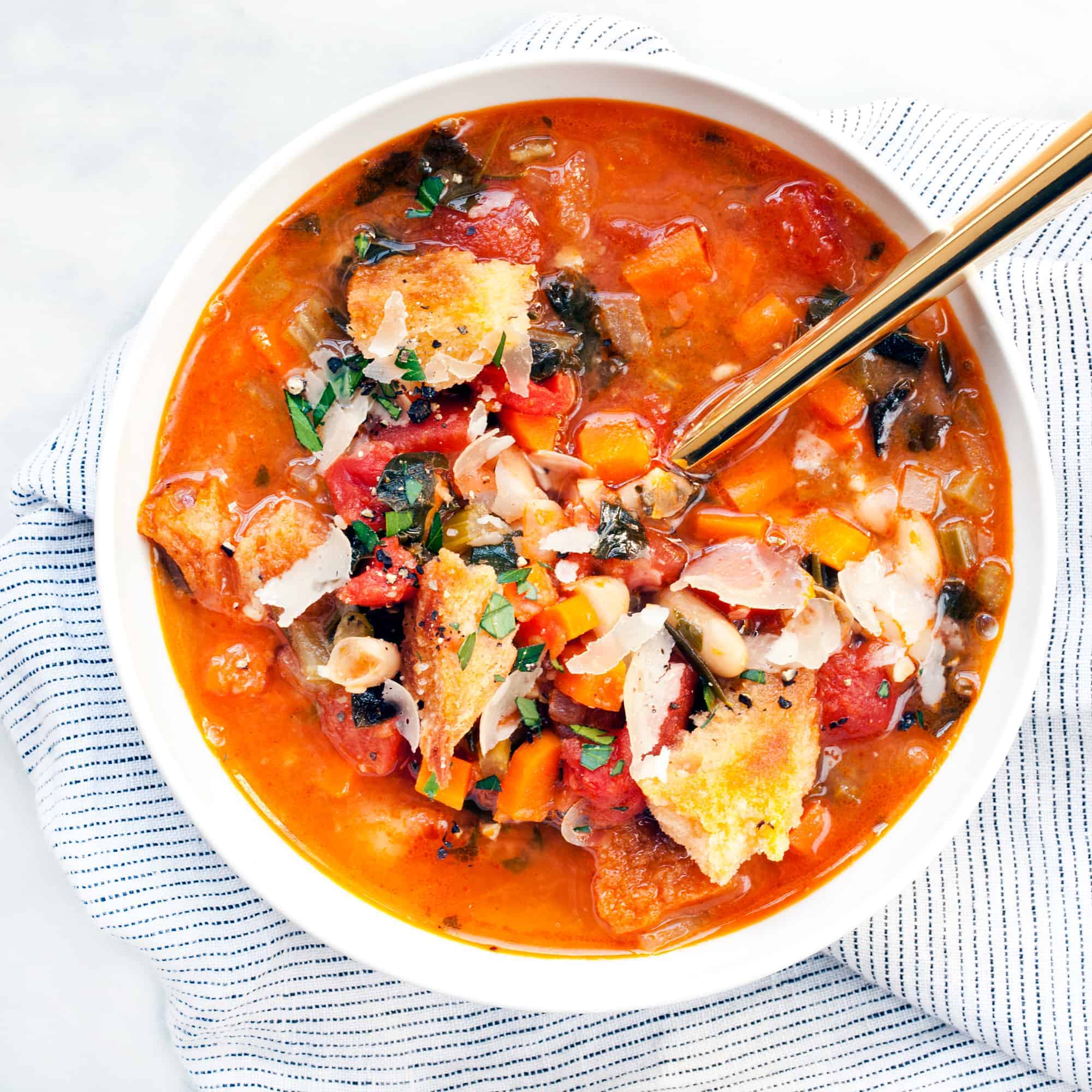 Life has felt pretty hectic ever since a few days before Thanksgiving. Our little guy turned 4 over the weekend, so post-holiday it's been party planning and celebrating with family & friends. It feels like a break to put my feet up, collect my thoughts and write this post. Between baking treats and everything else, I didn't have much time to cook, so I made a dump-it-all-in-the-pot kind of meal—Tuscan ribollita soup.
If you've never had ribollita, it's a hearty tomato-based soup thickened with leftover bread. Each spoonful is loaded with vegetables like onions, celery, carrots and cannellini beans. I added a little shaved Parmesan on top before I ate that first bowl. Knowing I was going to stretch this soup over a few days, I saved some of the bread to add each time I reheated the soup on the stove.

Tuscan Ribollita Soup 
Serves 4
3 slices crusty bread, torn into pieces
1-1/2 teaspoons kosher salt
3/4 teaspoon black pepper
2 tablespoons olive oil
1 white onion, roughly chopped
2 celery stalks, roughly chopped
3 carrots, trimmed, peeled & roughly chopped
3 garlic coves, minced
1/4 teaspoon red pepper flakes
1 tablespoon tomato paste
1 cup roughly chopped kale, stems removed
1-15 ounce can diced tomatoes
1-15 ounce can cannellini beans, rinsed and drained
4 cups vegetable stock
2 sprigs fresh rosemary
1 bay leaf
Shaved Parmesan for serving
1 tablespoon chopped fresh parsley
Preheat the oven to 400 degrees F. Toss the bread, 1 tablespoon olive oil, 1/2 teaspoon salt and 1/4 teaspoon black pepper on a sheet pan and spread into a single layer. Bake for 12-15 minutes until toasted and golden brown.
Heat the remaining olive oil in a large saucepan over medium high heat. Sauté the onions, celery and carrots until they start to soften, about 3-5 minutes. Add the garlic and cook for another minute until fragrant. Stir in the red pepper flakes, tomato paste and remaining salt and pepper. Then add the kale and tomatoes. Using a fork, mash about 1/4 cup of the beans before adding the mashed beans and the whole beans into the saucepan. Add the stock, rosemary and bay leaf. Bring everything to a boil before reducing the heat and simmering for 20-25 minutes.
Remove the rosemary sprigs and bay leaf and discard. Add about a third of the bread and continue simmering until the bread softens and starts to thicken the soup, about 5 minutes. Before serving, top each bowl with pieces of the remaining bread, Parmesan and parsley.
SaveSave
SaveSave
SaveSave
SaveSave
SaveSaveSaveSave