Whole Wheat Chocolate Chip Cookies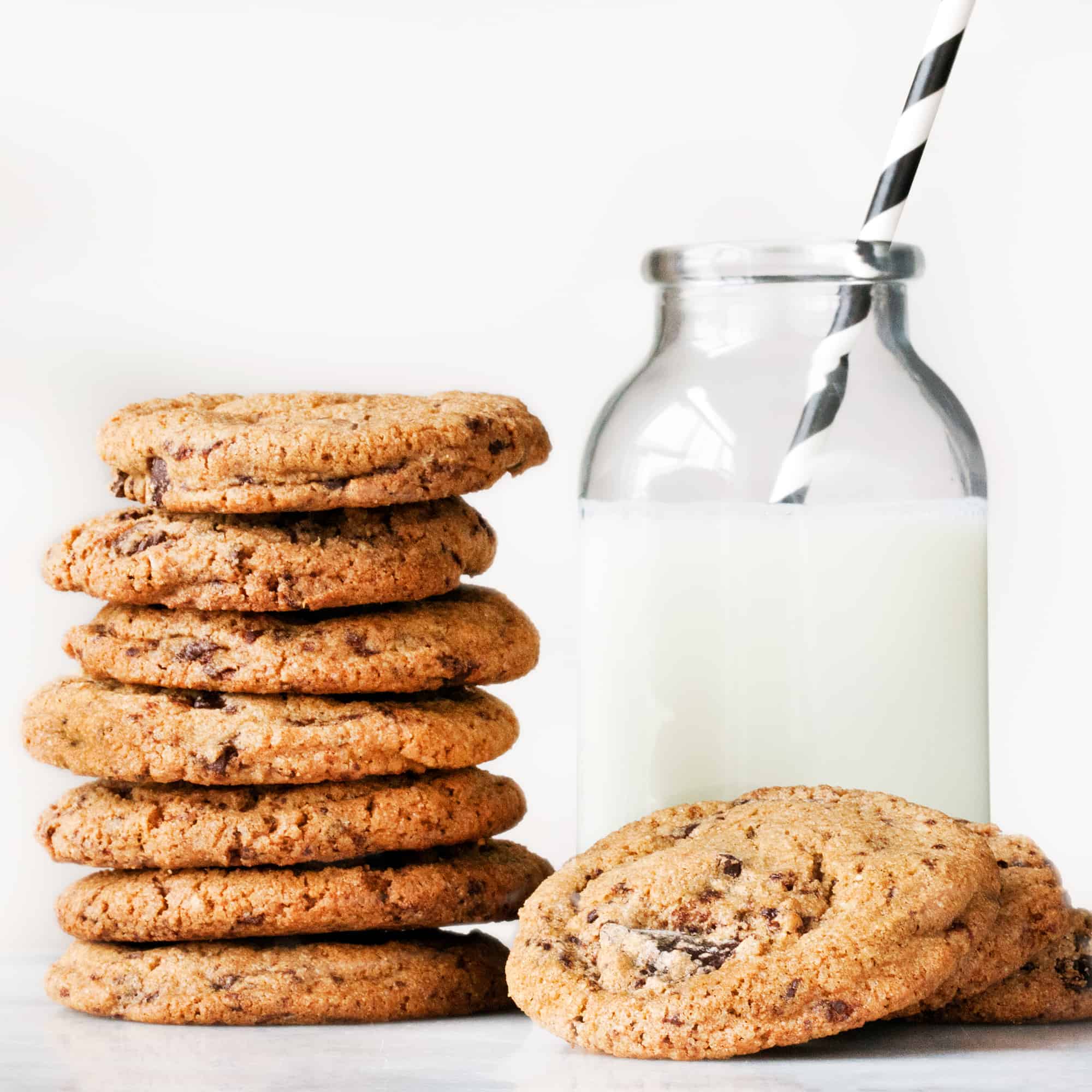 There are infinite variations of chocolate chip cookies even though all of them start with the same basic ingredients. I went through an obsessive phase baking batch after batch, tweaking and adjusting, in an effort to make the perfect cookie—an impossible task. I usually stick to all-purpose flour, but I decided to give whole wheat chocolate chip cookies a try.
After beating together the butter, sugar, eggs and vanilla extract, I mixed in the sifted dry ingredients followed by the chocolate chunks. Per usual, I couldn't resist sampling a little raw dough before scooping it onto the pans. The cookies turned out to be a wonderful combination of chewy and crisp. They were practically begging to be dipped into a glass of cold milk.

Whole Wheat Chocolate Chip Cookies
Adapted from Food 52
Makes about 36 cookies
3 cups whole wheat flour
1-1/2 teaspoons baking powder
1 teaspoon baking soda
1-1/2 teaspoons kosher salt
8 ounces (2 sticks) cold unsalted butter, cut into 1/2-inch pieces
1 cup dark brown sugar
1 cup granulated sugar
2 large eggs
2 teaspoons vanilla extract
8 ounces bittersweet chocolate, roughly chopped into 1/4 and 1/2-inch pieces
Preheat the oven to 350 degrees F. Line two sheet pans with parchment paper.
Sift the whole-wheat flour, baking powder, baking soda and salt into a large bowl. Stir in any larger grains caught in the sifter back into the dry ingredients.
Beat the butter and sugars in the bowl of a stand mixer fitted with the paddle attachment until fully combined, about 2 minutes. Use a spatula to scrape the sides of the bowl. Beat in the eggs one at a time followed by the vanilla extract. Dump the dry ingredients into the wet ingredients and mix on low until just combined, about 30 seconds. Add the chocolate and mix on low speed until incorporated.
Scoop the dough into 2-tablespoon-sized balls, and place them on a sheet pan spacing about 3 inches apart. Bake for 16-20 minutes, rotating halfway through baking, until they are deep brown. Slide the cookies on the parchment onto the counter to cool.
Store the cookies in an airtight container.
SaveSave
SaveSave