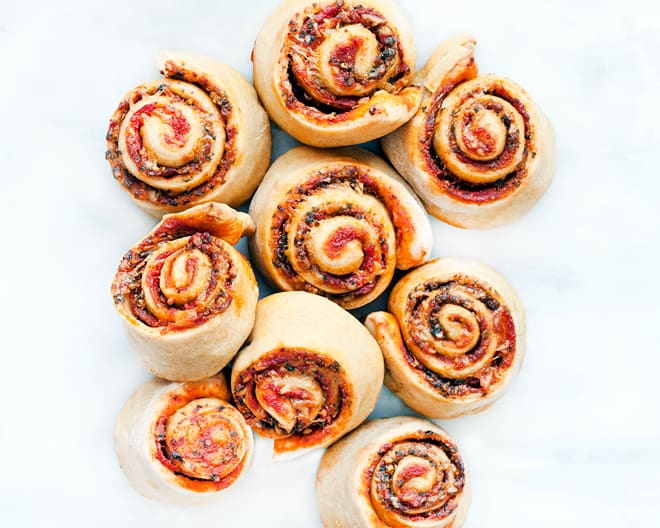 I will never get sick of eating pizza. It is definitely in my top 10 and maybe even my top 5 favorite foods. If I could dissect a piece of pizza, I like the crust most followed by sauce and then cheese. I am not a fan of pies loaded with cheese to the point that it dominates each bite. Skip the cheese all together? I'm not sure I would really miss it. Just pile that crust high with other toppings, and I would be happy.
A few weeks ago I used leftover pizza dough to make cinnamon rolls, but this time I went savory making pizza rolls filled with tomato sauce, pesto and a sprinkling cheese. They rose tall in the oven turning into chewy, puffy pinwheels. I ended up eating one along with a big green salad for dinner. My 3-year-old wasn't convinced since what I was calling pizza wasn't in the shape of a triangle.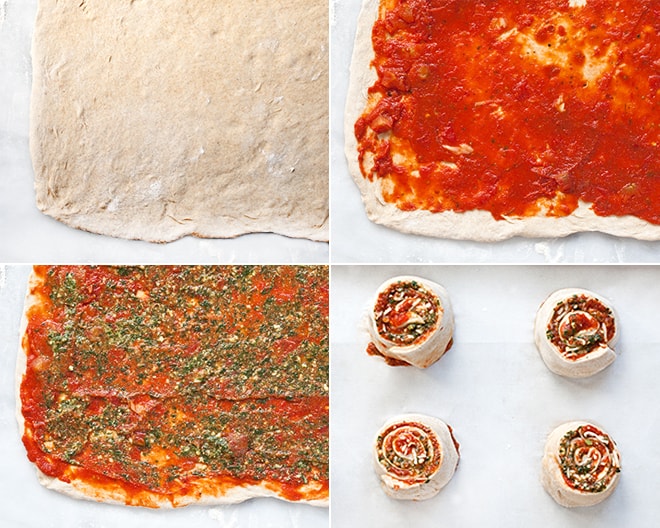 Pizza Rolls
Makes about 12 rolls
2/3 cup warm water
1/2 teaspoon dry active yeast
1/2 teaspoon granulated sugar
1 teaspoon olive oil plus more for bowl and brushing pizza
1 cup bread flour plus more for work surface
1/2 cup whole-wheat flour
1/2 teaspoon kosher salt
3/4 cups tomato sauce
1/3 cup pesto
1/4 cup shredded Italian cheese blend
In a small bowl, combine the water, yeast, sugar and olive oil. Let stand until foamy, about 5 minutes.
In the bowl of a food processor, pulse the flours and salt. Add the yeast mixture and process until a ball of dough forms. Transfer the dough to an oiled bowl. Cover and let rise until doubled in volume, about 2 hours or up to overnight in the refrigerator.
Preheat the oven to 375 degrees F Line a sheet pan with parchment.
Roll the dough into a 10-inch by 16-inch rectangle on a lightly floured work surface. Spread the tomato sauce leaving an 1/8-inch border followed by the pesto. Sprinkle all over with cheese. Using a pizza wheel, cut the dough into strips about 1-1/2 inches wide. Roll up each strip and place on the prepared sheet pan.
Bake for 20-25 minutes until puffed up and golden brown. Serve warm or at room temperature.