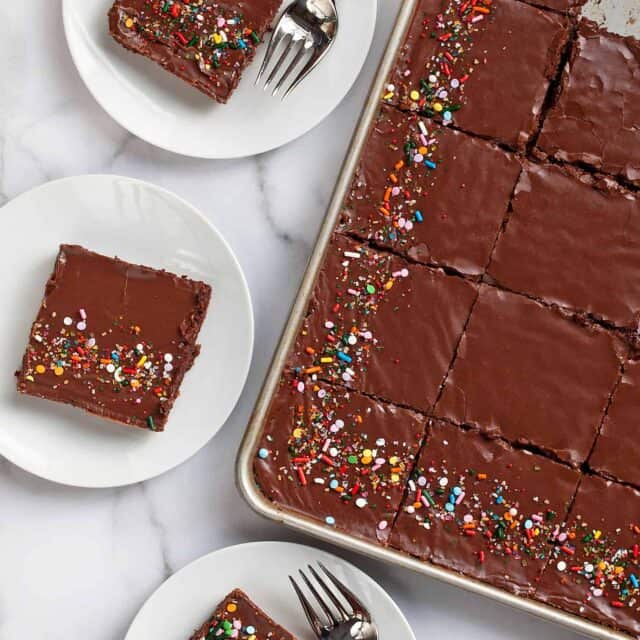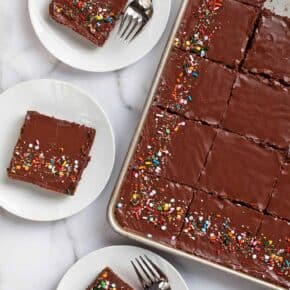 Chocolate Buttermilk Sheet Cake
Ingredients
For cake
Non-stick cooking spray

1 cup

all-purpose flour

1 cup

granulated sugar

1/2 teaspoon

baking soda

1/4 teaspoon

sea salt

1/2 cup

water

8 tablespoons

unsalted butter

3 tablespoons

natural unsweetened cocoa powder

1/4 cup

low-fat buttermilk

1

large egg

1 teaspoon

vanilla extract
For frosting

4 tablespoons

unsalted butter

1/4 cup

natural unsweetened cocoa powder

1/4 cup

low-fat buttermilk

2 cups

confectioners' sugar
Sprinkles for decorating, optional
Instructions
Preheat the oven to 350 degrees F. Spray a 9-inch by 13-inch rimmed sheet pan with non-stick cooking spray.
For the cake, combine the flour, granulated sugar, baking soda and salt in a large bowl.
In a small saucepan, bring the water to a boil. Stir in the butter until it has melted followed by the cocoa powder. Remove the pan from the heat.
In a small bowl, whisk together the buttermilk egg and vanilla extract.  Fold the buttermilk mixture into the dry ingredients. Stir in the chocolate mixture until just combined.
Spread the batter into the prepared sheet pan. Bake for 15-18 minutes until the cake springs bake when you gently press it.
While the cake is baking, make the frosting. In a medium saucepan over medium heat, melt the butter, Whisk in the cocoa powder and buttermilk. Remove from the heat and stir in the cocoa powder until combined.
Pour the frosting over the hot cake. Use an offset spatula to spread into an even layer. Decorate with sprinkles as desired.
Let the cake cool and the frosting set before serving, about 2 hours.