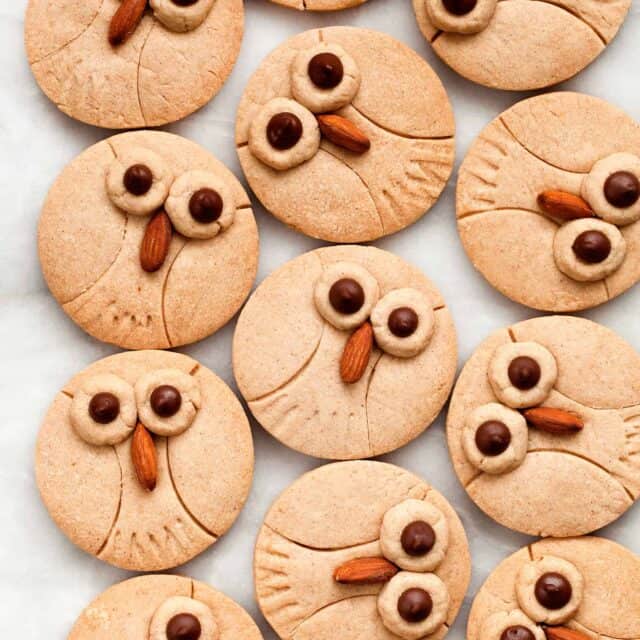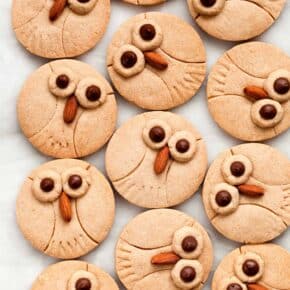 Cinnamon Shortbread Owl Cookies
Ingredients
1 cup

(

2

sticks) unsalted butter at room temperature

3/4 cup

confectioner's sugar

1 teaspoon

vanilla extract

2 cups

all-purpose flour plus more for work surface

1/2 cup

cornstarch

1 teaspoon

ground cinnamon

1/2 teaspoon

kosher salt

32

dark chocolate chips

16

whole roasted unsalted almonds
Instructions
In a large bowl, use an electric mixer to beat the butter, confectioner's sugar and vanilla extract until just smooth, about 1 minute. In a medium bowl, combine the flour, cornstarch, cinnamon and salt. Fold the dry ingredients into the wet ingredients. Pat the dough together into a disk, cover with plastic wrap and chill in the refrigerator for 30 minutes.
On a lightly floured work surface, roll out the dough, so it is about 1/4-inch thick. Use a 3-inch diameter round cookie cutter to cut out 16 cookies. Transfer to a parchment lined sheet pan spacing 2 inches apart. Use the same cookie cutter to press a third of the circle on each side for wings. Make sure not to cut all the way through the cookie.
For the eyes, take a generous pea-sized piece of dough and flatten it into a circle. Place a chocolate chip in the center.  Dab a drop of water on the underside of each eye and place centered toward the tops of the cookies. For the nose, push an almond directly underneath the eyes. Use a fork to gently press feet into the center of the bottoms of the cookies. Chill in the refrigerator for 30 minutes.
Preheat the oven to 325 degrees F. Bake for 25-30 minutes until the cookies are firm, but not browned. Cool on the sheet pans for 2 minutes before transferring to a wire rack to cool completely.
Store in an airtight container.