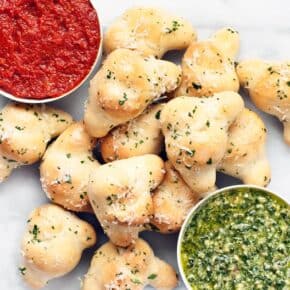 Ingredients
1

–

1/4

cups warm water

1

packet dry active yeast (

2

–

1/4

teaspoons)

1 teaspoon

granulated sugar

3

 tablespoons olive oil plus more for oiling bowl

3 cups

bread flour plus more for work surface

1 teaspoon

kosher salt

1/2 teaspoon

black pepper

2 tablespoons

 unsalted butter

3

garlic cloves, minced

2 tablespoons

chopped Italian parsley

1/4 cup

Parmesan cheese, grated

1 teaspoon

kosher salt

1/2 teaspoon

black pepper
Marinara sauce and pesto for serving
Instructions
For the dough, combine the water, yeast, sugar and 1 tablespoon olive oil and let stand for 5 minutes until foamy. In a large bowl, mix together the flour and salt. Add the wet ingredients to the dry and stir until it forms a shaggy dough.  Turn the dough onto a lightly floured work surface and knead for 10 minutes until the dough is smooth and elastic. (Alternatively, the dough can be mixed in the bowl of a stand mixer using a dough hook.)
Gather the dough into a ball, transfer to an oiled bowl and cover. Place the bowl in a warm spot to allow the dough to rise until it has doubled in size, about 1-1/2 – 2 hours.
On a lightly floured work surface, divide the dough into 1-ounce balls about 1-1/2 inches in diameter. Roll each ball into a 6-inch log and tie in a knot. Place the knots on a parchment lined sheet pan 2 inches apart. Cover with plastic wrap and let rise for 30 minutes until they have doubled in size.
Preheat the oven to 400 degrees F. Bake the knots for 12-15 minutes until they turn light brown.
While the knots are baking, melt the butter with the remaining olive oil and garlic over medium heat. Stir in the parsley. When the knots are finished baking but still warm, toss them in the butter mixture and Parmesan and season with salt and pepper. Serve warm or at room temperature with marinara sauce and pesto.