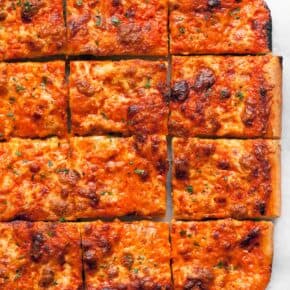 Ingredients
For dough

1

envelope (2-1/4 teaspoons) dry active yeast

2 tablespoons

plus 1/2 cup olive oil, plus more for bowl

2 teaspoons

kosher salt

4 cups

all-purpose flour plus more for work surface
For sauce

1

28-ounce can whole peeled tomatoes

3

garlic cloves, peeled

6 tablespoons

olive oil
Pinch red pepper flakes

1/4 teaspoon

kosher salt

1/4 teaspoon

black pepper
For pizza

8 ounces

fresh mozzarella, grated

4 ounces

Provolone, grated
Instructions
In a large bowl, combine the yeast with 1-1/2 cups warm water. Let the mixture sit until the yeast is foamy, about 10 minutes. Whisk in 2 tablespoons olive oil and then the salt and half the flour. Stir in the remaining flour until a shaggy dough forms.
Transfer the dough to a lightly floured work surface and knead for about 10-12 minutes until the dough becomes smooth and elastic. Shape the dough into a ball and place in a large oiled bowl. Cover with plastic wrap and transfer to the refrigerator to rise for 24 hours.
Coat an 18-inch x 13-inch rectangular sheet pan with the remaining olive oil. Gently stretch the dough to fit the entire sheet pan. If the dough springs back, let it rest for 10 minutes before trying again. Tightly cover the sheet pan with plastic wrap and let it rest in a warm spot (about 70 degrees) until the dough has puffed up, about 30-40 minutes.
For the sauce, combine the tomatoes, garlic, olive oil, red pepper flakes, salt and pepper in a blender and puree until smooth.
Preheat the oven to 500 degrees F. Spread the sauce in a thin layer on the dough and sprinkle both cheeses on top. Bake 20-30 minutes until the cheese has melted and the crust is golden brown.