Print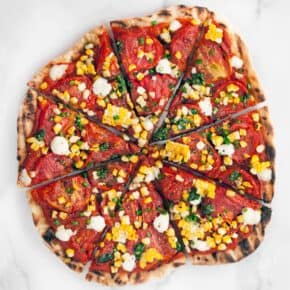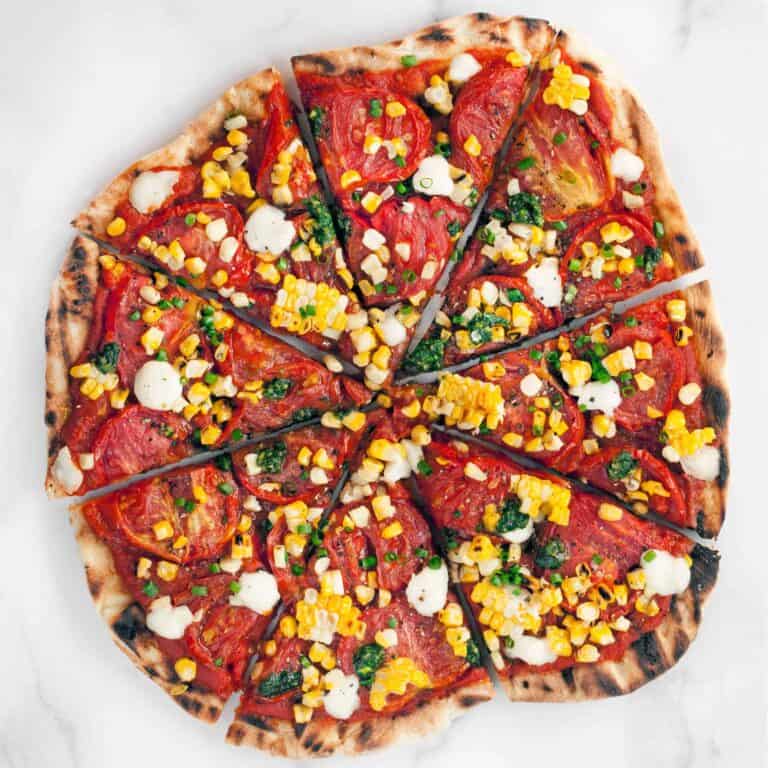 Grilled Corn and Roasted Tomato Pizza
Author: Paige Adams
Prep Time:

2 hours 15 minutes

Cook Time:

12-14 minutes

Total Time:

2 hours 27-29 minutes

Yield: One

12

-inch pizza

1

x
Ingredients
For dough

2/3 cup

warm water

1/2 teaspoon

dry active yeast

1/2 teaspoon

granulated sugar

1/2 teaspoon

olive oil plus more for bowl

1

–

1/2

cups bread flour plus more for work surface

1/2 teaspoon

kosher salt
For tomatoes

2

heirloom tomatoes, sliced 1/4-inch thick

1 tablespoon

olive oil

1/2 teaspoon

kosher salt

1/4 teaspoon

black pepper
For corn

1

ear of corn, shucked

1 teaspoon

olive oil
Pinch of kosher salt
pinch of black pepper
For pizza

3/4 cup

tomato sauce

4 ounces

fresh mozzarella, torn

1/4 cup

pesto

1 teaspoon

minced chives
Instructions
In a small bowl, combine the water, yeast, sugar and 1/2 teaspoon olive oil. Let stand until foamy, about 5 minutes.
In the bowl of a food processor, pulse the flour and 1/2 teaspoon salt. Add the yeast mixture and process until a ball of dough forms. Transfer the dough to an oiled bowl. Cover and let rise until doubled in volume, about 2 hours.
While the dough is rising, make the roasted tomatoes. Preheat the oven to 400 degrees F. Line a sheet pan with parchment paper. Arrange the tomato slices in a single layer. Drizzle with 1 tablespoon olive oil and sprinkle with 1/2 teaspoon salt & 1/4 teaspoon pepper. Roast the tomatoes for 20-25 minutes until they start to wrinkle, but they are still juicy.
Preheat a gas or charcoal grill on high heat.
Rub the corn with 1 teaspoon olive oil and pinches of salt and pepper. Grill until lightly charred, about 5-7 minutes. Let the corn cool slightly before slicing the kernels off the cob.
Roll out the dough on a lightly floured work surface. Place the dough directly on the grates and grill for 3 minutes with the lid closed until the crust has grill marks and has puffed up. Turn over the crust and grill for an additional 2 minutes.
Remove the crust from the grill. Spread the tomato sauce leaving a 1/2-inch border at the edge. Arrange the mozzarella, tomatoes and corn on top. Put the pizza back on the grill for a couple minutes to let the cheese melt. Spoon small dollops of pesto across the pizza and sprinkle with chives.
Author: Paige Adams
Prep Time:

2 hours 15 minutes

Cook Time:

12-14 minutes

Total Time:

2 hours 27-29 minutes

Yield: One

12

-inch pizza

1

x