Grilled Corn & Caviar Deviled Eggs

For these grilled corn & caviar deviled eggs, I went traditional with a few twists on the classic to make them a special summer appetizer.
This post is sponsored by Petrossian.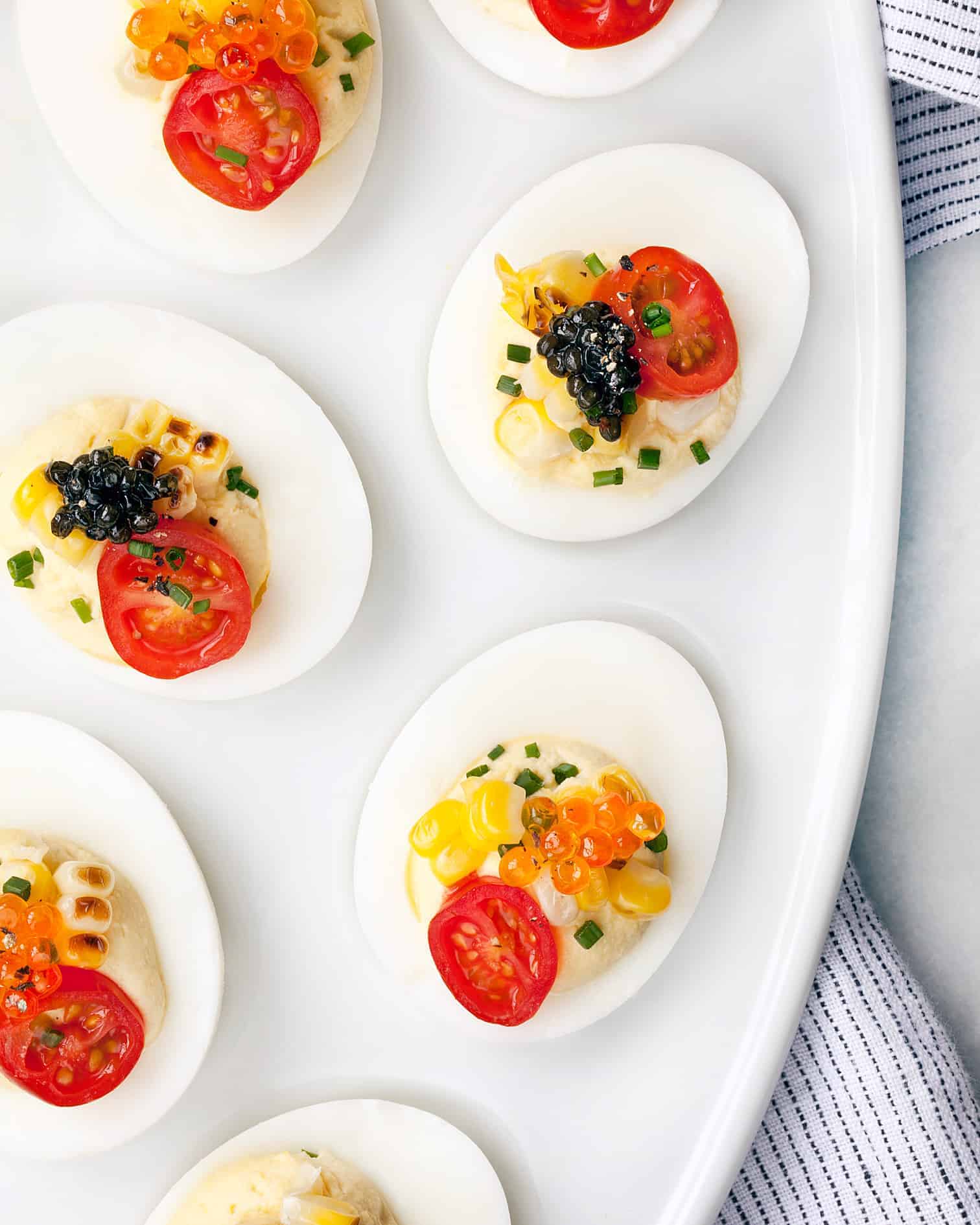 We had friends over yesterday afternoon for a play-date/parent hangout.

The kids kept themselves busy with trains and trucks while we grownups chatted and caught up.

Even though school has only been out for a few weeks, we all are in full summer mode—less concerned about bedtimes and more into nighttime neighborhood strolls for ice cream.
I've taken that relaxed attitude and brought it to my cooking, too.

Grilling is my go-to for summer entertaining because it's so easy and such a crowd-pleaser.

In Chicago we suffer through the winter just to make it to the warm months, and when they finally arrive, we cherish any and every opportunity to be outside.
I love when I can figure out how to get each part of a meal on the grill and not just the main dish.

Appetizers and bites also deserve to hit those grates!
The Ingredients: Grilled Corn & Caviar Deviled Eggs
I went traditional with a few twists when I made these grilled corn & caviar deviled eggs.

The yolk mixture didn't stray too far from the original, but the toppings are what made these nibbles special.
My friends at Petrossian sent their Royal Ossetra Caviar and Trout Roe, and I thought it would be wonderful to share with friends.

Caviar and eggs is a classic pairing, but I figured they could use a little company. That came in the form of my summer obsessions—grilled corn and cherry tomatoes.
Royal Ossetra Caviar is a bit nutty with a firm grain, so it gives you that satisfying pop. While Trout Roe, with its vibrant orange hue, has a larger grain and is pleasantly briny.
Both caviars were a lovely finishing touch on these upgraded deviled eggs that our friends devoured.

Since they were such a big hit, I'm planning on making another batch for Fourth of July next week.
Print
Grilled Corn & Caviar Deviled Eggs
Author:
Prep Time:

30 minutes

Cook Time:

20-25 minutes

Total Time:

50-55 minutes

Yield: Makes

24

1

x
Scale
Ingredients
1 dozen eggs
1 ear of corn, shucked
1/2 teaspoon olive oil
Pinch plus 1 teaspoon kosher salt
Pinch of black pepper plus more for serving
1/4 cup mayonnaise
1/4 cup 2% Greek yogurt
2 teaspoons Dijon mustard
24 cherry tomato slices
1 tablespoon minced chives
Petrossian Royal Ossetra Caviar
Instructions
Preheat a gas or charcoal grill on high heat.
Place the eggs in a large saucepan. Fill with enough cold water to cover the eggs by 1 to 2 inches. Bring to a full boil, remove from the heat and cover the pan. Wait 10-12 minutes before removing the eggs. Rinse with cold water and place them in a bowl of ice water to cool.
While the eggs are cooling, grill the corn. Rub the corn with olive oil and pinches of salt and pepper. Grill until lightly charred, about 5-7 minutes. Let the corn cool slightly before slicing the kernels off the cob.
When the eggs have cooled, peel the shells. Slice the eggs in half lengthwise and separate the whites and yolks. Push the yolks through a fine mesh sieve over a large bowl. Stir in the mayonnaise, Greek yogurt, mustard and 1 teaspoon salt until smooth. Use a pastry bag fitted with a round tip or a spoon to fill the egg whites with the yolk mixture.
Top each egg with grilled corn kernels, a cherry tomato slice, chives, a little caviar and a sprinkle of black pepper.
l
SHARE THIS