Millet Salad with Grapefruit Olives and Chickpeas

Quinoa is always the supergrain in the spotlight, but try giving millet a chance with this millet salad with grapefruit, olives and chickpeas.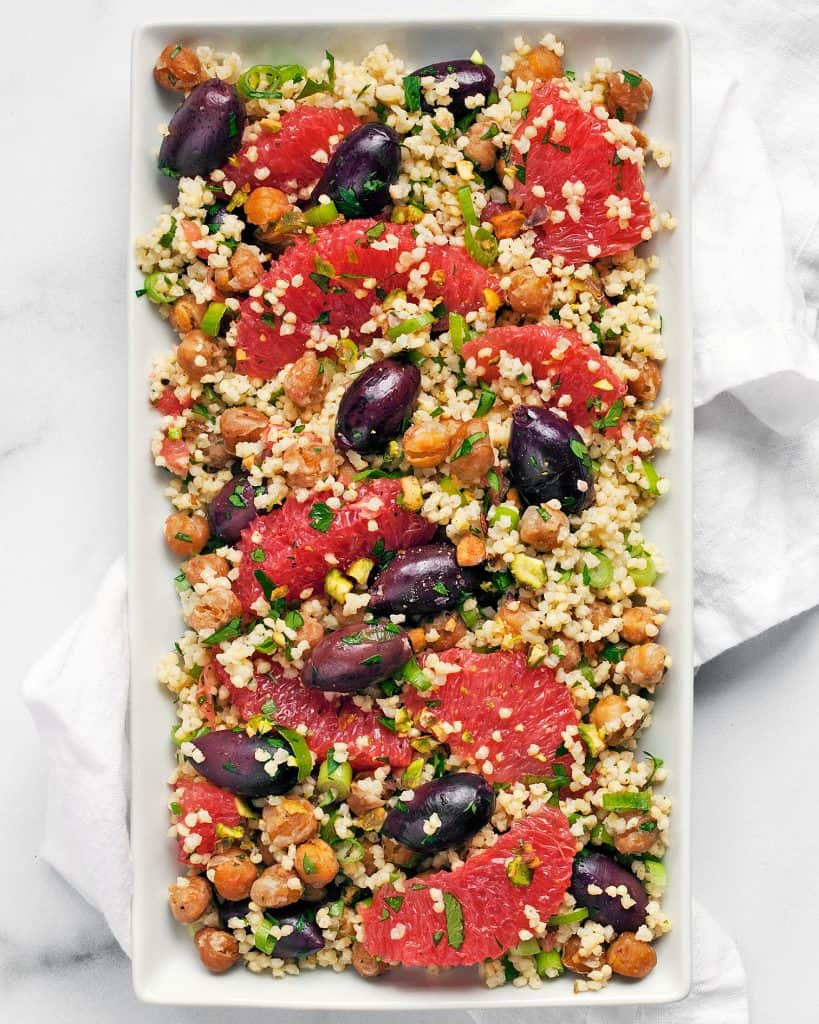 The bulk department is such a distraction for me at the grocery store. All the selections and options from nuts to dried fruit to beans to whole grains are mesmerizing.
Seeing everything lined up is educational.
Some of my best discoveries have been the result of browsing the bulk wall.
Quinoa hogs the spotlight when it comes to whole grains. For good reason, quinoa is incredibly versatile.
It's great in veggie burgers, grain salads or even breakfast bowls.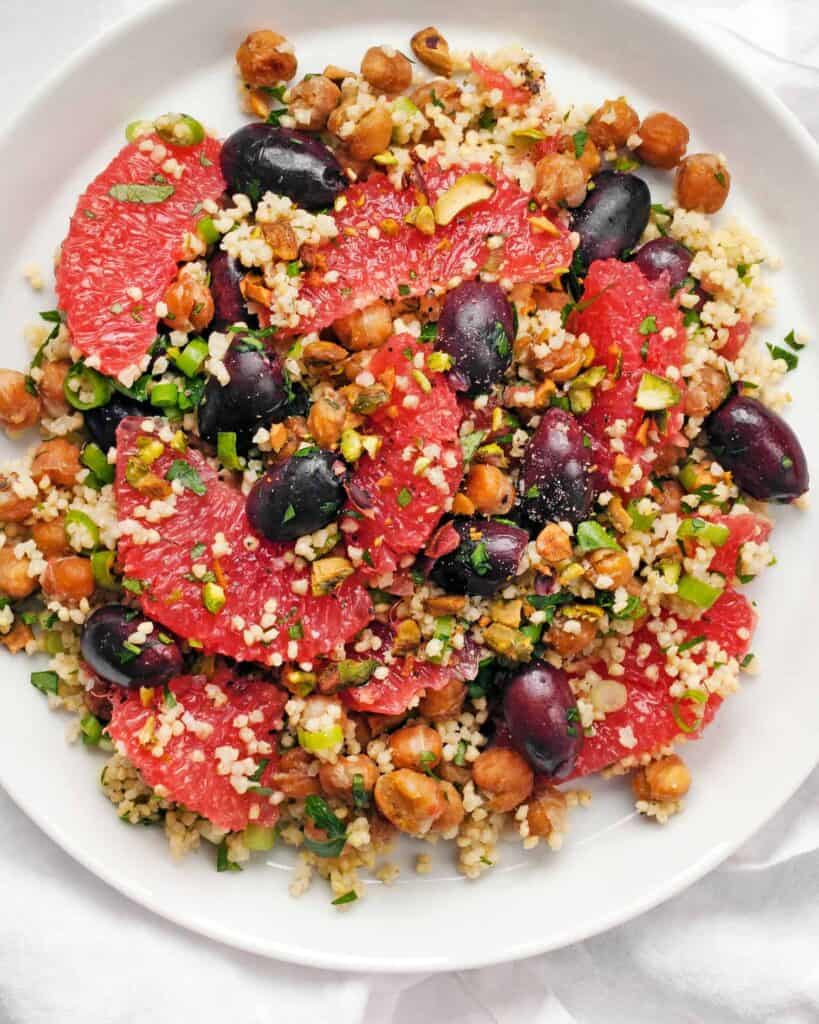 Millet, on the other hand, doesn't get much in the way of love. Is it because it looks like birdseed?
Don't all grains look like they're for the birds?
An ancient seed, millet is gluten-free. Those tiny yellow beads have a subtle nutty, almost corny flavor.
You will often find millet in seeded multigrain breads and packaged seed & grain mixes that have quinoa and buckwheat.
When millet is cooked with more water, it takes on a porridge-like consistency making it a good substitute for oatmeal.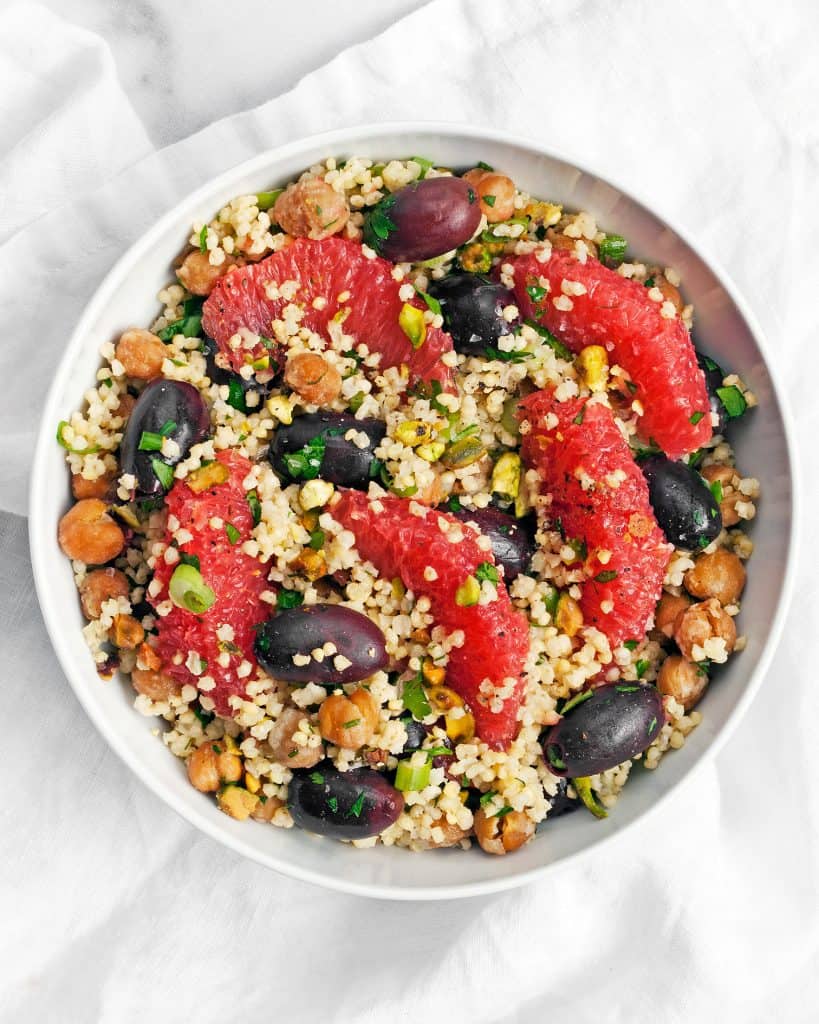 How To Make A Millet Salad with Grapefruit Olives and Chickpeas
Wanting to create something to showcase millet, I made a millet salad with grapefruit, olives and chickpeas.
I started by toasting the millet for a couple minutes in a dry saucepan.
Then I added water and a pinch of salt and brought the mixture to a boil. I reduced the heat, covered the pot and simmered for 15 minutes or so until the grains were tender.
After that, I let the millet cool before combining it with everything else.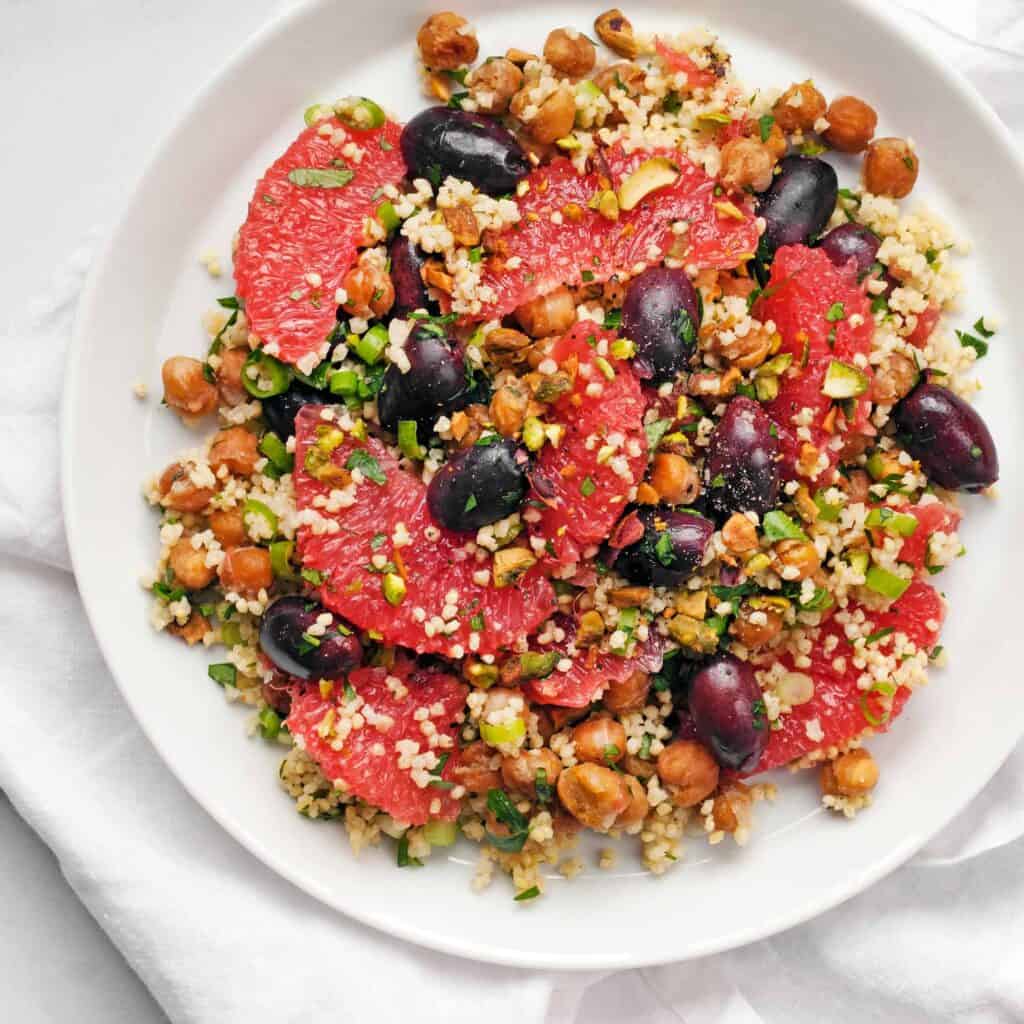 They aren't an obvious pair, but grapefruit and olives are a really good match. I love the balance of sweet, tart and salty bites.
Crispy roasted chickpeas are my new crouton! I am completely obsessed with their crunch, so I had to include them along with scallions, cilantro and roughly chopped pistachios.
The fluffy cooked grains helped bring these different ingredients together.
Print
Millet Salad with Grapefruit Olives and Chickpeas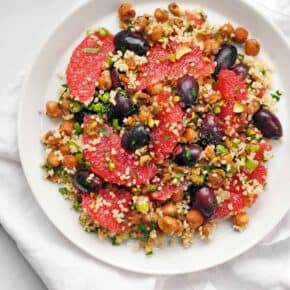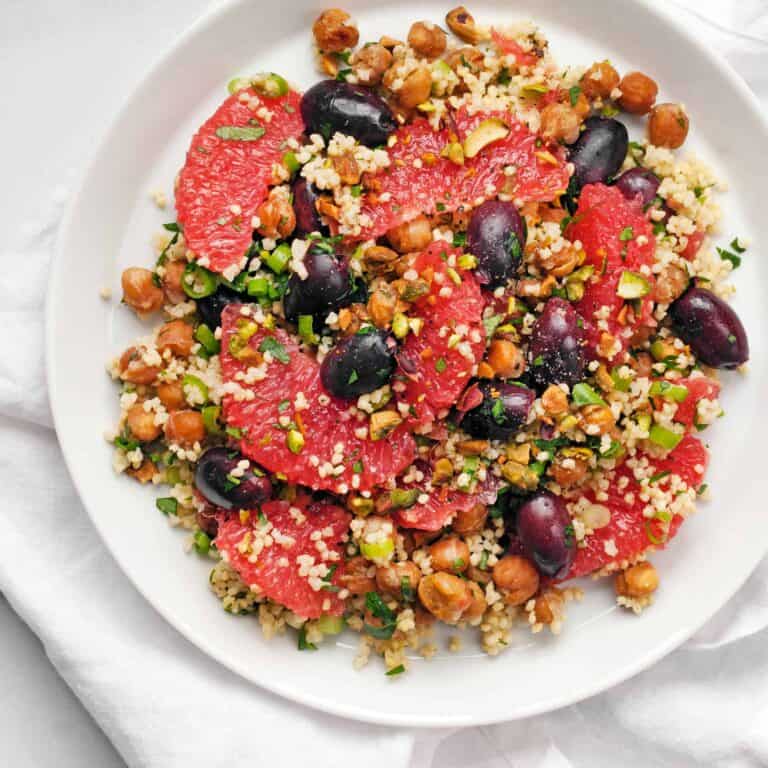 Author:
Prep Time:

15 minutes

Cook Time:

25-30 minutes

Total Time:

40-45 minutes

Yield: Serves

4

1

x
Scale
Ingredients
For chickpeas
1–15 ounce cans chickpeas
1 teaspoon olive oil
1 tablespoon grapefruit juice
1/4 teaspoon kosher salt
1/4 teaspoon black pepper
For millet
1 cup millet
2 cups water
1/2 teaspoon kosher salt plus more serving
For salad
1 grapefruit, peeled, pith removed and cut into segments
1/2 cup pitted Kalamata olives
2 scallions, thinly sliced
1 handful cilantro, roughly chopped
1/4 cup roughly chopped pistachios
Instructions
Preheat the oven to 400 degrees F. Line a sheet pan with parchment paper.
Drain and rinse the chickpeas. Pat them dry with paper towels and remove any loose outer skins. In a small bowl, whisk together the olive oil, grapefruit juice, salt and pepper. Stir in the chickpeas. Use a slotted spoon to transfer the chickpeas to the prepared sheet pan. Bake for 25 – 30 minutes until the chickpeas are crisp and golden brown.
In a large saucepan over medium heat, toast the millet until it is nutty and fragrant, about 2-3 minutes. Add the water and salt. Bring to a boil, reduce heat, cover and simmer for 15 minutes until the millet is tender. Let sit for 5 minutes and fluff the grains with a fork.
Transfer the millet to a large bowl and cool to room temperature.
Fold the chickpeas, grapefruit, olives, scallions, cilantro and pistachios into the millet. Season to taste with salt before serving.
SHARE THIS