Fennel Orange Salad
on Feb 16, 2023, Updated Jul 08, 2023
This fennel orange salad with green olives, red onions, arugula, pistachios and Parmesan is sunny and full of color. The saltiness of the olives and the peppery greens have the perfect balance and contrast with the sweetness of the oranges.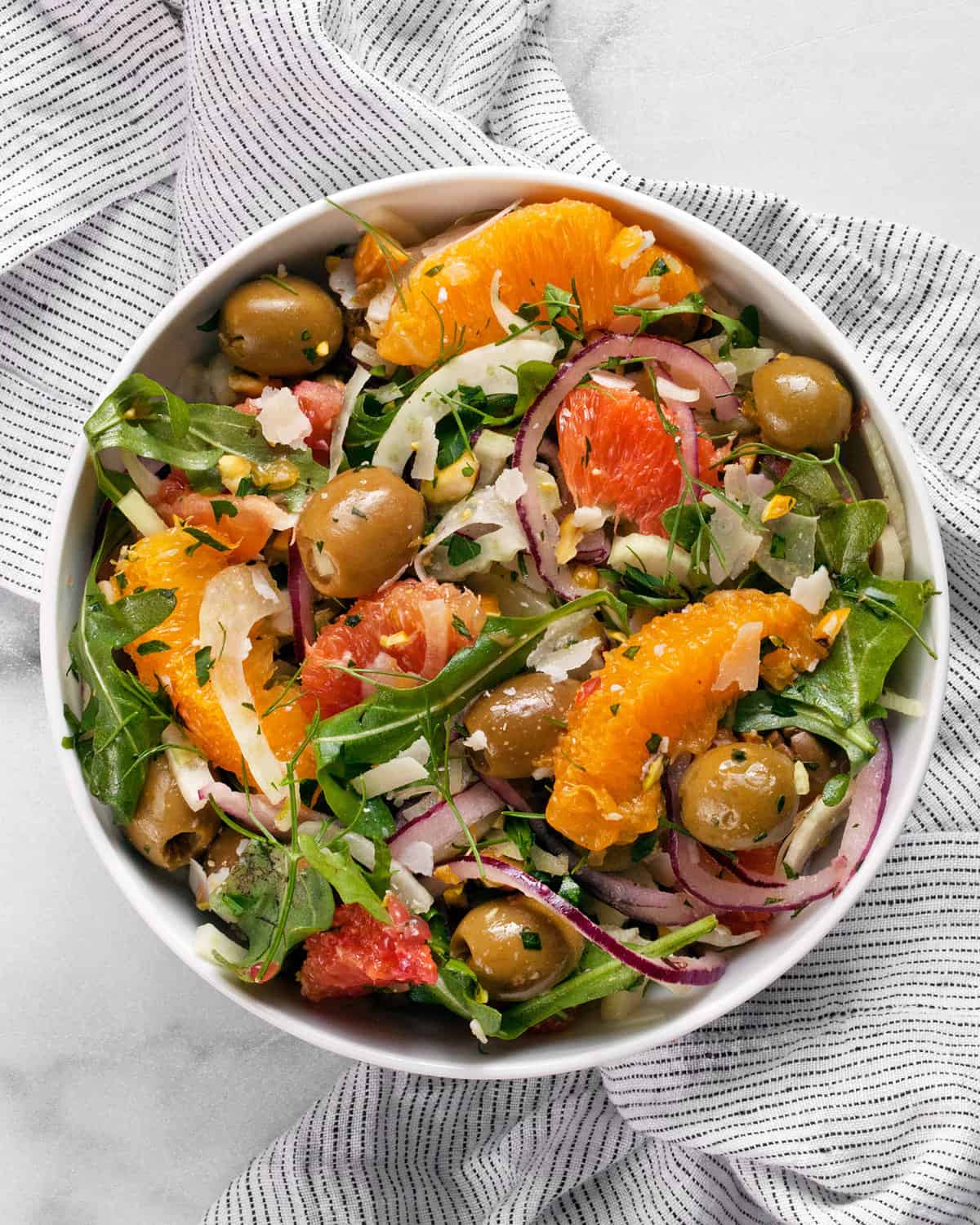 Why You Need This Recipe
This orange salad recipe has a solid balance of savory and sweet flavors. Besides texture, a great salad is a mix of all sorts of different things that work together and make you keep going back for more.
Embrace variety with your salads including ones that don't have lettuce for a base. I love a salad with greens, but there's no reason to limit yourself.

Salads should be enjoyed no matter the weather. Citrus season peaks during winter when we're all in need of something bright and fresh. That applies to those of us who experience big seasonal swings and are currently bundling up in sweaters and coats.
What is Fennel?
Fennel is part of the carrot family, but it's not actually considered a root vegetable. That's because its white bulb grows above ground and not underground. Coming out of the top of the bulb are long stalks that have feathery, light fronds that look like dill. The entire plant is edible. You can eat it raw or cooked. It has an anise, licorice flavor.
Even though you can eat every part, the bulb is what most recipes call for. Its layers can be cut thinly with a knife or shaved using a mandolin. It has crunch and freshness like celery, but it isn't as tough.
Fennel is low in calories and is full of nutrition. It's a great source of vitamin C, fiber, potassium and more. It is the kind of ingredient you can throw into a salad to add its signature taste and texture.
The Ingredients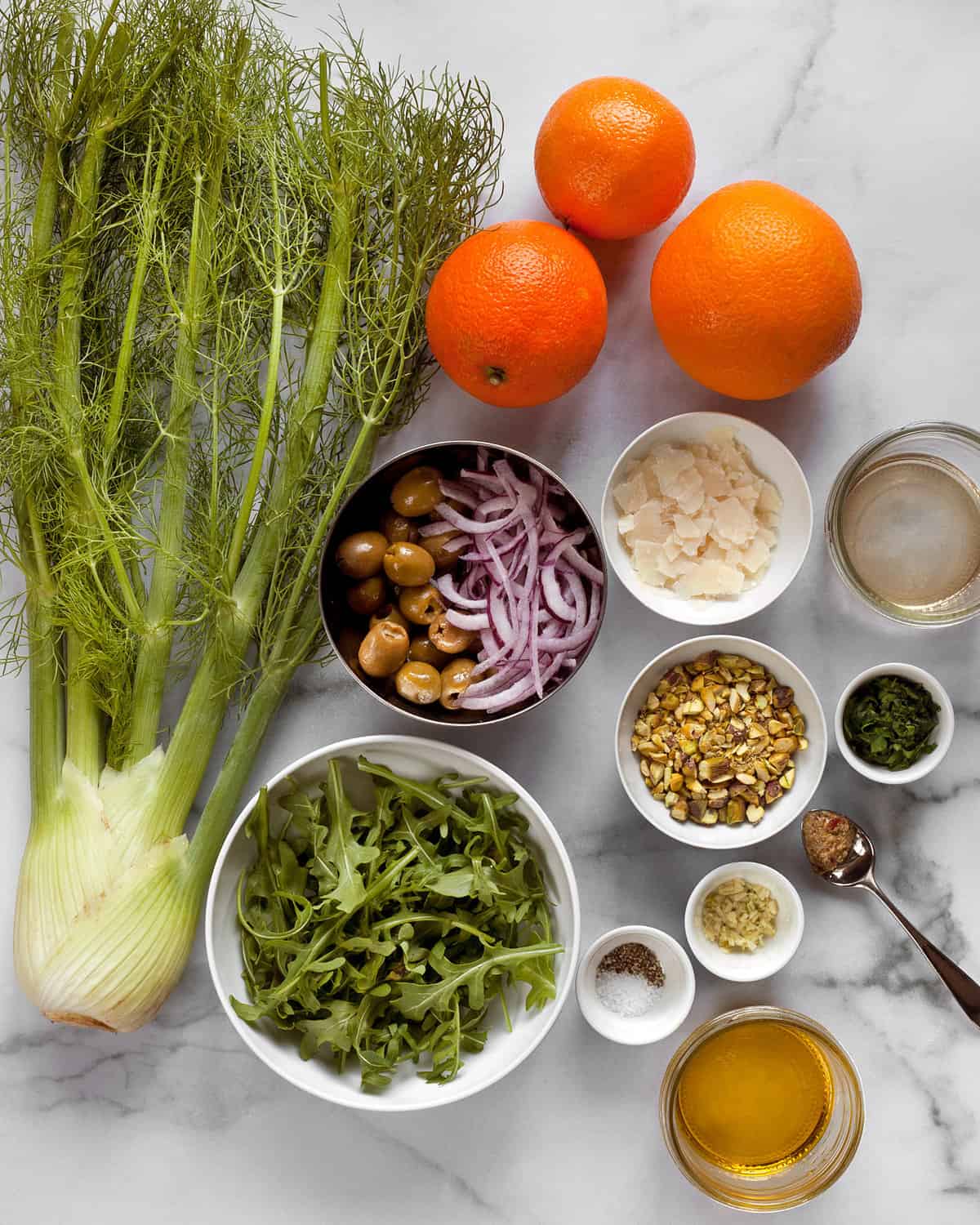 This is what you need:
Fennel: You will be amazed how much fennel you can get out of a single bulb. There are a lot of layers, and when you thinly slice them, the yield is high.
Oranges: I like using more than one kind of orange. Navel oranges, cara cara oranges and blood oranges are all good in salads. Their color range from orange to pink to red is so beautiful. Then you can layer in flavor with varieties that are more tart and others that are sweeter.
Arugula: This salad is a mix of mostly non-greens, but I still include a generous handful of baby arugula. You can add more arugula if you want more lettuce. Baby spinach is a good substitute.
Red onions: When you thinly slice red onions, they go really well with fennel and have a nice sharp accent.
Pistachios are nutty and add more crunchy texture in the salad. You can substitute with pine nuts or almonds.
Parmesan cheese: I use a vegetable peeler to shave Parmesan right off the block. If you are vegan, you can skip the cheese.
Parsley: Always a fan of fresh herbs in salads, I stir in chopped parsley. If you like onion taste, you can also include minced chives.
Orange vinaigrette: There is a minced garlic clove in the dressing along with whole grain mustard, vinegar, olive oil, salt and pepper. When you slice the oranges you catch the juices in a bowl, which is the base of the vinaigrette.
Optional Additions
This fennel salad is fantastic as written, but you can add:
Pomegranate seeds are sweet and tart.
Diced avocados are creamy and mellow with the acidity of the citrus and vinaigrette.
How To Cut Fennel
Cutting fennel is easy. All you need is a sharp knife.
Trim off the top and bottom of the bulb. By doing this you will remove the stems, but hold on to them, so you can garnish the salad with the fronds.
Halve the bulb lengthwise. Remove the tough outer layer.
Cut those halves again lengthwise. You should then have 4 sections.
Thinly slice the fennel crosswise.
How To Segment Oranges
When you supreme (pronounced su-prem) an orange or any citrus, you remove the peel and pith and cut out each segment leaving behind the membrane and seeds .After a few times, you will get the hang of it. Here's how to do it:
Trim the top and bottom off an orange.
Put a flat side on a cutting board. Then use your knife to slice off the peel and white pith following the curve of the fruit. Take a smaller knife to remove any pith you miss.
Pick up the peeled orange in your hand and cut out each segment from in between the membranes.
How To Make This Fennel Orange Salad
1. Thinly slice the fennel. Reserve the fronds.
2. Slice the oranges. As you cut out the segments, hold the orange over a small bowl to catch the juices.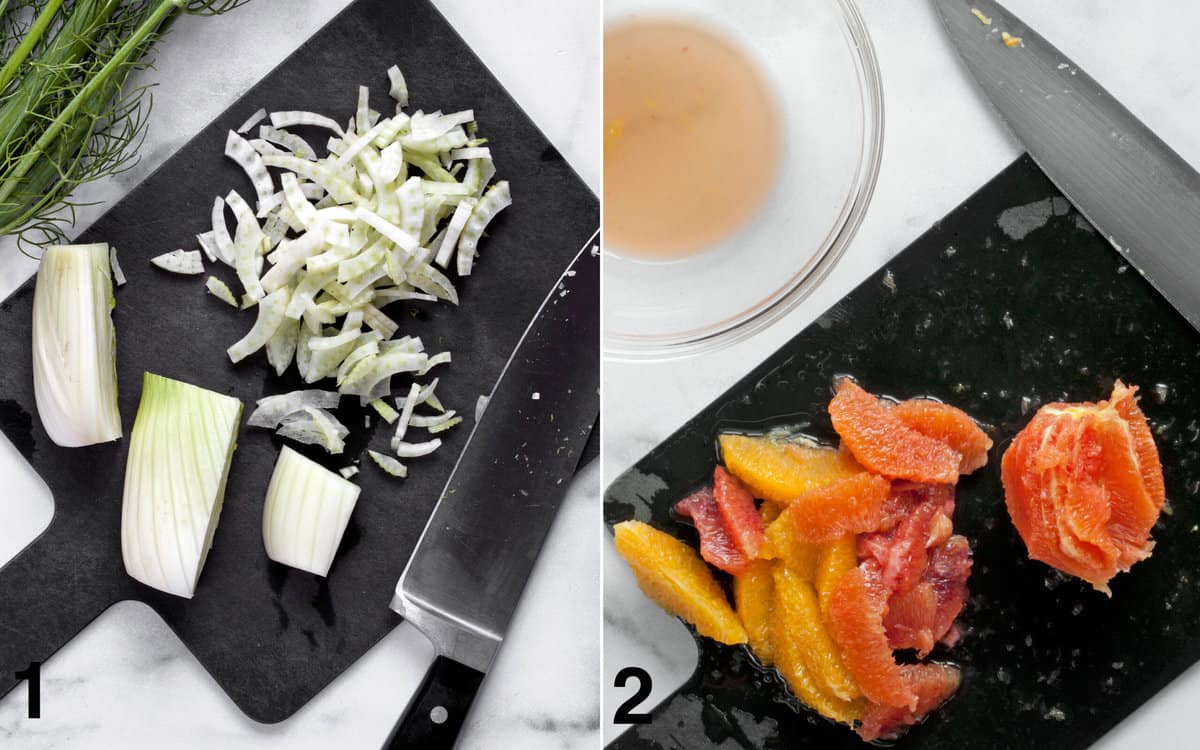 3. Make the vinaigrette. Whisk the garlic, mustard, vinegar, olive oil, salt and pepper into the orange juice.
4. Combine the fennel, oranges, olives, arugula, pistachios, Parmesan, onions and parsley.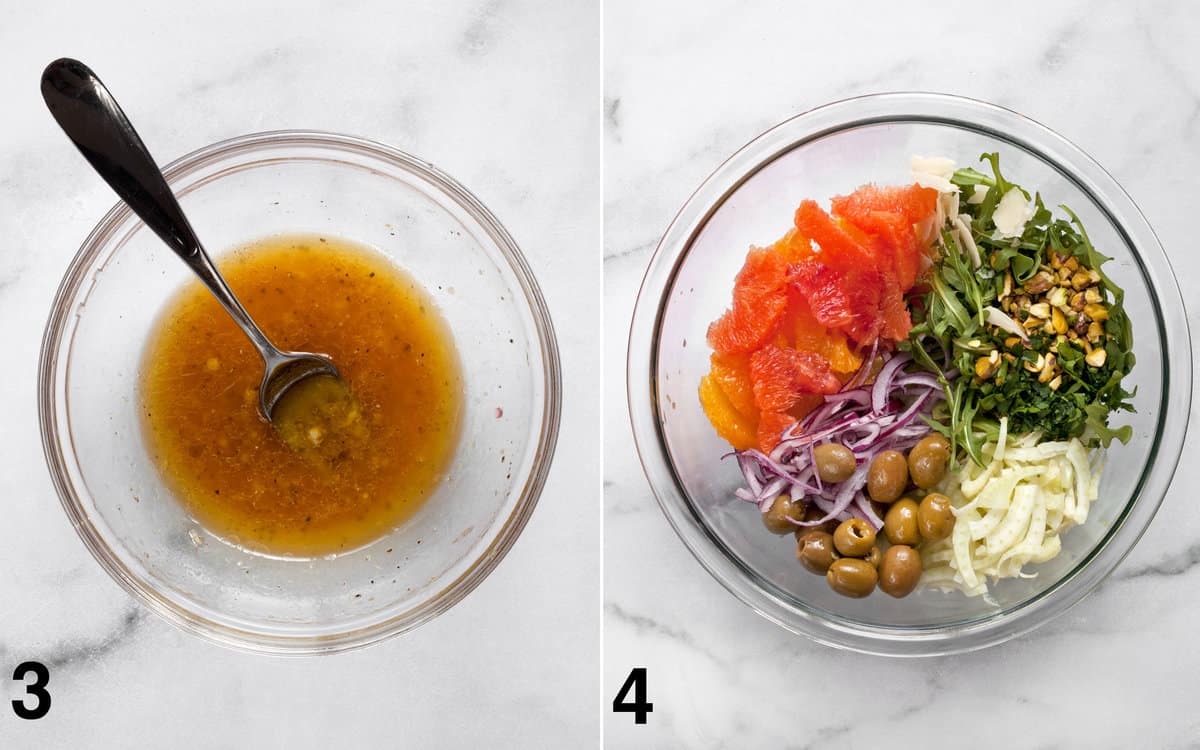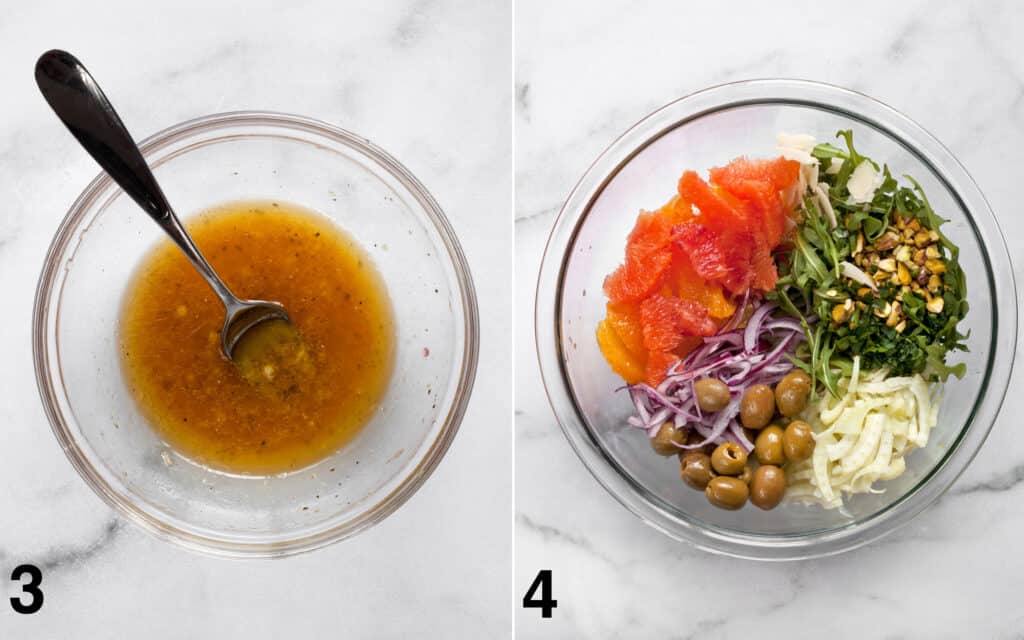 5. Drizzle the vinaigrette into the salad. Toss to combine.
6. Top the finished salad with fennel fronds.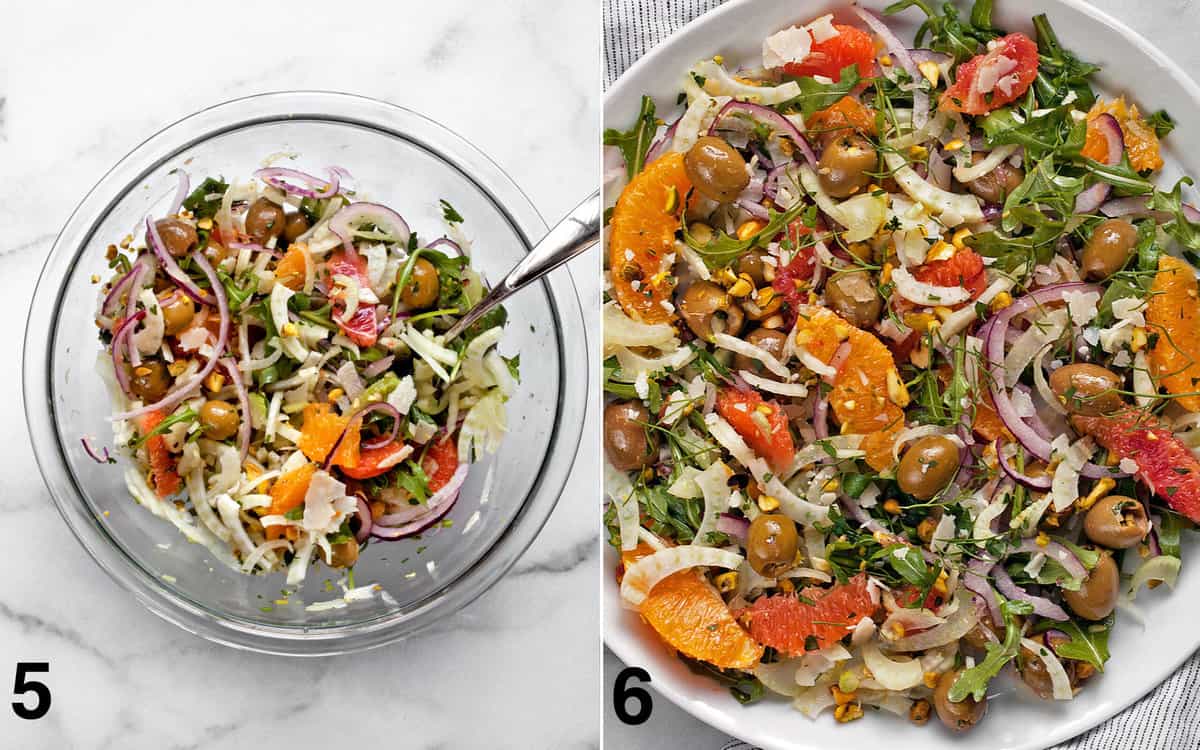 Leftovers & Storage
The salad is best eaten the day that it's made, but you can store it up to 2 days in an airtight container in the fridge. Whenever you save a salad, it's important not to toss it in the dressing.
What makes it more challenging to keep these leftovers is that citrus is juicy and may make the other ingredients soft or soggy. Keep extra vinaigrette in a separate jar.
FAQs
What does fennel taste like?
Fennel has a licorice or anise flavor. Tarragon is an herb that also has a similar taste profile. Fennel is crisp and fresh in texture.
What is the best way to cut fennel or a salad?
When you are eating fennel raw, make sure to slice it very thinly. You can do this with a knife of shave it paper-thin with a mandolin.
What are the best oranges for salads?
You can use one variety, or use more than one for color and flavor. Blood oranges are sweet and have beautiful ruby red colored flesh. Navel oranges are sweet and tart, and they are one of the most commonly available oranges. Cara cara oranges are sweet and juicy.
Did you try this salad recipe? Please leave a rating comment below. Thanks!
Fennel Orange Salad Recipe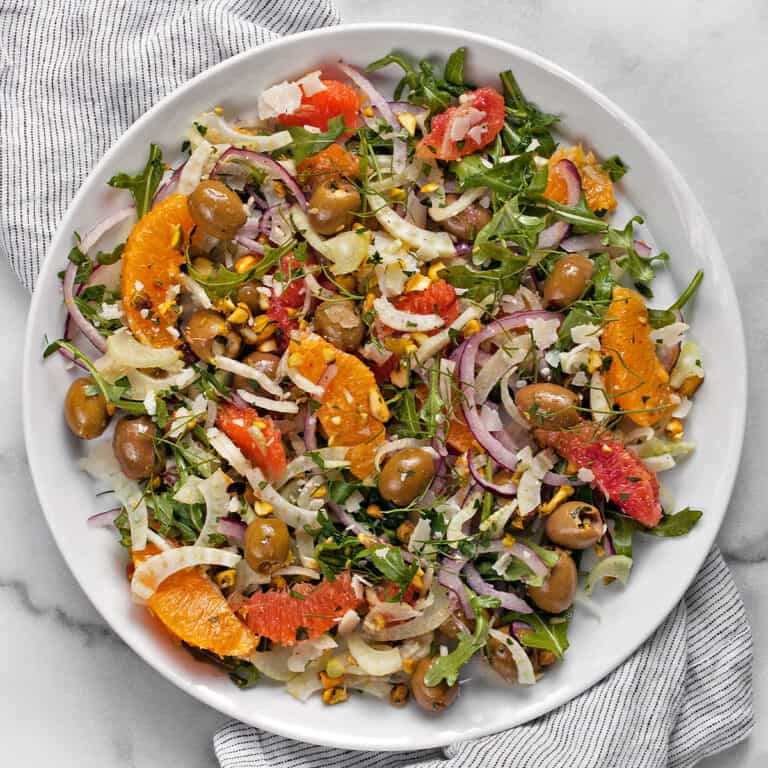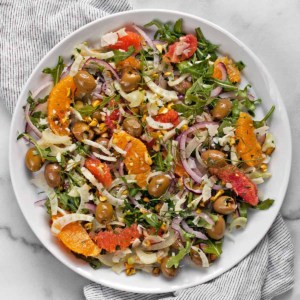 This simple fennel salad makes the most of citrus season with oranges, green olives, baby arugula, pistachios and fresh herbs.
Ingredients
For salad

1

fennel bulb

with stems and fronds

3

oranges

navel, cara cara, blood

1/2

cup

pitted green olives

1

cup

baby arugula

1/4

cup

chopped pistachios

1/4

cup

shaved Parmesan

1/2

small red onion

thinly sliced

1

tablespoon

chopped parsley

For vinaigrette

1

garlic clove

minced

1

teaspoon

whole grain mustard

1

tablespoon

white wine vinegar

3

tablespoons

olive oil

1/2

teaspoon

kosher salt

1/4

teaspoon

black pepper
Instructions
To slice the fennel, cut off the top and bottom of the bulb. (Save the stems and fronds). Cut it into quarters by halving the bulb lengthwise and then slicing those halves again. You will end up with 4 sections. Then thinly slice them crosswise.

To cut the oranges, slice off the tops and bottoms. Cut off the peel and pith following the curve of the fruit. Slice between the membranes to cut out the individual segments. Hold the oranges over a small bowl to catch their juices as you do this.

To make the vinaigrette, whisk the garlic, mustard, vinegar, olive oil, salt and pepper into the orange juice.

Combine the fennel, oranges, olives, arugula, pistachios, Parmesan, onions and parsley in a large bowl.

Drizzle the vinaigrette into the salad, tossing to combine.

Top the finished salad with fennel fronds.
Notes
The oranges can all be the same variety or you can use a mix.
You can substitute the pistachios with pine nuts or chopped almonds.
Baby spinach can be used instead of arugula.
The salad is best eaten the day you make it. If you have leftovers, you can store them in an airtight container up to 2 days. Keep the vinaigrette separate.
Nutrition
Calories:
262
kcal
|
Carbohydrates:
21
g
|
Protein:
6
g
|
Fat:
19
g
|
Saturated Fat:
3
g
|
Polyunsaturated Fat:
3
g
|
Monounsaturated Fat:
12
g
|
Cholesterol:
5
mg
|
Sodium:
711
mg
|
Potassium:
568
mg
|
Fiber:
6
g
|
Sugar:
13
g
|
Vitamin A:
645
IU
|
Vitamin C:
63
mg
|
Calcium:
156
mg
|
Iron:
1
mg
Nutrition information is automatically calculated, so should only be used as an approximation.
Originally published February 20, 2020. Updated: February 16, 2023.