Peanut Udon Noodles with Grilled Vegetables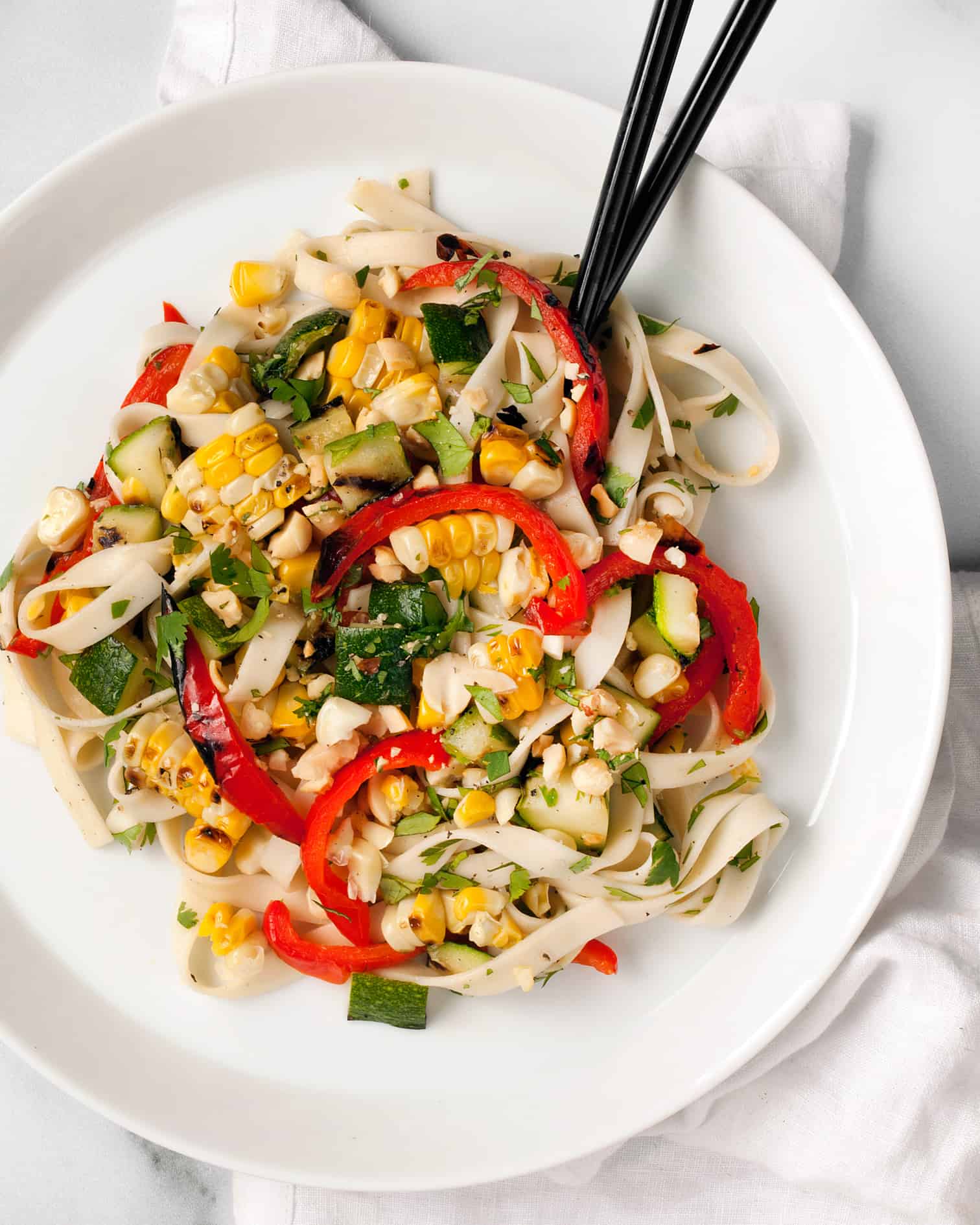 From kindergarten through adulthood, I always had the same thing for lunch A peanut butter and jelly sandwich with a side of carrot sticks.
I am a creature of habit, so I find all that repetition comforting. Peanut butter is one of my dessert island foods. I absolutely can't live without it.
Every afternoon I have a spoonful of peanut butter for a snack.
One day I got tired of my usual PBJ lunch, even though it is the easiest thing to pack ahead of time and to eat at my desk.
Most days I am too busy for much else. I still have a PBJ every so often when I haven't gotten my act together. The night before I attempt to whip up a burrito bowl or something more interesting. That doesn't always happen.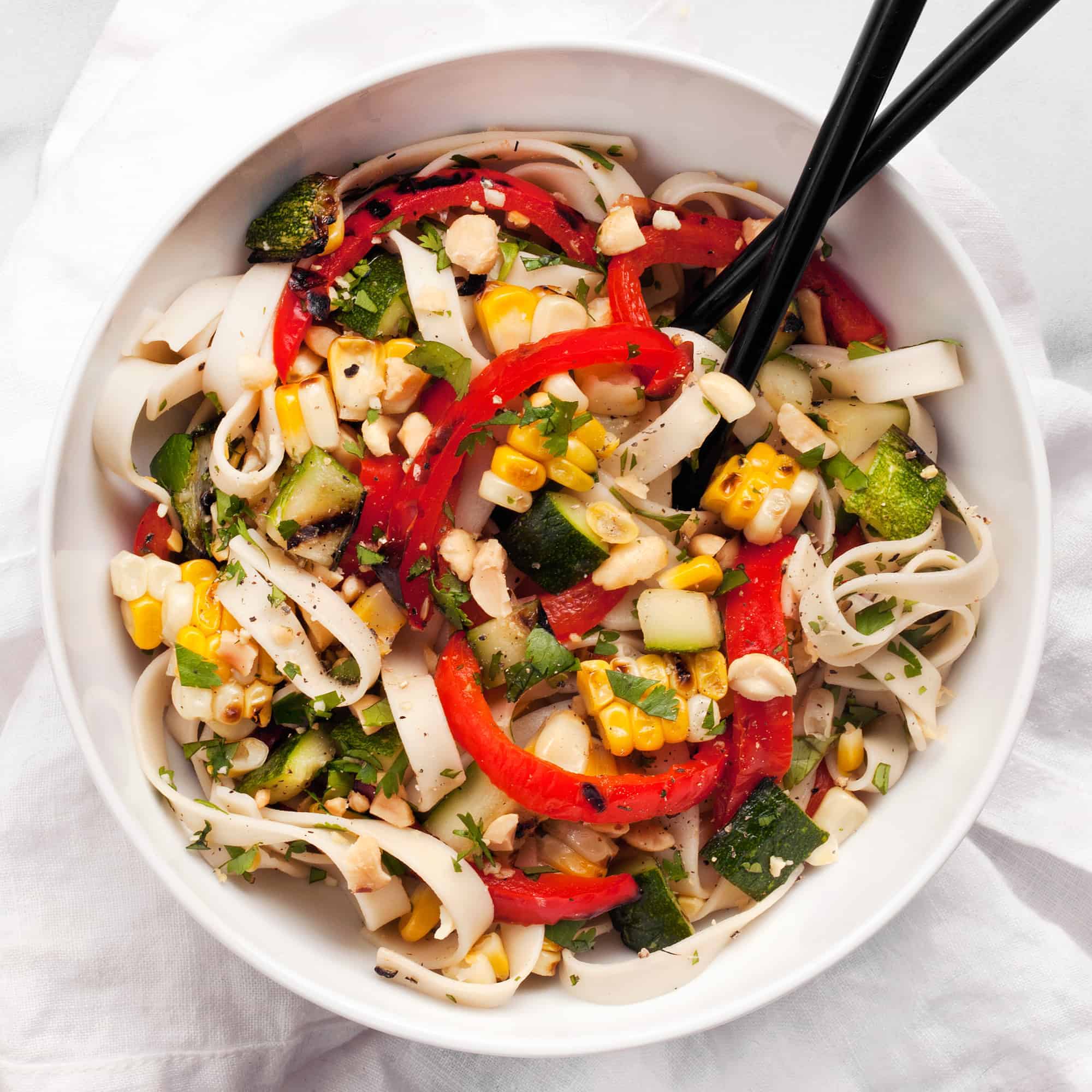 I think I love peanut butter and jelly sandwiches so much because they count as the main part of a meal while satisfying my sweet tooth.
They are like lunch and dessert in one.
Peanut butter can skew more to the savory side. Too often I forget that.
I whisked peanut butter into a small bowl of shallots, ginger, garlic, rice vinegar and oil to make a dressing for peanut udon noodles with grilled vegetables.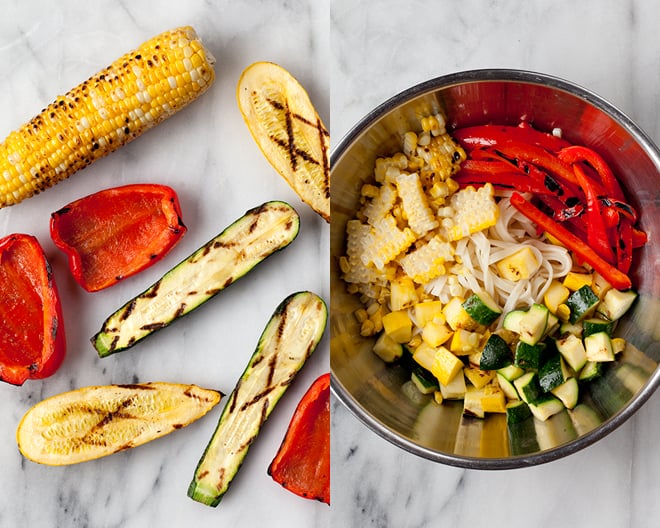 First I got cooking the noodles out of the way. Then I moved on to preheating the grill.
I grilled a mix of vegetables including corn, squash, zucchini and peppers.
Whenever I grill veggies, I always have some leftovers. You could definitely grill them in advance or use whatever grilled or roasted vegetables you have on-hand. Then just mix them with the noodles and the vinaigrette.
To finish off my peanut udon noodles with grilled vegetables, I tossed in lots of chopped cilantro and salted roasted peanuts.
You can eat this warm, at room temperature or cold. It definitely can be made the night before and saved for lunch.
Print
Peanut Udon Noodles with Grilled Vegetables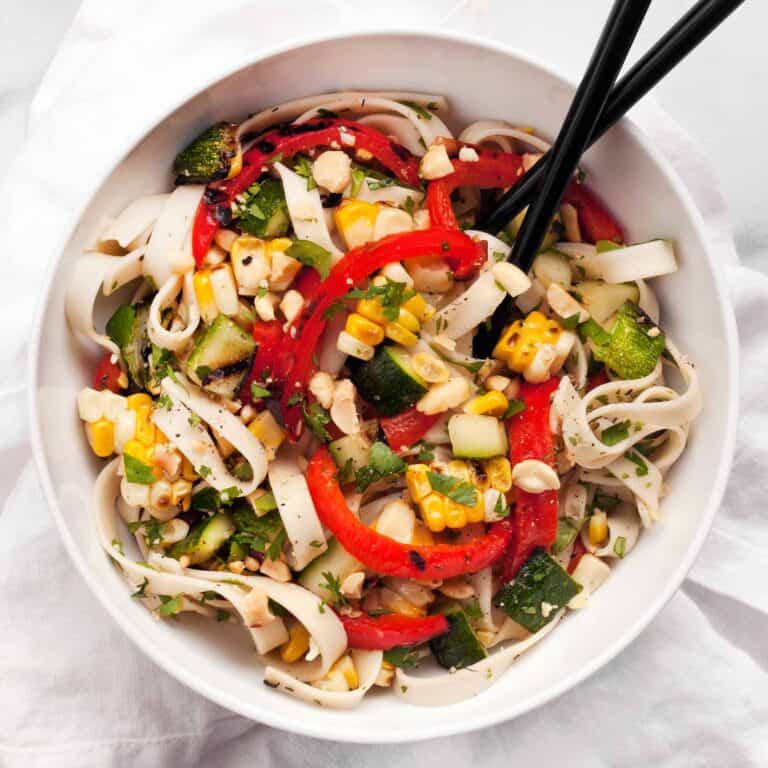 Prep Time:

15 minutes

Cook Time:

5-7 minutes

Total Time:

20-22 minutes

Yield: Serves

4

1

x
Scale
Ingredients
8 ounces dried wide udon noodles
1 medium zucchini, halved lengthwise
1 medium yellow squash, halved lengthwise
1 red pepper, quartered and deseeded
1 ear corn, shucked
1 tablespoon + 1/4 cup olive oil
1-1/4 teaspoons kosher salt
1-1/4 teaspoons black pepper
1 tablespoon peanut butter
1 tablespoon minced shallots
1 tablespoon minced fresh ginger
1 garlic clove, minced
2 tablespoons rice vinegar
1/4 cup roughly chopped salted roasted peanuts
1/4 cup chopped cilantro
Instructions
Cook the udon noodles according to package instructions. Transfer the noodles to a colander and rinse with cold water.
Preheat a gas or charcoal grill on medium high heat.
Drizzle the vegetables with 1 tablespoon olive oil, 1 teaspoon salt and 1 teaspoon pepper.
Grill the corn until it is lightly charred, about 5-7 minutes. Grille the zucchini, squash and peppers until they have grill marks, about 2-3 minutes per side. Let the corn cool slightly before slicing the kernels off the cob. Dice the zucchini and squash. Slice the peppers.
To make the dressing, stir together the peanut butter, shallots, ginger, garlic, rice vinegar, 1/4 teaspoon salt and 1/4 teaspoon pepper. Whisk in the remaining olive oil.
In a large bowl, combine the noodles and the vegetables. Toss with the dressing and top with peanuts and cilantro.
SHARE THIS