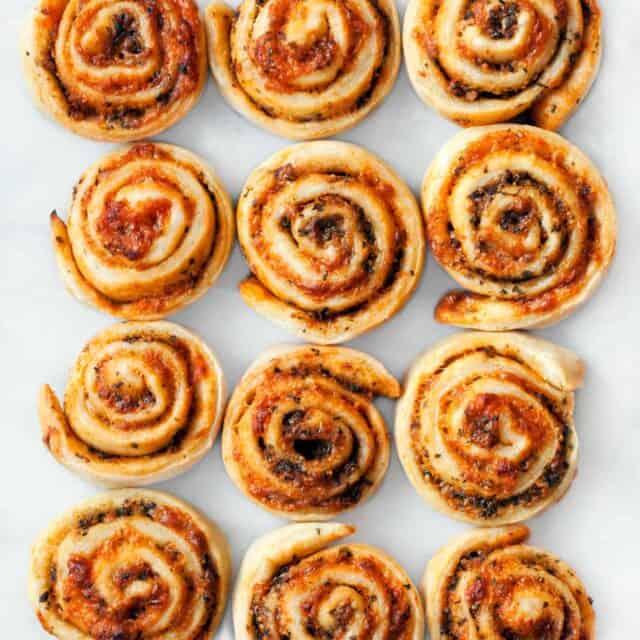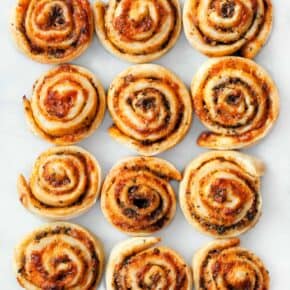 Ingredients
2/3 cup

warm water

1/2 teaspoon

dry active yeast

1/2 teaspoon

granulated sugar

1 teaspoon

olive oil plus more for bowl and brushing pizza
 

1 cup

bread flour plus more for work surface

1/2 cup

whole-wheat flour

1/2 teaspoon

kosher salt

3/4 cups

tomato sauce

1/3 cup

pesto

1/4 cup

shredded Italian cheese blend
Instructions
In a small bowl, combine the water, yeast, sugar and olive oil. Let stand until foamy, about 5 minutes.
In the bowl of a food processor, pulse the flours and salt. Add the yeast mixture and process until a ball of dough forms. Transfer the dough to an oiled bowl. Cover and let rise until doubled in volume, about 2 hours or up to overnight in the refrigerator.
Preheat the oven to 375 degrees F Line a sheet pan with parchment.
Roll the dough into a 10-inch by 16-inch rectangle on a lightly floured work surface. Spread the tomato sauce leaving an 1/8-inch border followed by the pesto. Sprinkle all over with cheese. Roll dough into a log starting with one of the short sides. Chill in the fridge for 25 minutes. Slice the log into rolls about 1-1/2 inches wide. Place them on a prepared sheet pan spacing at least 3 inches apart.
Bake for 20-25 minutes until puffed up and golden brown. Serve warm or at room temperature.