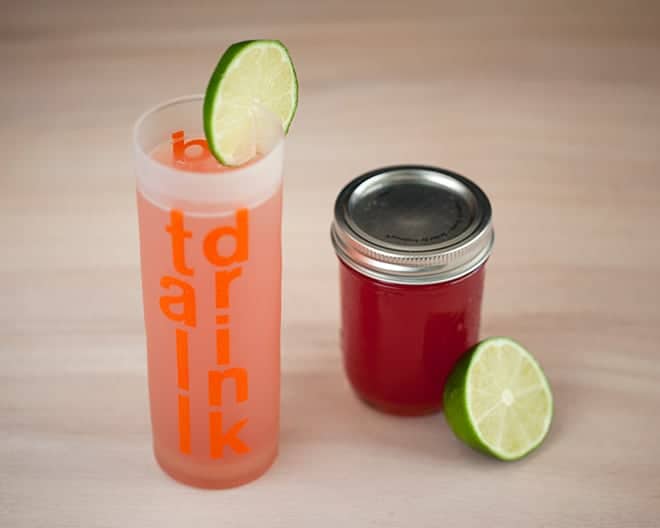 While out shopping a few weeks ago I spotted the unmistakable rosy stalks of rhubarb in a prominent position on the produce shelves, a definite sign of spring. I paused before tossing a bunch into my cart because in that moment I had visions of a plastic bag tucked in the freezer with its contents in full view neatly dated last year. I already had a pound of rhubarb cut into 1-inch pieces anxiously waiting to be put to use in a dessert. Rhubarb freezes well, but it seems odd to consume it outside the boundaries of its short-lived season. That is my logical excuse for why I had yet to use it.
I decided against baking an expected pie or crumble, and I made a tart soda courtesy of homemade rhubarb ginger syrup. Depending on your preference whether a delicate pink flavored seltzer or an intense full-on fuchsia soda, you can adjust the amount of syrup added to the carbonated water to suit both your flavor and color palette. The rhubarb ginger soda was a refreshing concoction announcing the arrival of early spring. After another successful version of homemade soda, count on more experimenting with different ingredients as the growing season is in full swing.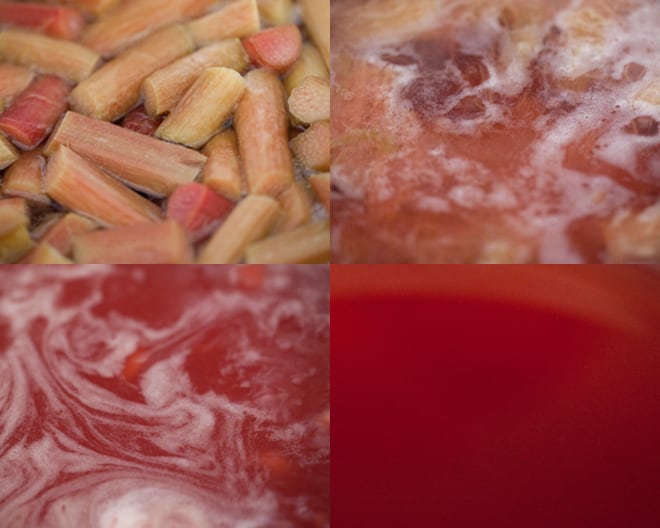 Rhubarb Ginger Soda
Adapted from The Homemade Pantry by Alana Chernila
Makes 2 – 2-1/2 cups
1 lb. fresh or thawed frozen rhubarb, cut into 1-inch pieces
4 cups water
Juice of 1 lime
1 tablespoon ginger, peeled and roughly chopped
1/4 cup granulated sugar
Carbonated water
Place the rhubarb and water in a medium saucepan over medium high heat. Bring to a boil, reduce to a low simmer and cook for 20 minutes until the rhubarb is falling apart and starting to dissolve.
Carefully strain the rhubarb water through a fine mesh sieve and return the liquid to the saucepan. Add the lime juice, ginger and sugar and bring to a boil. Reduce heat and simmer for 20 minutes until the mixture has slightly thickened and reduced to a syrupy consistency. (The syrup will further thicken as it cools.) Strain through a fine mesh sieve and cool completely.
Add 2 teaspoons to 1/3 cup syrup per 1 cup carbonated water depending on your flavor preference. You can also add to vodka or gin cocktails.
SHARE THIS