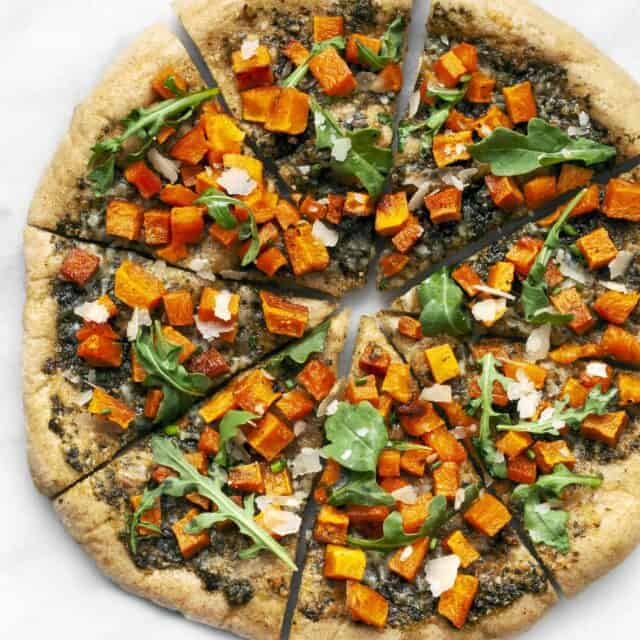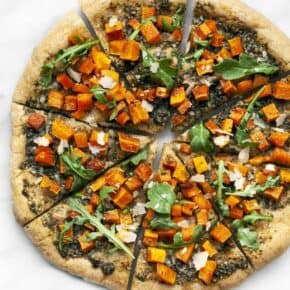 Roasted Butternut Squash Pizza
Author: Paige Adams
Prep Time:

2 hours

Cook Time:

10-12 minutes

Total Time:

2 hours 10-12 minutes

Yield:

1

-

12

inch pizza

1

x
Ingredients
For crust

2/3 cup

warm water

1/2 teaspoon

dry active yeast

1/2 teaspoon

granulated sugar

1 teaspoon

olive oil plus more for bowl

3/4 cup

bread flour plus more for work surface

3/4 cup

whole-wheat flour
Cornmeal for pizza stone
For toppings

1

small butternut squash, peeled and cubed

1 tablespoon

olive oil

1/2 teaspoon

kosher salt

1/4 teaspoon

black pepper

1/4 cup

parsley walnut pesto

1/3 cup

shredded Italian cheese blend

1

handful baby arugula

1 tablespoon

minced chives
Shaved Parmesan for serving
Instructions
For the dough, combine the water, yeast, sugar and olive oil and let stand for 5 minutes until foamy. In a large bowl, mix together the flour and salt. Add the wet ingredients to the dry and stir until it forms a shaggy dough.  Turn the dough onto a lightly floured work surface and knead for 10 minutes until the dough is smooth and elastic. (Alternatively, the dough can be mixed in the bowl of a stand mixer using a dough hook.)
Gather the dough into a ball, transfer to an oiled bowl and cover. Place the bowl in a warm spot to allow the dough to rise until it has doubled in size, about 2 hours.
Preheat the oven to 375 degrees F. Toss the squash with 1 tablespoon olive oil, salt and pepper. Roast for 30 minutes until tender when pierced with a knife.
Preheat the oven to 450 degrees F with a pizza stone inside the oven.
On a lightly floured work surface, roll out the pizza dough into a 12-inch diameter circle or oval shape. Sprinkle the preheated pizza stone with cornmeal and place the dough on it. Bake the crust for 5 minutes before spreading on the pesto, leaving a 1-inch border, followed by the cheese. Continue baking for 5-7 minutes until the crust is golden brown and cooked through and the cheese has melted.
Scatter the squash and arugula over the pizza. Top with Parmesan and chives before serving.