Print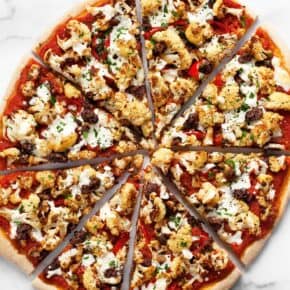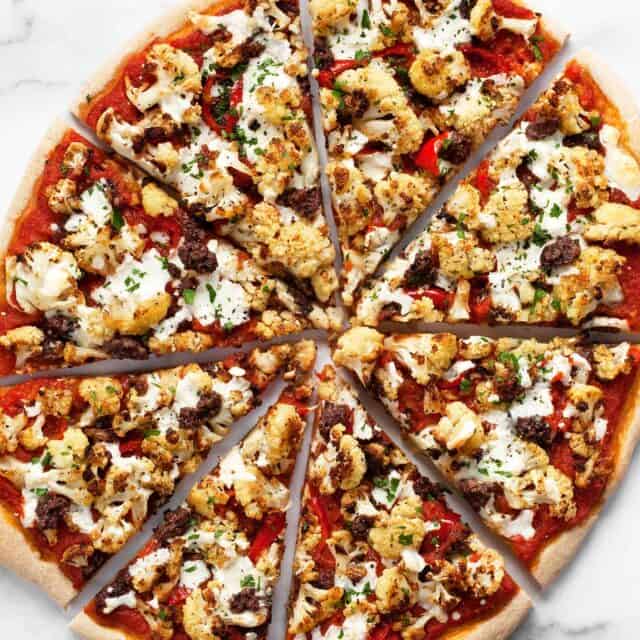 Roasted Cauliflower Olive Tapenade Pizza
Author: Paige Adams
Prep Time:

2 hours

Cook Time:

12-15 minutes

Total Time:

2 hours 12-15 minutes

Yield:

1

14-inch pizza

1

x
Ingredients
For dough

2/3 cup

warm water

1/2 teaspoon

dry active yeast

1/2 teaspoon

granulated sugar

1 teaspoon

olive oil plus more for bowl

1 cup

bread flour plus more for work surface

1/2 cup

whole wheat flour

1/2 teaspoon

kosher salt
Cornmeal for pizza stone
For pizza

1

pound small cauliflower florets

1 tablespoon

olive oil

1 teaspoon

kosher salt

1/2 teaspoon

black pepper

1 cup

tomato sauce

3/4 cup

olive tapenade

4

–

5

Peppadew or sweet cherry peppers, sliced into rings

1 tablespoon

chopped parsley
Instructions
For the dough, combine the water, yeast, sugar and olive oil and let stand for 5 minutes until foamy. In a large bowl, mix together the flour and salt. Add the wet ingredients to the dry and stir until it forms a shaggy dough.  Turn the dough onto a lightly floured work surface and knead for 10 minutes until the dough is smooth and elastic. (Alternatively, the dough can be mixed in the bowl of a stand mixer using a dough hook.)
Gather the dough into a ball, transfer to an oiled bowl and cover. Place the bowl in a warm spot to allow the dough to rise until it has doubled in size, about 2 hours.
Preheat the oven to 450 degrees F with a pizza stone inside the oven.
On a sheet pan, toss the cauliflower with the olive oil, salt and pepper and arrange it in a single layer. Roast for 20 minutes, until the cauliflower is browned at the edges.
On a lightly floured work surface, roll out the pizza dough into a 14-inch diameter circle. Sprinkle the preheated pizza stone with cornmeal and place the dough on it. Spread the tomato sauce leaving a 1/2-inch border. Use a spoon to drop 1/2 cup olive tapenade by the heaping teaspoonful, and then smooth it into the sauce. Arrange the sliced peppers on top followed by the roasted cauliflower. Finally, sprinkle with mozzarella.
Bake the pizza for 12-15 minutes until the cheese has melted and the crust is golden brown.
Before serving, spoon on the remaining tapenade by the 1/2 teaspoonful and top with chopped parsley.
Author: Paige Adams
Prep Time:

2 hours

Cook Time:

12-15 minutes

Total Time:

2 hours 12-15 minutes

Yield:

1

14-inch pizza

1

x