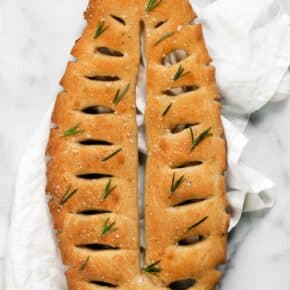 Rosemary Fougasse
Author: Paige Adams
Prep Time:

2 hours 15 minutes

Cook Time:

15-20 minutes

Total Time:

2 hours 30-35 minutes

Yield:

2

loaves

1

x
Ingredients
1

–

1/3

cups warm water

1 teaspoon

dry active yeast

1 teaspoon

granulated sugar

1 tablespoon

olive oil plus more for oiling bowl and brushing bread

2 cups

bread flour plus more for work surface

1 cup

whole wheat flour

1 teaspoon

kosher salt

2 tablespoons

chopped fresh rosemary

2 teaspoons

flaky sea salt
Instructions
In a small bowl, combine the water, yeast, sugar and olive oil. Let stand until foamy, about 5 minutes. In a large bowl, combine the bread flour, whole wheat flour, salt and 1 tablespoon chopped rosemary. Stir in the wet ingredients until it forms a shaggy dough.
Turn it out on a lightly floured work surface and knead until it is smooth and elastic, about 10 minutes. Divide the dough in half and transfer to 2 oiled bowls. Cover and let rise until doubled in volume, about 2 hours.
On a work surface dusted with flour, roll out the dough into 2 ovals about 1/2-inch thick. Place each oval on a parchment-lined sheet pan. Using a pizza wheel, cut a slit down the center of the oval without splitting it in half. Then make shorter diagonal slashes on either side of the center slit.
Gently pull the dough to open up the slits. Make a small cuts at the perimeter between the diagonal slashes. Cover and let rise for 30 minutes until it has puffed up.
Preheat the oven to 450 degrees F.
Brush the dough with olive oil and sprinkle with salt. Bake for 15-20 minutes until golden brown. In the last few minutes of baking, sprinkle the loaves with the remaining rosemary.
Author: Paige Adams
Prep Time:

2 hours 15 minutes

Cook Time:

15-20 minutes

Total Time:

2 hours 30-35 minutes

Yield:

2

loaves

1

x