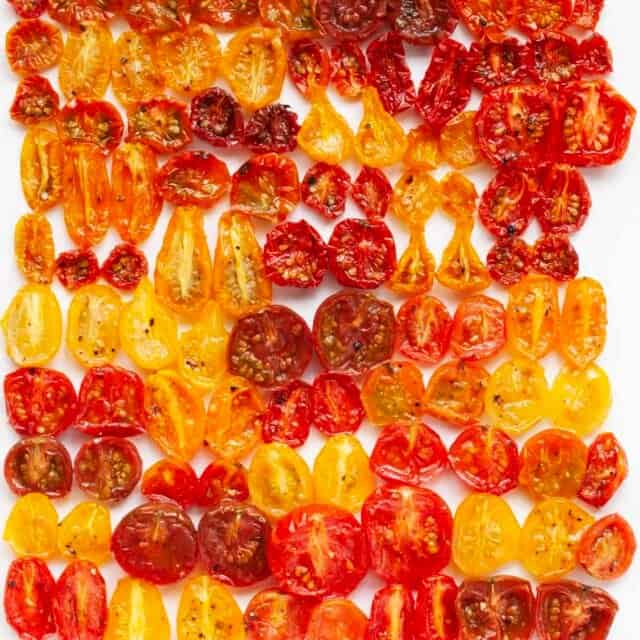 Slow-Roasted Cherry Tomatoes
Author: Paige Adams
Prep Time:

5 minutes

Cook Time:

1-1/2 to 2/12 hours

Total Time:

1-1/2 to 2/12 hours

Yield:

Varies
Ingredients
Cherry tomatoes, halved
Olive oil
Kosher salt
Black pepper
Instructions
Preheat the oven to 220 degrees F.
Place the tomatoes in in a single layer on a sheet pan, cut side up. Drizzle with olive oil and sprinkle with salt and pepper. Roast for 1-1/2 to 2 hours for juicer tomatoes. For drier and more wrinkled tomatoes, roast for 2  to 2-1/2 hours.
Roasted tomatoes can be stored in the refrigerator in an airtight container for 1-2 weeks.
To freeze, arrange the roasted tomatoes in a single layer on a wax paper lined, sheet pan or plate. Once the tomatoes are frozen, transfer them to an airtight container. They should be used within 4-6 months.
Author: Paige Adams
Prep Time:

5 minutes

Cook Time:

1-1/2 to 2/12 hours

Total Time:

1-1/2 to 2/12 hours

Yield:

Varies