This easy homemade spicy tomato salsa has a kick from a combination of fresh jalapeños and crumbled dried chile del arbol. You can whip it up in minutes in a food processor.
Salsa is my pantry security blanket.
I always have a jar at home because it makes me feel safe and secure.
It's comforting knowing that even a spoonful can transform something in my kitchen that might be lacking in the flavor department or a kick.
I use salsa in eggs and grain bowls, too.
It doesn't matter if the dish is Mexican, Tex-Mex or fits in another ethnic category.
Salsa adds a spicy, acidic boost that's good for just about all savory food.
I usually buy my salsa at the grocery.
There are my go-to brands and varieties on the shelves.
With Cinco de Mayo this week, I thought I should put in a little extra effort and whip up a batch from scratch.
How To Make Spicy Tomato Salsa
Look for the best tomatoes you can.
Out of season, I like to use locally greenhouse-grown vine-ripened tomatoes that I can find in the produce department.
First, I peel the tomatoes scoring an X in the bottom, lowering them into a pot of boiling water until the skin starts to come off.
I also drop the garlic cloves into the bubbling water to make peeling easier.
In the bowl of a food processor, I put the peeled and cored tomatoes and the garlic cloves with jalapeno, dried chili de arbol, lime juice, salt and pepper.
The ideal consistency is smooth, but still a little chunky. So don't go overboard pureeing in the food processor. Keep an eye on it!
Finally, I stir in cilantro and finely chopped red onions.

Keep it simple and no nonsense. Try this spicy tomato salsa with a bowl of your favorite tortilla chips.
If you want something more elaborate, use your homemade salsa to top sheet pan nachos or baked mushroom kale quesadillas.
SaveSave
SaveSave
Print
Spicy Tomato Salsa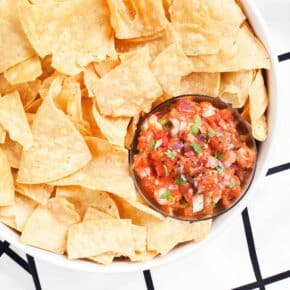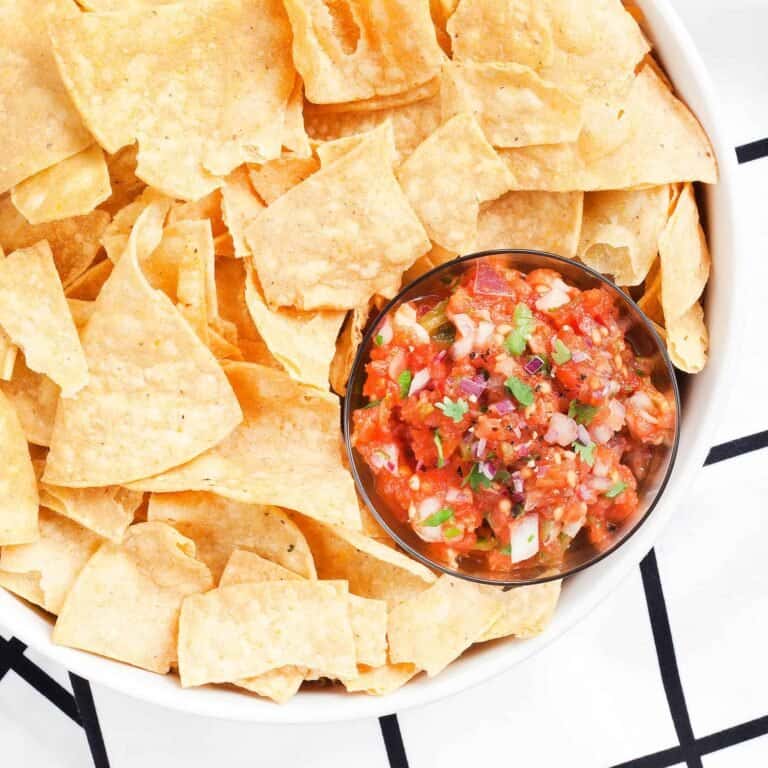 Author:
Prep Time:

10 minutes

Total Time:

10 minutes

Yield:

2 cups

1

x
Scale
Ingredients
5–6 medium vine-ripened tomatoes (about 1–1/4 pounds)
2 garlic cloves
1 jalapeno, stemmed and deseeded
1 dried chile de arbol, stemmed and crushed
1 tablespoon fresh lime juice
1–1/2 teaspoons kosher salt
1/4 teaspoon black pepper
1 tablespoon olive oil
2 tablespoons chopped cilantro
1/3 cup finely chopped red onion
Instructions
Bring a large pot of water to a boil. Score an x in to the bottom of each tomato and carefully lower into the boiling water along with the garlic. Boil for 2 minutes before removing from the water and transferring to a bowl of cold water. Peel and core the tomatoes and peel the garlic.
Place the tomatoes, garlic, jalapeño, chile de arbol, lime juice, salt, pepper and olive oil in the bowl of a food processor or blender. Puree the mixture until almost smooth, but still a bit chunky. Pour the mixture into a bowl and stir in the cilantro and red onions. Taste the salsa and add more salt and pepper if necessary.
Notes
If you want thicker salsa, you can drain the excess liquid by placing it in a fine mesh strainer.
Adapted from Epicurious
SHARE THIS