I saw a photo of my son at school along with his classmates sitting at a table diligently writing with crayons on white paper. The caption said they were coming up with resolutions for 2017. I thought that was kind of funny considering they are only three years old. At home I asked him what he was planning to work on in the new year. His response was to play with more trains.
It took me a few minutes to realize that was a legitimate New Year's resolution—to spend time doing what you love. Diving headfirst into a passion is more likely to stick than an unrealistic exercise regimen, and it might make you more happy. I have a laundry list of things I would like to improve, but I am going to take my son's advice and focus on what brings me delight.
While I can't guarantee that I will be awake at midnight, we will be snacking on all sorts of nibbles at our house tomorrow evening including these oven-roasted sriracha lime chickpeas. They are crispy, a little bit spicy and go well with cocktails and champagne. Wishing everyone the best in 2017!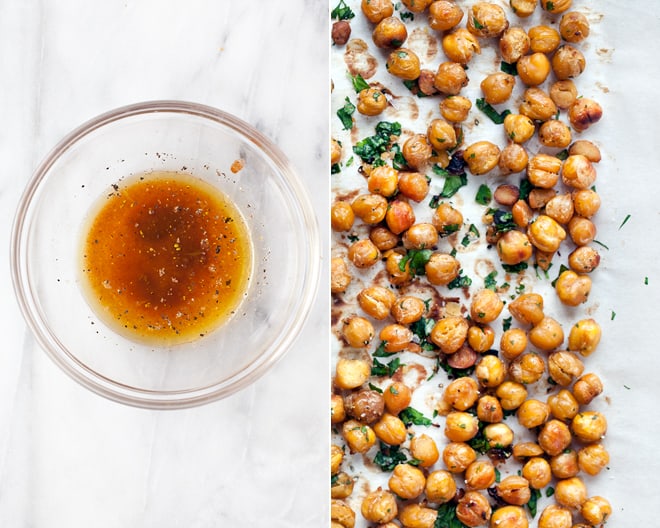 Sriracha Lime Chickpeas
Makes about 2 cups
2-15 ounce cans chickpeas
1 heaping tablespoon sriracha
Juice of 1 lime
1 tablespoon olive oil
1/2 teaspoon flaky sea salt plus more for serving
1/2 teaspoon black pepper plus more for serving
1 tablespoon chopped fresh cilantro
Preheat the oven to 400 degrees F. Line a sheet pan with parchment.
Drain and rinse the chickpeas. Pat them dry with paper towels. Remove any loose outer skins from the chickpeas.
In a small bowl, whisk together the sriracha, lime juice, olive oil, salt and pepper. Transfer the chickpeas to the prepared sheet pan and toss with the sriracha-lime mixture. Bake for 20 – 30 minutes until crisp and browned, gently shaking the pan about halfway through cooking. Sprinkle with cilantro and additional salt and pepper before serving.