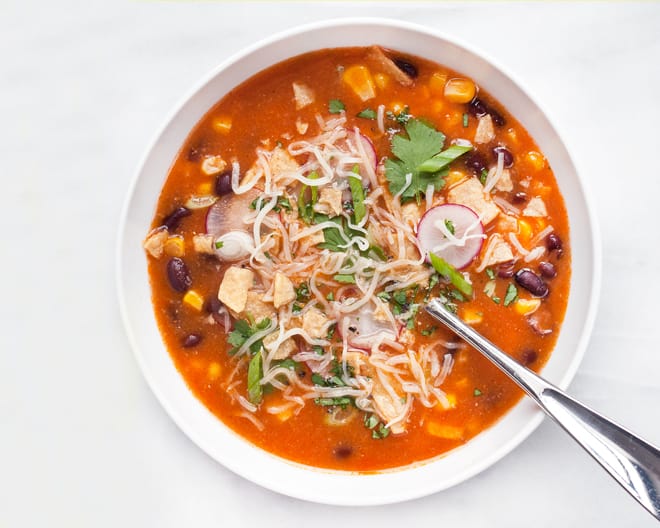 My theory is that the farther you are from Mexico the more you crave its cuisine. When we moved to London, J. and I had a constant longing for the fantastic Mexican food we took for granted living in Chicago. We faced countless disappointing meals until British chef Thomasina Miers, who spent time cooking in Mexico, opened Wahaca, a restaurant celebrating Mexican street food.
I know I was not the only American expat eternally grateful to Ms. Miers for her clever combination of bold Mexican flavors using local ingredients. Even back in Chicago where we are spoiled with stellar Mexican food, I would still love to taste Miers' Wahaca again, but now I make do with recipes from one of her cookbooks. Polenta gives this tortilla soup a silky richness, and chipotle chilies add a noticeable but comfortable level of heat.

Tortilla Soup
Adapted from Mexican Food Made Simple by Thomasina Miers
Serves 6
3 tablespoons olive oil
1 large onion, sliced
3 garlic cloves, peeled and sliced
1/2 cup fine polenta
1 heaping tablespoon chipotles en adobo
1-28 ounce can whole peeled tomatoes
1 tablespoon brown sugar
1 teaspoon dried oregano
1 teaspoon kosher salt
1/2 teaspoon black pepper
1-1/2 quarts chicken stock
1 15-ounce can black beans, drained and rinsed
1 15 ounce can sweet corn kernels, drained and rinsed
For garnishes:
Canola oil for frying
2 corn tortillas, cut into 1/4-inch wide strips
1 ripe avocado, cubed
Lime juice
Radishes, thinly sliced
Shredded Mexican cheese blend
1 handful fresh cilantro, roughly chopped
Heat the olive oil in a large saucepan over medium heat. Sauté the onion without browning until it is very soft and translucent, about 10-15 minutes. Add the garlic and polenta and cook for 5 minutes. Add the chipotles, tomatoes, brown sugar, oregano, salt and pepper and cook for an additional 5 minutes. Pour in the stock and simmer for 10 minutes.
Transfer the soup in batches to a blender and puree until smooth. Return the soup to the saucepan. Add the black beans and corn and simmer on low for 10 minutes.
For the tortillas, heat canola oil 1/2-inch deep in a small skillet until it is shimmering. Fry the strips, about half a tortilla at a time, until golden brown and crisp. Remove with a slotted spoon to a paper towel-lined plate. (Note: If you want, you can used crumbled tortilla chips instead of making the strips.)
Divide the soup into individual bowls and top with your selected garnishes.