With sun dried tomatoes and olives, this tortellini pasta salad will be your new go-to pasta salad recipe. It's tossed in a simple pesto vinaigrette and is finished with baby spinach, red onions, Parmesan and fresh herbs. This salad is a wonderful choice for a side dish or a vegetarian main dish.
If you're interested in another recipe, try this Classic Italian Pasta Salad.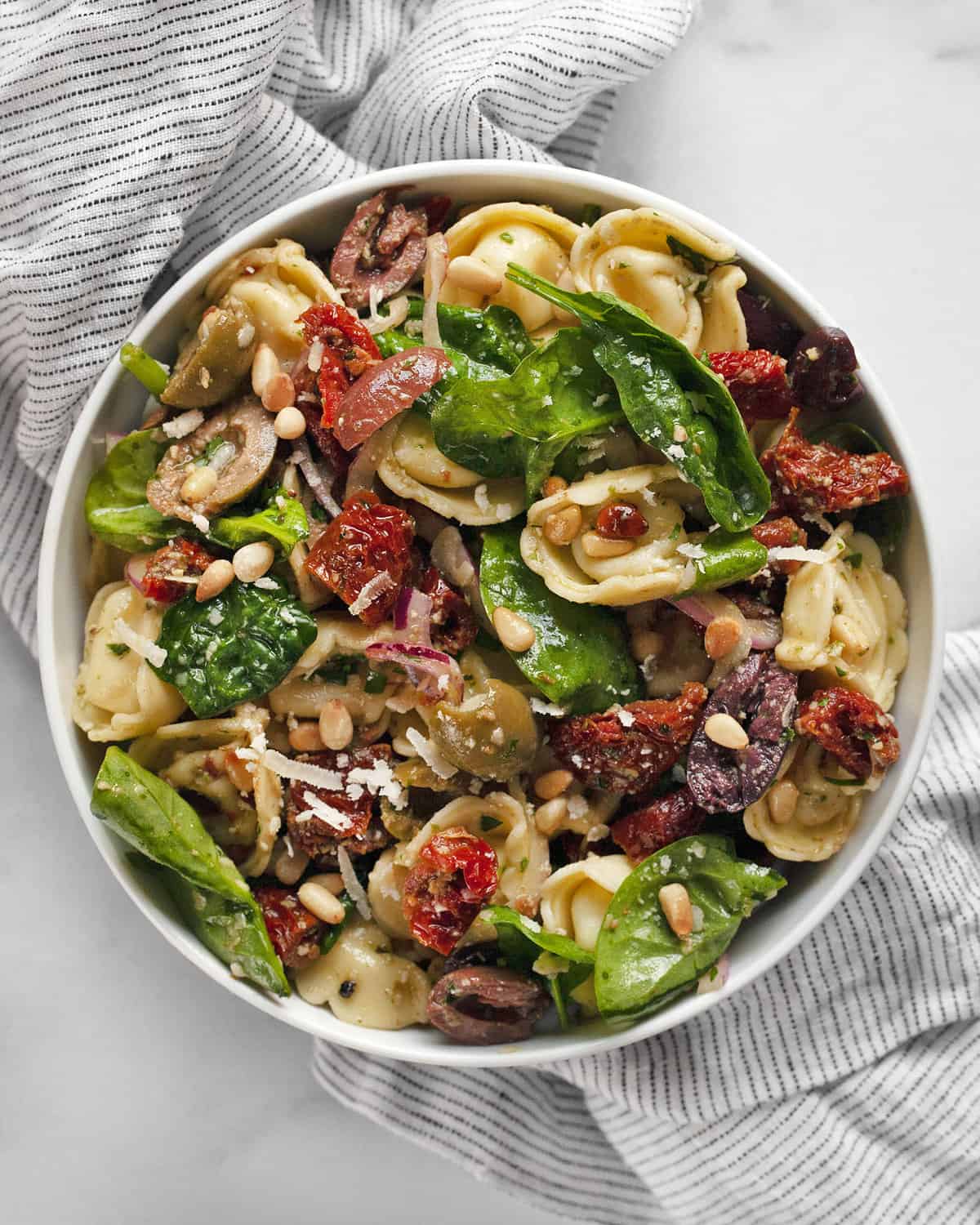 Why You Need This Recipe
This is an easy pasta salad that makes the most of antipasti for tons of flavor. I could go on and on about sun dried tomatoes that come packed in oil in a jar. They are special because they are incredibly tomato-y. All you have to do is chop them and stir them in, and they pair well with olives. Both of these antipasti ingredients are great to keep in your pantry for an instant boost to so many dishes including my Sun Dried Tomato Pasta.
Store-bought refrigerated pasta always is a winner. This tasty time-saver is great for complex pasta shapes like tortellini as well as ravioli.
Pasta salads are fantastic for potlucks. This recipe ticks the boxes for vegetarian side dish or main dish. The flavors from the pesto dressing and the sun-dried tomatoes are exciting on their own, but they also go with other dishes that you may have at your cookout or holiday spread.
What is Tortellini?
Originally from the Emilia Romagna region of Italy, tortellini is a filled pasta. It starts with a single circle of pasta dough that is folded around filling typically with ricotta cheese and often spinach too. It ends up looking like a dumpling. You can find tortellini with the refrigerated fresh pastas at the grocery.
Ravioli is another filled pasta, but it is made with 2 sheets of dough and looks more like a square pillow. For pasta salads, I prefer tortellini because of it's overall round shape. It mixes better with other bite-sized ingredients.
The Ingredients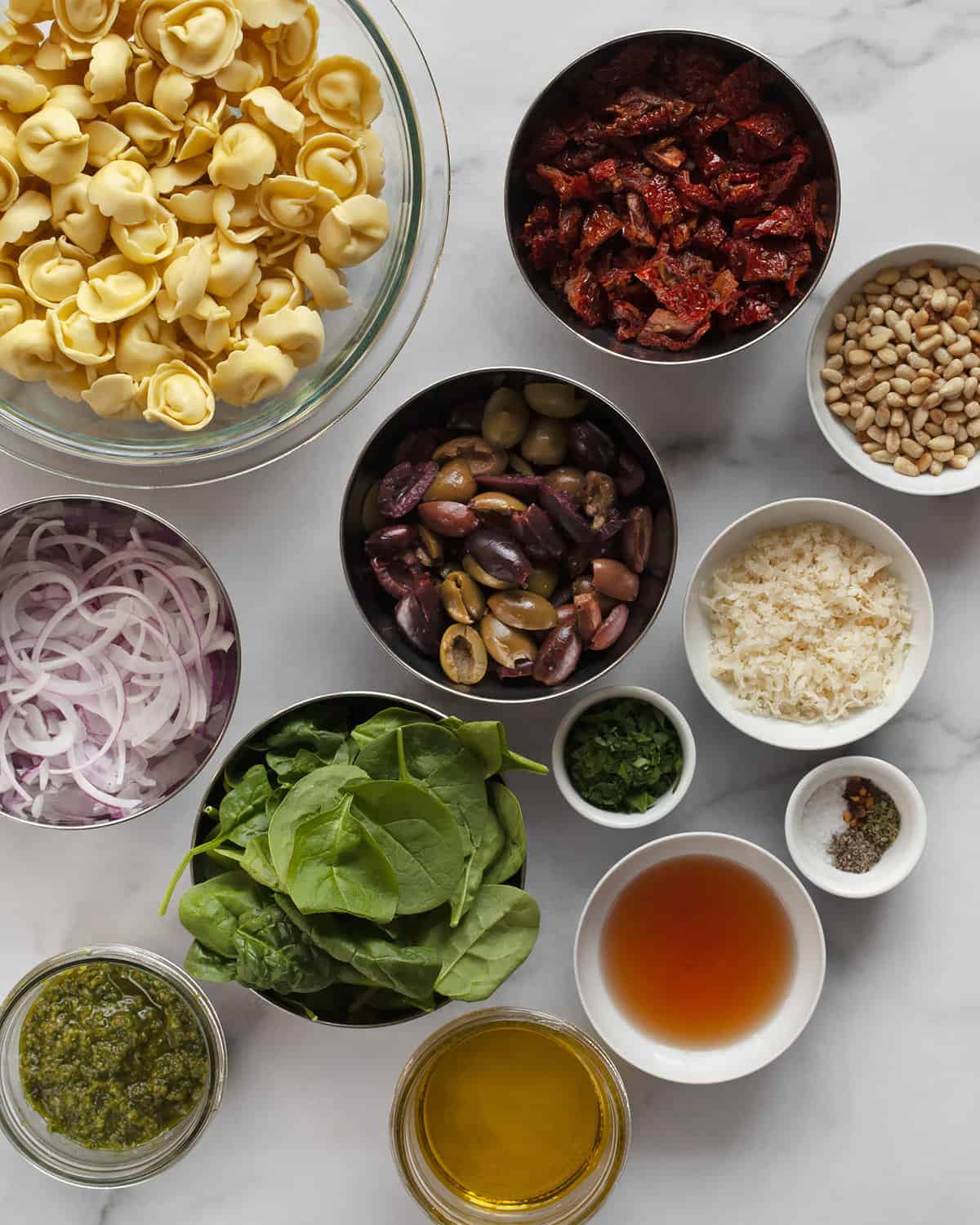 This is what you need:
Tortellini: You can use any kind whether that's cheese tortellini, spinach & cheese or something else. I typically use refrigerated fresh tortellini, but you can find it frozen or shelf-stable in the pasta aisle at the grocery.
Sun dried tomatoes: I buy sun dried tomatoes that come packed in oil because they are hydrated, plump and ready to be used in a recipe. Make sure to drain the oil before you chop the them.
Olives: It's best to use a pitted olive mix with Kalamata olives and different kinds of green olives.
Baby spinach are the greens in this pasta salad. You can substitute with baby arugula if you want or use a mix of both.
Red onions: I thinly slice half a small red onion. Scallions would be another good option for crisp onion flavor.
Pine nuts: You can toast the pine nuts on a sheet pan for about 5 minutes at 350 degrees F. Chopped walnuts are a good substitute.
Parmesan cheese: Even though the tortellini are filled with cheese, I still finish the salad with grated parmesan.
Parsley: For fresh herbs, parsley is a great choice especially if you think you're going to end up with leftovers. Fresh basil will taste good, but it is more delicate and will wilt more quickly once it's tossed in the dressing.
Pesto vinaigrette: The dressing ingredients are a combination of basil pesto, dried oregano, red pepper flakes, salt, pepper, red wine vinegar and extra virgin olive oil. Since garlic is an ingredient in pesto, you get that flavor in the tortellini salad too.
Variations
Use raw ingredients instead. You can go with a more traditional pasta salad and include a pint of cherry tomatoes sliced in half, a chopped red bell pepper, a diced cucumber and torn fresh mozzarella balls or crumbled feta cheese. I would still include olives because they are a nice salty accent.
Add a protein. If you don't need the salad to be vegetarian, you can mix in chopped grilled chicken or roasted chicken. And to really make it an antipasti pasta salad, include salami or another cured meat.
How To Make This Tortellini Pasta Salad Recipe
1. Cook the tortellini in a pot of salted boiling water. Read the recommended cook time on the package and subtract a minute. Then the tortellini will end up on the very al dente side of cooked. Pasta in pasta salad has a tendency to get soggy, so it's best to start with it being more toothy. Transfer it to a colander to drain it and rinse it with cold water. This stops it from continuing to cook.
2. Combine the salad ingredients. That includes the tortellini, sun dried tomatoes, olives, spinach, pine nuts, Parmesan and parsley.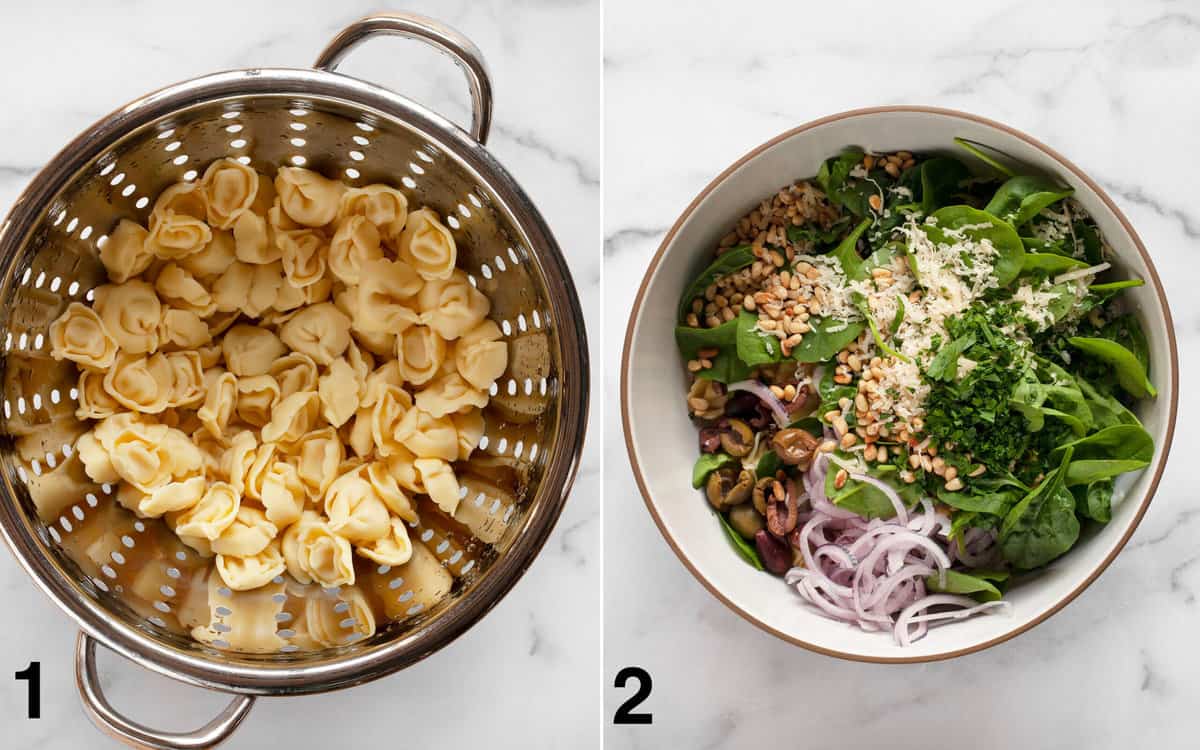 3. Make the vinaigrette. Whisk the pesto, oregano, red pepper flakes, salt, pepper, vinegar and olive oil in a bowl
4. Stir the vinaigrette into the pasta salad. Toss to combine.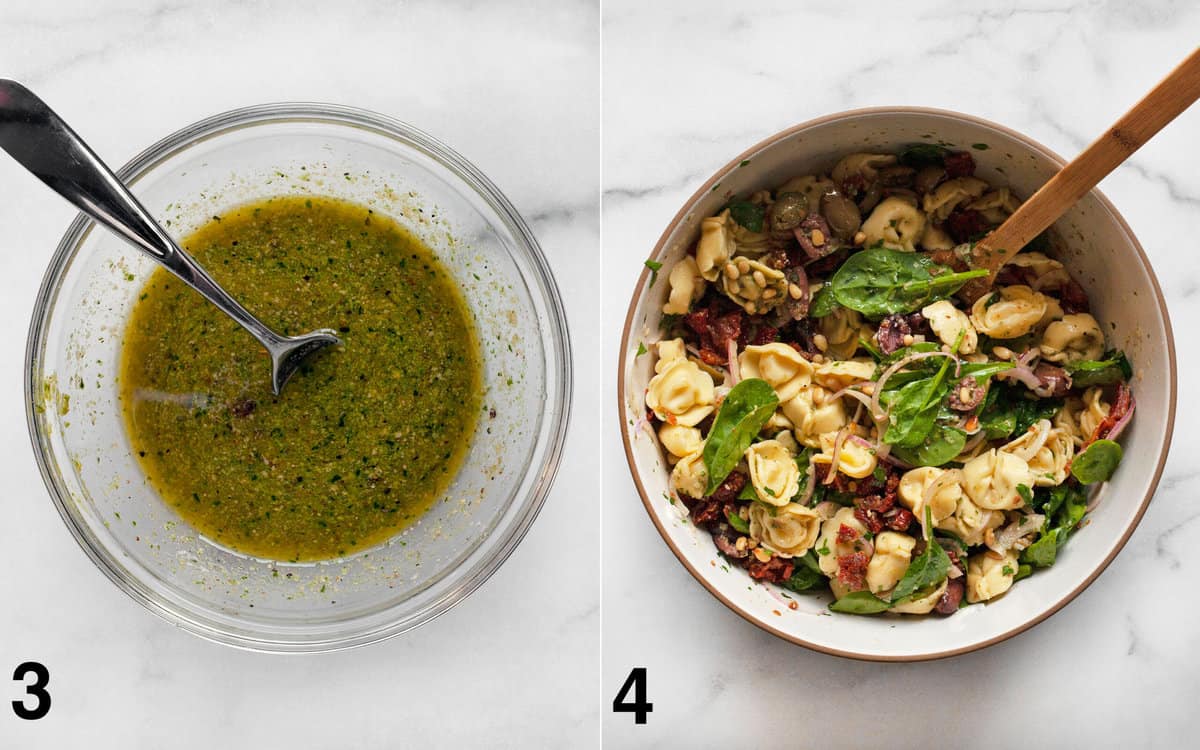 Serving
As mentioned, you can think of this pasta salad as a side dish or a main dish. Sun dried tomatoes and olives go well with anything Italian. In the summer, I love this salad with dishes that are grilled and smoky like Tofu Veggie Skewers or Grilled Halloumi and Vegetables.
Storage, Leftovers & Make-Ahead Tips
This pasta salad is best eaten the day it is made. You can make the dressing up to 3 days in advance. Store it in a jar in the fridge. Put it out at room temperature for 15 minutes before you are planning to mix it in. This gives the oil a chance to turn to liquid again assuming that it has hardened in the cold temperature of the fridge.
Since you don't want to risk the tortellini becoming too soft or sticking together when it's sitting in the refrigerator, I wait to cook it until right before I am planning to assemble the salad.
You can keep pasta salad leftovers in an airtight container in the fridge up to 3 days. Please know that the longer it sits, the more the pasta will soften. Stir more spinach in before you eat the leftovers.
Recipe Tips
Do not overcook the tortellini. This is important. That's why I like to "undercook" the tortellini by a minute according the the package instructions. Then you reduce the risk of your pasta being too soft.
Stir fresh greens into leftovers. Like any salad, when lettuce is tossed in the dressing it becomes limp especially in the chill of the refrigerator. Just stir in another handful of spinach into the pasta salad leftovers.
For a shortcut, you can stir pesto into store-bought Italian dressing. I will always tell you homemade dressing is best. But if you do this, I still think you should add pesto because it makes the pasta salad herby.
Check the seasonings. Cold pasta dishes need more salt and pepper than they do when they are served warm. Taste the pasta salad before serving it to see if you should add salt and pepper.
Recipe FAQs
Do you need to cook refrigerated tortellini?
Yes. Even though you will eat it cold in this pasta salad, you still need to cook it or the pasta and its filling won't taste as good.
What makes a great pasta salad?
First, do not to over cook the pasta no matter what shape you're using. It should be al dente and have some bite. Also, include ingredients with a lot of flavor like sun dried tomatoes and olives. And once you have the pasta salad assembled, taste it to see if it needs more salt or pepper.
Can you add more greens to this recipe?
Absolutely! If you like more leafy greens than pasta, you can always toss in additional lettuce whether that's spinach or arugula.
Did you make this pasta salad? Please leave a rating and comment below. Thanks!
Tortellini Pasta Salad Recipe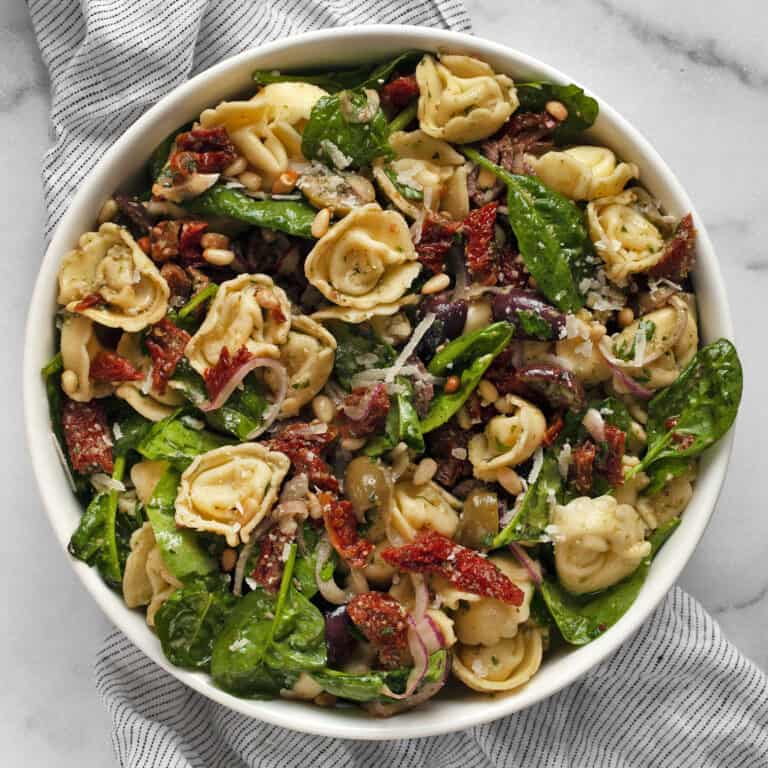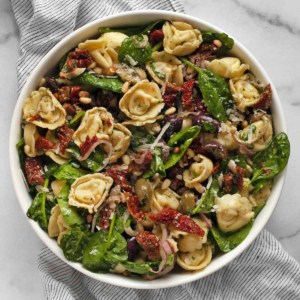 Tossed in pesto vinaigrette, this easy tortellini pasta salad has sun dried tomatoes, olives and spinach.
Ingredients
For pasta salad
1

pound

refrigerated tortellini

1 cup

roughly chopped sun dried tomatoes

oil drained

1 cup

halved pitted olive mix

2

cups

baby spinach

1/2

small red onion

thinly sliced

1/4

cup

toasted pine nuts

1

tablespoon

chopped parsley

1/4

cup

grated Parmesan
For vinaigrette
3

tablespoons

basil pesto

1/2

teaspoon

dried oregano

1

pinch

red pepper flakes

1/2

teaspoon

kosher salt

1/2

teaspoon

black pepper

2

tablespoons

red wine vinegar

1/4

cup

olive oil
Instructions
Cook the tortellini in salted boiling water 1 minute less than the package instructions to make sure it turns out al dente. Rinse with cold water in a strainer. Transfer the tortellini to a large bowl.

Add the sun dried tomatoes, olives, spinach, pine nuts, parsley and parmesan to the tortellini.

For the vinaigrette, whisk together the pesto, oregano, red pepper flakes, salt, pepper, vinegar and olive oil in a small bowl.

Pour the vinaigrette into the salad. Toss to combine.
Notes
You can thinly slice 3 scallions and substitute them for the red onions.
In addition to parsley, you can also use basil.
You can use chopped walnuts in place of the pine nuts.
Instead of sun dried tomatoes, you can use a pint of cherry tomatoes and slice them in half. If you do this, I would recommend adding a chopped red bell pepper, a diced cucumber and torn fresh mozzarella or crumbled feta cheese.
You can make the vinaigrette up to 3 days in advance. Store it in a jar in the fridge. Let it sit at room temperature for 15 minutes before tossing it into the salad.
Leftovers can be stored up to 3 days in an airtight container in the refrigerator. They will soften the longer they are stored. Add fresh baby spinach.
Nutrition
Calories:
409
kcal
|
Carbohydrates:
36
g
|
Protein:
14
g
|
Fat:
23
g
|
Saturated Fat:
5
g
|
Polyunsaturated Fat:
3
g
|
Monounsaturated Fat:
8
g
|
Cholesterol:
33
mg
|
Sodium:
686
mg
|
Potassium:
129
mg
|
Fiber:
4
g
|
Sugar:
3
g
|
Vitamin A:
1201
IU
|
Vitamin C:
5
mg
|
Calcium:
174
mg
|
Iron:
3
mg
Nutrition information is automatically calculated, so should only be used as an approximation.