It never fails that you need a vacation after your actual vacation.
Don't get me wrong. Going away to explore a new place is inspiring. It is invigorating to take a break from your regular routine.
I love eating new things at markets and walking to see the sites of a city, town or wherever.

At least a couple days are needed to get back to normal with a house replenished with groceries and clean laundry.
Having a little one at home makes that transition into reality a bit more complicated.

Whether it's time zone differences and missed bedtimes, it takes a village to support each other with the adjustment.
We spent the week of Fourth of July visiting family and playing in the sand at the beach. This an annual trip that we always look forward to each summer.
Despite flight delays, our son was incredibly patient. I kept thanking him for that. We are lucky to have a good traveler!
Preoccupied with the stress that comes the moment you set foot in an airport, on our outbound journey I realized I packed my little guy's snacks, but nothing for my husband and me.
As every parent knows, the child comes first especially when it involves snacks.


Without much thought, I headed to a grab & go and picked up a chickpea salad with a southwest twist.
My expectations of airport food are generally pretty low, but in the last few years, dining options have made serious improvements.
That salad was really tasty!


Inspired by those flavors, I used them in my version of a three bean salad.
I went with a combination of black beans, pinto beans and navy beans.
To add some fresh crunch to those canned beans, I stirred in diced red bell peppers and red onions.
Keeping with southwest flavors, I added lots of cilantro and tossed everything in lime vinaigrette.
Who would have thought that an airport salad would be the spark for a three bean salad recipe in my own kitchen?
Print
Three Bean Salad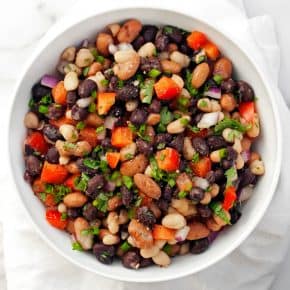 Prep Time:

10 minutes

Total Time:

10 minutes

Yield: Serves

4

1

x
Scale
Ingredients
1/4 cup olive oil
Juice of 1 lime
1-1/2 teaspoons kosher salt plus more for serving
1/2 teaspoon black pepper plus more for serving
1-15 ounce can black beans, drained and rinsed
1-15 ounce can pinto beans, drained and rinsed
1-15 ounce can navy beans, drained and rinsed
1/4 cup finely diced red onions
1 red bell pepper, diced
2 handfuls cilantro, roughly chopped
2 tablespoons minced chives
Instructions
In a small bowl, whisk together the olive oil, lime juice, 1/2 teaspoon salt and 1/4 teaspoon pepper.
In a large bowl, combine the black beans, pinto beans, navy beans, onions, bell peppers, cilantro, chives and remaining salt & pepper. Stir in the lime vinaigrette. Taste the salad and add more salt and pepper as desired before serving.
SHARE THIS