When tomato season is still in full swing, but the days are numbered, it's time for easy preservation recipes like these homemade stewed tomatoes. Since they are simmered with garlic, bell peppers and a mix of dried spices, they have so much flavor. The best part is that you don't need to can them. They are very freezer friendly.
If you are looking for a simple sauce recipe, try this Roma Tomato Sauce.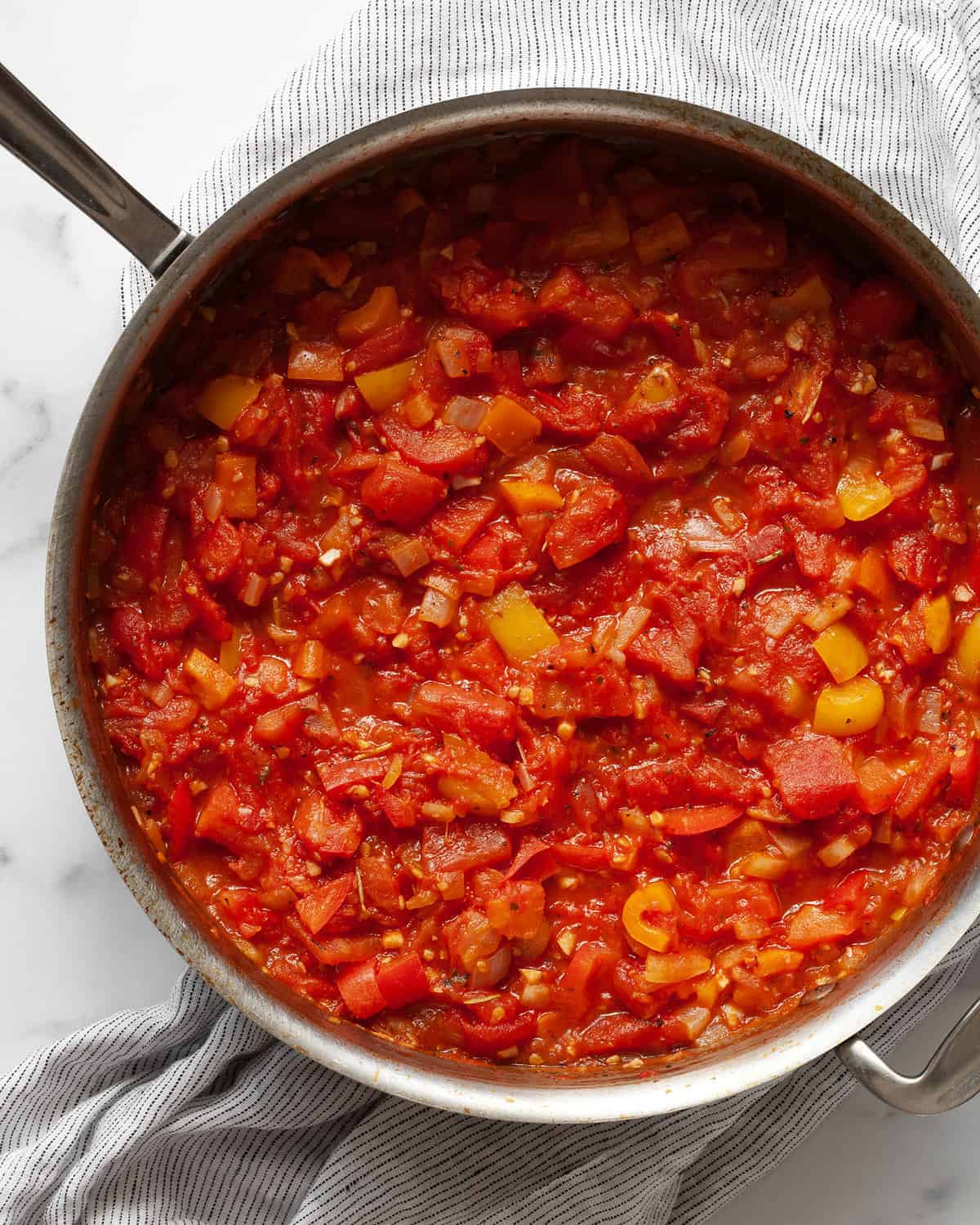 Why You'll Love This Recipe
Stewed tomatoes give you a head start. Loaded with garlic, spices and bell peppers, stewed tomatoes have a lot going on. Because most of the work has already been done, you can make a few additions like beans or chickpeas, and turn them into a meal long after you stew your tomatoes.
This is a great way to preserve fresh tomatoes besides just sauce. Of course, that is not meant to be a diss to tomato sauce, but when you have a ton of tomatoes, it helps to have options.
You don't have to can these tomatoes to save them. Once you know how, home canning is a doable task. It just takes time. You can freeze stewed tomatoes to keep things as simple as possible.
When you make this homemade stewed tomato recipe, you choose the seasonings and the ingredients. There is nothing wrong with canned versions, but it's easy to make them from scratch and stir in the amount of garlic and the kinds of spices and bell peppers that you want.
What Are Stewed Tomatoes?
At its most basic, stewed tomatoes are fresh tomatoes, butter, sugar, salt and pepper that are all cooked down. There are variations. For instance, sometimes they have bell peppers, garlic and or/spices. They are a wonderful way to cook and preserve tomatoes, so you can use them later.
I like to flavor my tomatoes with a blend of dried spices to give them more personality. I stick with oregano and rosemary because you find them in a variety of cuisines from Italian to Mexican. This way I keep my options open on how I can use my stewed tomatoes later. They have distinct taste, but they are still adaptable. This is key.
The Ingredients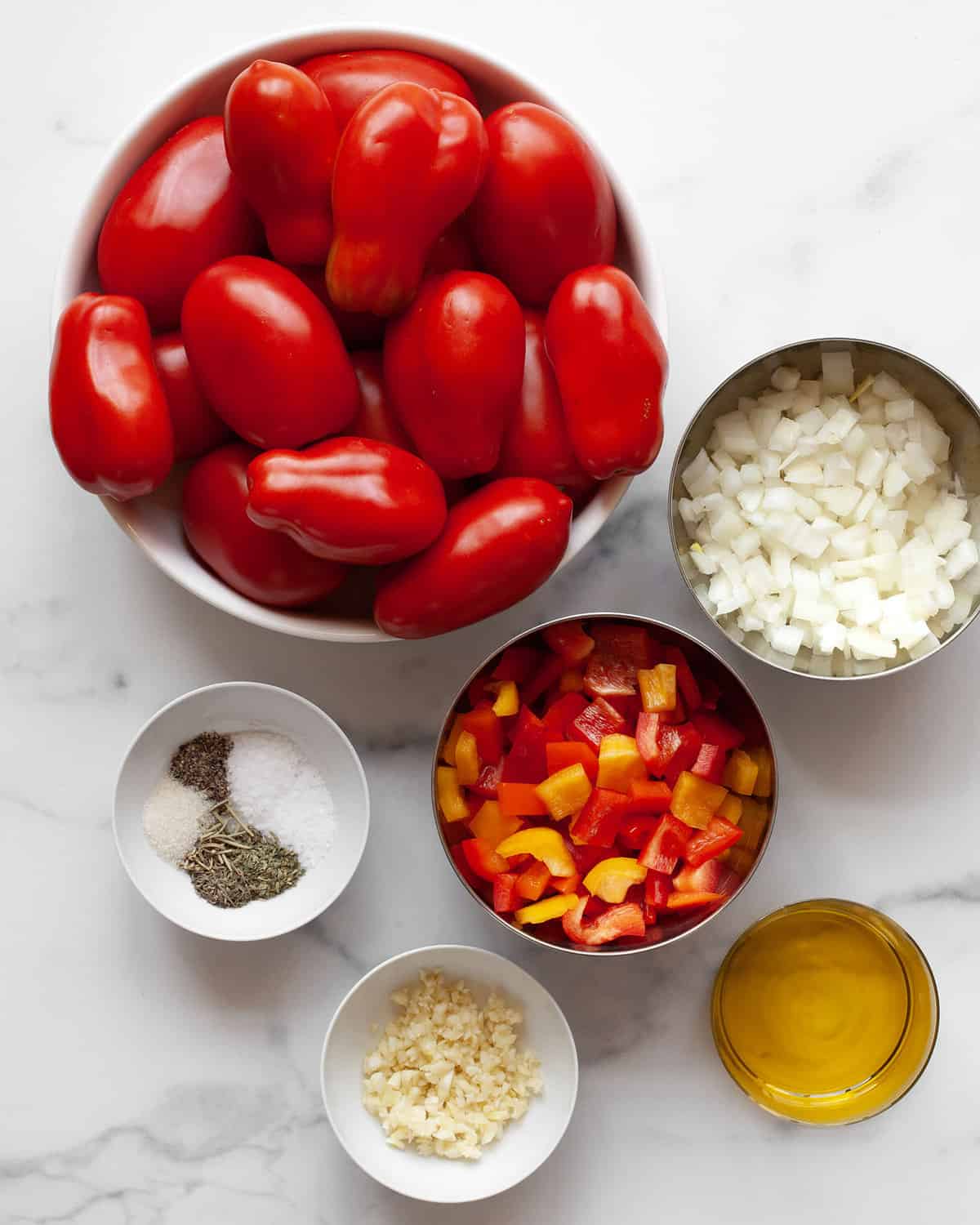 This is what you need:
Tomatoes: My preferences are plum and roma tomatoes. Both are good for sauce because they have lots of flesh and fewer seeds. Even though stewed tomatoes aren't sauce, these qualities are still important. If you do end up adding other varieties, go with medium to large tomatoes because they will be easier to peel than small ones. Also, only make those other types about 25% of your tomatoes leaving the rest as roma or plum.
Onions in any recipe hang out in the background, but they add flavor and some texture.
Bell peppers: I prefer orange, yellow or red bell peppers and like to use a combination of them. Green bell peppers are more bitter, so that's why I use sweeter ones. It is your choice.
Garlic: You need 4 minced garlic cloves, which may sound like a lot, but they balance out with the rest of the ingredients.
Spices: These tomatoes simmer with dried oregano, rosemary, kosher salt and black pepper.
Sugar is a traditional ingredient in stewed tomatoes. I stir in just a little because I want it to enhance the overall flavor rather than it actually tasting sweet.
Olive oil: I sauté the onions in olive oil. You can substitute with butter if you want. It will add more richness.
How To Make Stewed Tomatoes
1. Peel the tomatoes. The best way to do this is to score an X in the bottom of each tomato. Bring a large pot of water to a boil. Simmer the tomatoes for a minute until their skins start to peel and wrinkle. Then put them into a bowl of ice water. It's easiest to use a slotted spoon or a spider to transfer them. Peel the tomatoes and roughly chop them.
2. Warm the olive oil over medium high heat and sauté the onions. Give them about 4 minutes to become soft and translucent.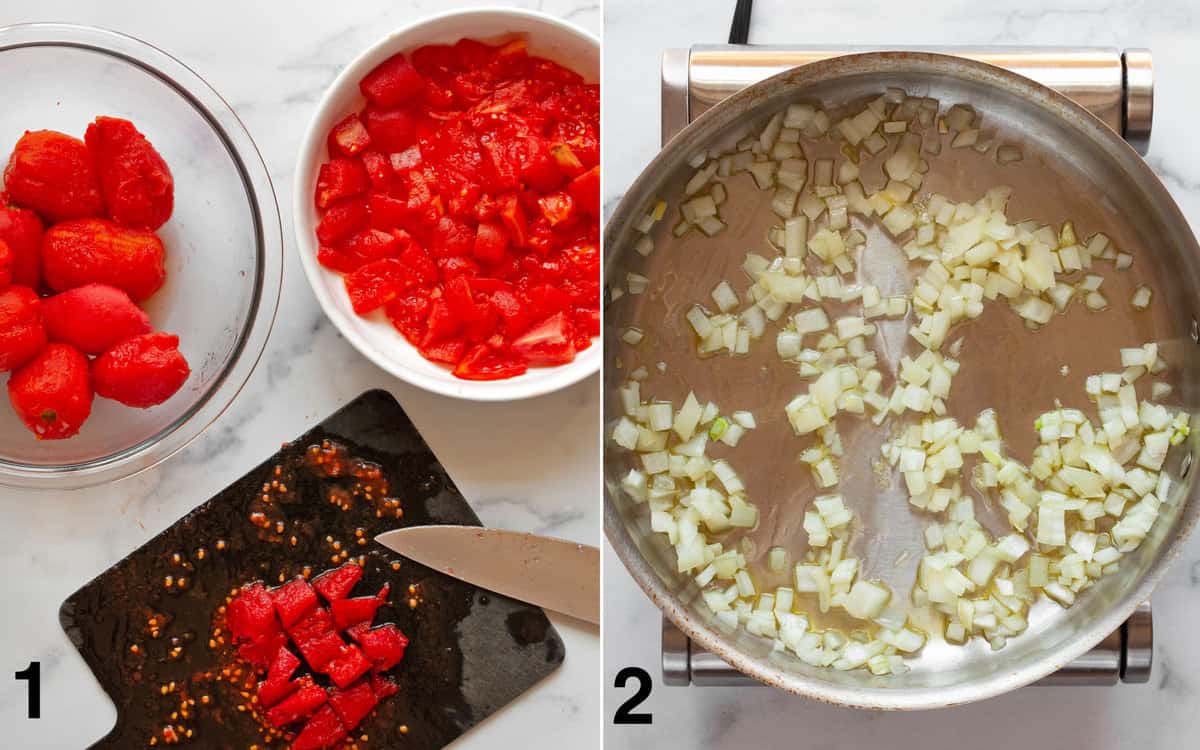 3. Sauté the bell peppers, cooking them for a couple minutes.
4. Stir in the garlic, spices and sugar. They will make the onions and peppers very fragrant.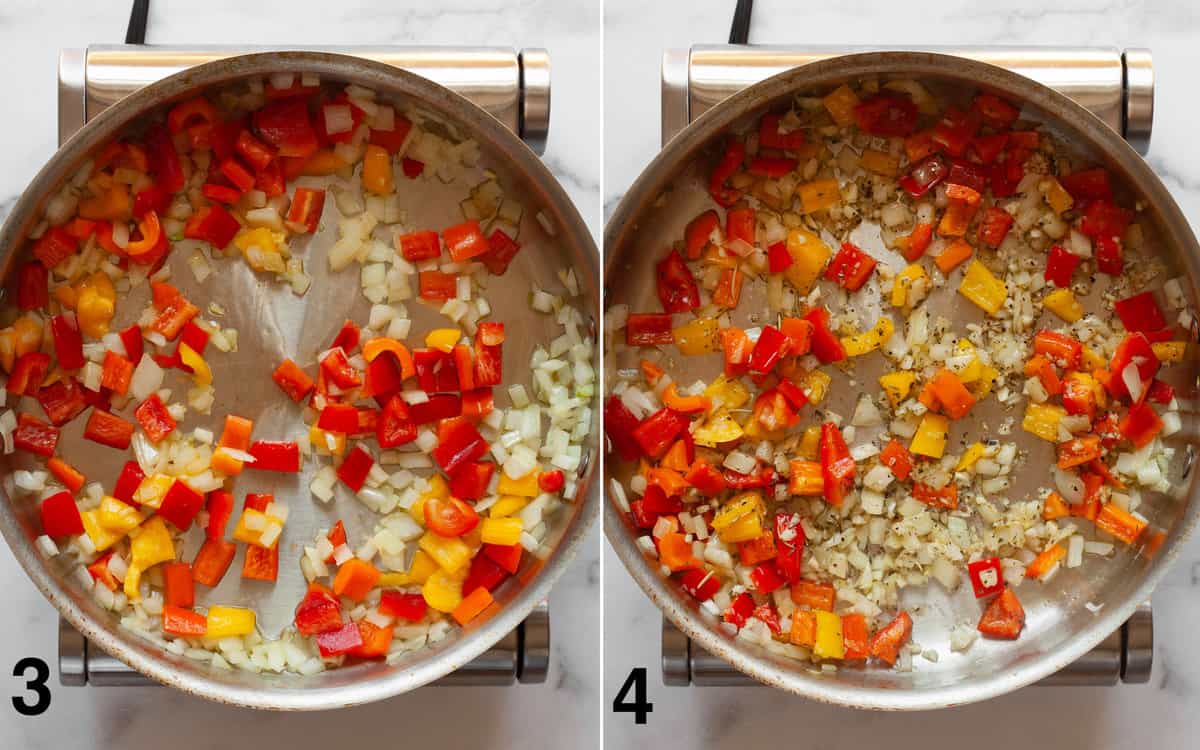 5. Pour in the tomatoes and stir them into the peppers and onions.
6. Simmer the tomatoes. Reduce the heat to medium and let the tomatoes simmer for 20-25 minutes. They will thicken, but there should still be a small amount of juice in the pan.
Optional Additions
It helps to know how you plan on using the tomatoes. Certain additions will be more specific to a particular cuisine. Here are a few options:
Jalapeños will make the tomato mixture spicy. You can add half or all of 1 jalapeño, minced. This makes sense if you are going to make chili.
Italian seasonings: Instead of including just oregano and rosemary, you can substitute with 1 to 1-1/2 teaspoons of Italian seasoning. These blends also have dried basil, marjoram and thyme.
Carrots and celery: Maybe you want your stewed tomatoes to have more vegetables. When you sauté the onions, also add 1 medium carrot and 1 celery stalk, both diced.
How To Serve Stewed Tomatoes
You can use these tomatoes immediately or freeze them to save for later:
Side dish: Serve a bowl of tomatoes as a side with Mediterranean dishes including Sheet Pan Baked Feta and Veggies, Roasted Herby Vegetables & Halloumi or with proteins such as grilled or roasted chicken, salmon or shrimp.
Sauce: This is a good choice for a chunky tomato sauce for pasta. I really love it with short shapes like penne and rigatoni.
Soups, Stews & Chili: Add some chicken or vegetable broth to thin out the tomatoes to your desired consistency. Then you can add beans, chickpeas or even rice to make a simple and hearty soup.
Storage & Freezing
Even though I have the jars, racks, lids and everything else for canning, and I know how to seal jars in a water bath, I don't both doing it for these tomatoes. That's because they freeze so well. Just freeze them portioned out. You want to end up only thawing a recipe's worth at a time. Again, it is important to think about how you're going to end up using them.
You can put the tomatoes in an airtight container in the refrigerator up to 4 days. They can be stored in the freezer up to 3 months. Let them thaw at room temperature to the point that they have softened. Then warm the tomatoes in a saucepan on the stove over low to medium heat, breaking up chunks to distribute the heat.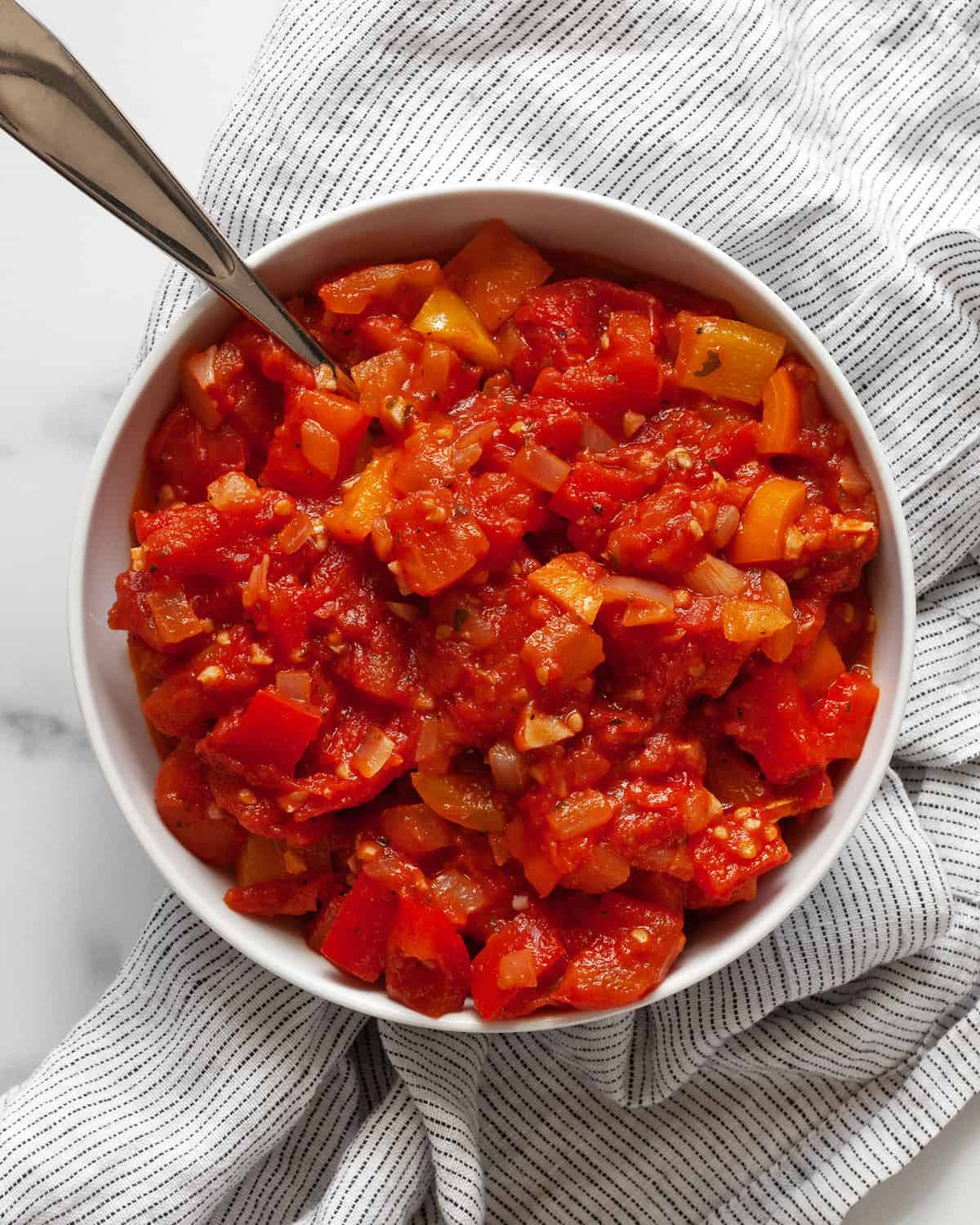 Recipe Tips
Use ripe tomatoes. There is no point in preserving unless whatever you're trying to hold on to is good and flavorful. This is very true with any tomato recipe. This is the time to make a trip to the farmers market or use the tomatoes from your garden.
Adjust the heat as necessary when you are simmering. You may need to dial it down or kick it higher. Remember that you want to still see some juice in the pan when the tomatoes finish cooking.
Let the tomatoes cool completely to room temperature before storing them. This makes them safe for storage.
Recipe FAQs
How are stewed tomatoes different than canned diced tomatoes?
Diced tomatoes are just that: tomatoes that have been cut into chunks. Stewed tomatoes are cooked with seasonings, peppers and some sugar.
What tomato varieties are good for making stewed tomatoes?
Because they have fewer seeds and more flesh, I prefer using ones that are good for sauce such as roma tomatoes or plum tomatoes. You will get a better yield and consistency.
Can you use whole canned tomatoes to make stewed tomatoes?
The point of this recipe is to preserve fresh tomatoes, so for the best taste you should use ripe, juicy fresh tomatoes and not canned ones.
Easy Homemade Stewed Tomatoes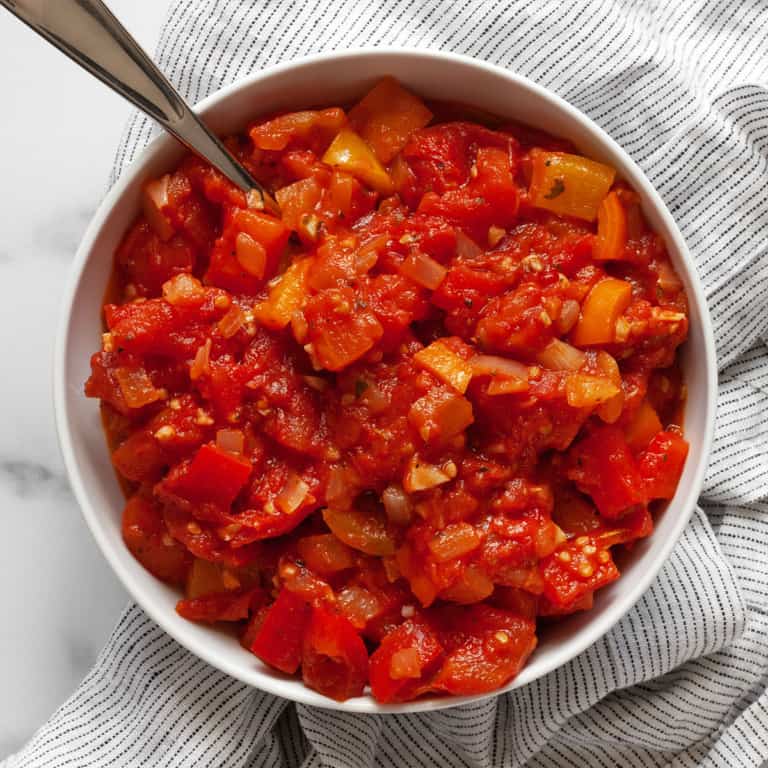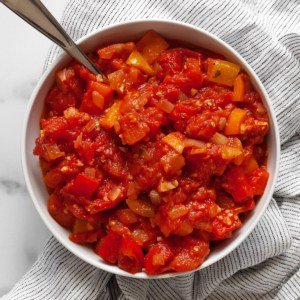 With garlic, bell peppers, oregano and rosemary these stewed tomatoes are full of flavor. You can use them as sauce, soup and more, and you can freeze them.
Ingredients
3

pounds

roma tomatoes or plum tomatoes

2

tablespoons

olive oil

1

small white onion

roughly chopped

1

cup

diced bell peppers

4

garlic cloves

minced

1/2

teaspoon

dried oregano

1/4

teaspoon

dried rosemary

1-1/2

teaspoons

kosher salt

1/2

teaspoon

black pepper

1/2

teaspoon

granulated sugar
Instructions
To peel the tomatoes, you will need a large pot of boiling water. Score an X into the bottom of each tomato. Boil the tomatoes for 1 minute. Use a slotted spoon to transfer them to a large bowl of ice water. Peel the tomatoes and roughly chop them.

Heat olive oil in a large skillet over medium high heat. Sauté the onions until they start to soften, about 4 minutes.

Add the bell peppers and continue sautéing for 2 minutes.

Stir in the garlic, oregano, rosemary, salt, pepper and sugar. Cook until fragrant, about 1 minute.

Add the tomatoes, reduce heat to medium and simmer, stirring frequently, for 20-25 minutes until thickened.
Notes
Recipe makes about 3-1/2 cups tomatoes (28 ounces).
Let the tomatoes cool to room temperature before storing them.
The tomatoes can be kept in an airtight container in the fridge up to 4 days.
To store them up to 3 month, freeze them. It's best to divide them into smaller portions before freezing because it will make them easier to thaw. When you do thaw the tomatoes, let them sit out at room temperature to soften a bit. Then warm them in a pan on the stove over medium to low heat, stirring to break up any chunks.
You can serve stewed tomatoes as a side dish. Or use them as pasta sauce. You can add chicken or vegetable broth to use them as the base of a soup, stew or chili and add beans, chickpeas or rice.
Optional Additions:
Jalapeños: You can add half or all of 1 jalapeño, minced.
Italian seasonings: Instead of including just oregano and rosemary, you can substitute with 1 to 1-1/2 teaspoons of Italian seasoning.
Carrots and celery: When you sauté the onions, add 1 medium carrot and 1 celery stalk, both diced.
Nutrition
Calories:
101
kcal
|
Carbohydrates:
13
g
|
Protein:
3
g
|
Fat:
5
g
|
Saturated Fat:
1
g
|
Polyunsaturated Fat:
1
g
|
Monounsaturated Fat:
3
g
|
Sodium:
207
mg
|
Potassium:
629
mg
|
Fiber:
4
g
|
Sugar:
8
g
|
Vitamin A:
2671
IU
|
Vitamin C:
65
mg
|
Calcium:
36
mg
|
Iron:
1
mg
Nutrition information is automatically calculated, so should only be used as an approximation.