Chipotles en adobo add heat to this tortilla soup with black beans and corn. Each bowl is topped with crumbled chips, radishes and cilantro.

I've matured into being a soup lover. Since my mom wasn't and still isn't a soup eater, we didn't have it at our house growing up.
One of my earliest soup memories was in high school. When we were just 16 and had drivers licenses, my friends and I would go out to dinner.
The places were usually chains because that was being a teenager in Cincinnati, Ohio. One of our favorites was a Mexican restaurant.
More often than not, we would go overboard on the free chips and salsa to start the meal, and we would be too full for dinner.
I have no idea what inspired me to order to tortilla soup one time, but I absolutely fell in love with it after the first spoonful.

Maybe it was the spicy tomato broth that got me or all the toppings mixed in.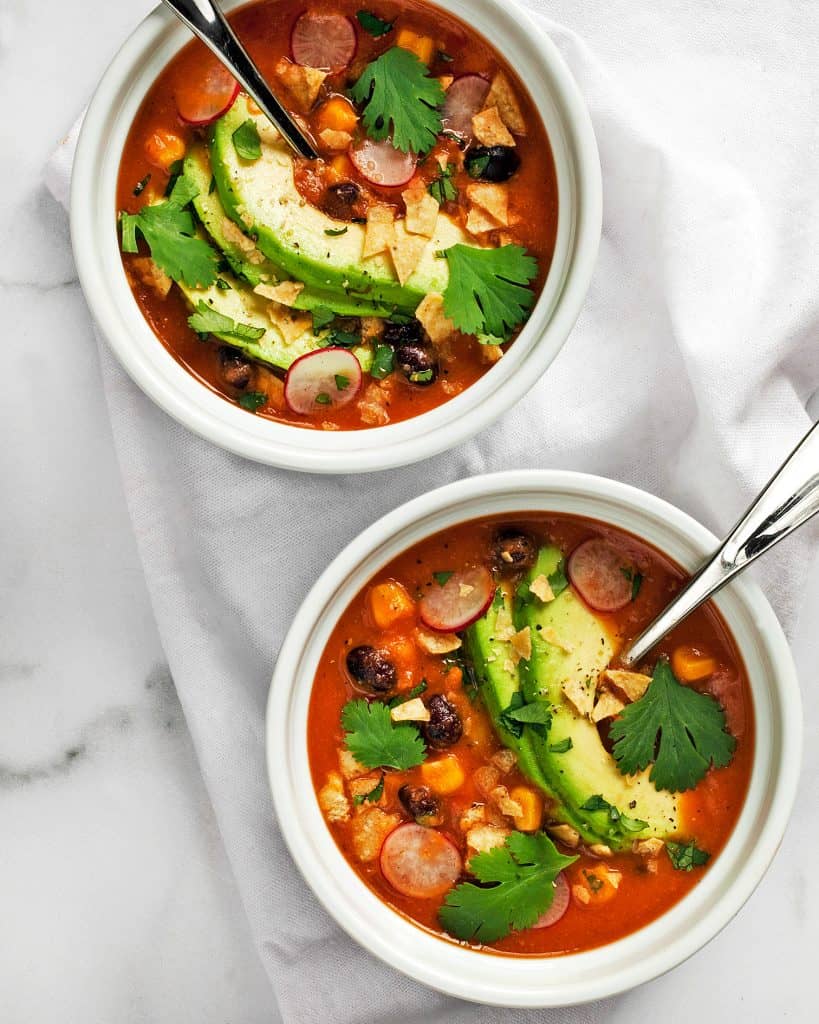 After that, there was no going back. I always ordered tortilla soup, which was a good choice after consuming too many chips!
Every winter I have soup on almost a daily basis. When the frigid weather in Chicago seems like it's never going to end, I need a warming pick-me-up.
Tortilla soup is a good alternative to my usual veggie puree-based soups.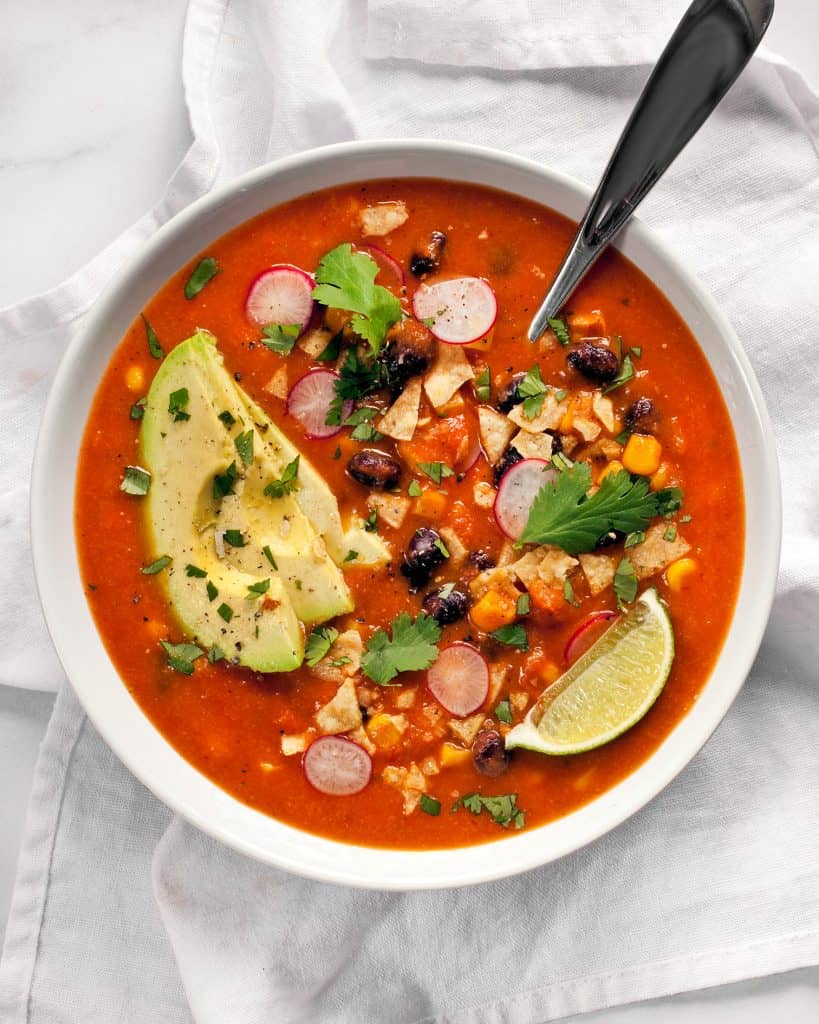 How To Make Tortilla Soup
Like most soups, I start by sweating the onions over medium low heat until they are translucent. It is a test of my patience to wait.
Then I add sliced garlic, chipotle en adobo and fine polenta. The polenta thickens the soups, so it is a little bit silky while still staying like a broth.
You can use either chicken stock or veggie stock depending on your preference.
That entire mixture gets blended, and after that, it's back in the pot to simmer with black beans and corn.
For toppings, I like broken tortilla chip, radishes, lime juice and cilantro.
Print
Tortilla Soup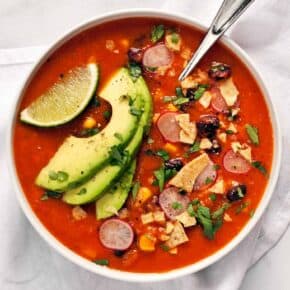 Chipotles en adobo add heat to this tortilla soup with black beans and corn. Each bowl is topped with crumbled chips, radishes and cilantro.
Author:
Prep Time:

10 minutes

Cook Time:

32-34 minutes

Total Time:

42-44 minutes

Yield: Serves

6

1

x
Scale
Ingredients
3 tablespoons olive oil
1 large onion, sliced
3 garlic cloves, peeled and sliced
1/2 cup fine polenta
1 heaping tablespoon chipotles en adobo
1–28 ounce can whole peeled tomatoes
1 teaspoon dried oregano
1 teaspoon kosher salt
1/2 teaspoon black pepper
1–1/2 quarts vegetable stock
1–15 ounce can black beans, drained and rinsed
1–15 ounce can sweet corn kernels, drained and rinsed
Sliced avocadoes, crumbled tortilla chips, sliced radishes, chopped cilantro and lime wedges for serving
Instructions
Heat the olive oil in a large saucepan over medium heat. Sauté the onion without browning until it is very soft and translucent, about 7-9 minutes. Add the garlic and polenta and cook for 5 minutes. Add the chipotles, tomatoes, oregano, salt and pepper and cook for an additional 5 minutes. Pour in the stock and simmer for 10 minutes.
Puree the soup in the pot using an immersion blender, or transfer the soup in batches to a blender and puree until smooth. Return the soup to the saucepan. Add the black beans and corn and simmer on low for 10 minutes.
Divide the soup into individual bowls and top with tortilla chips, radishes, cilantro and a squeeze of lime juice.
SHARE THIS