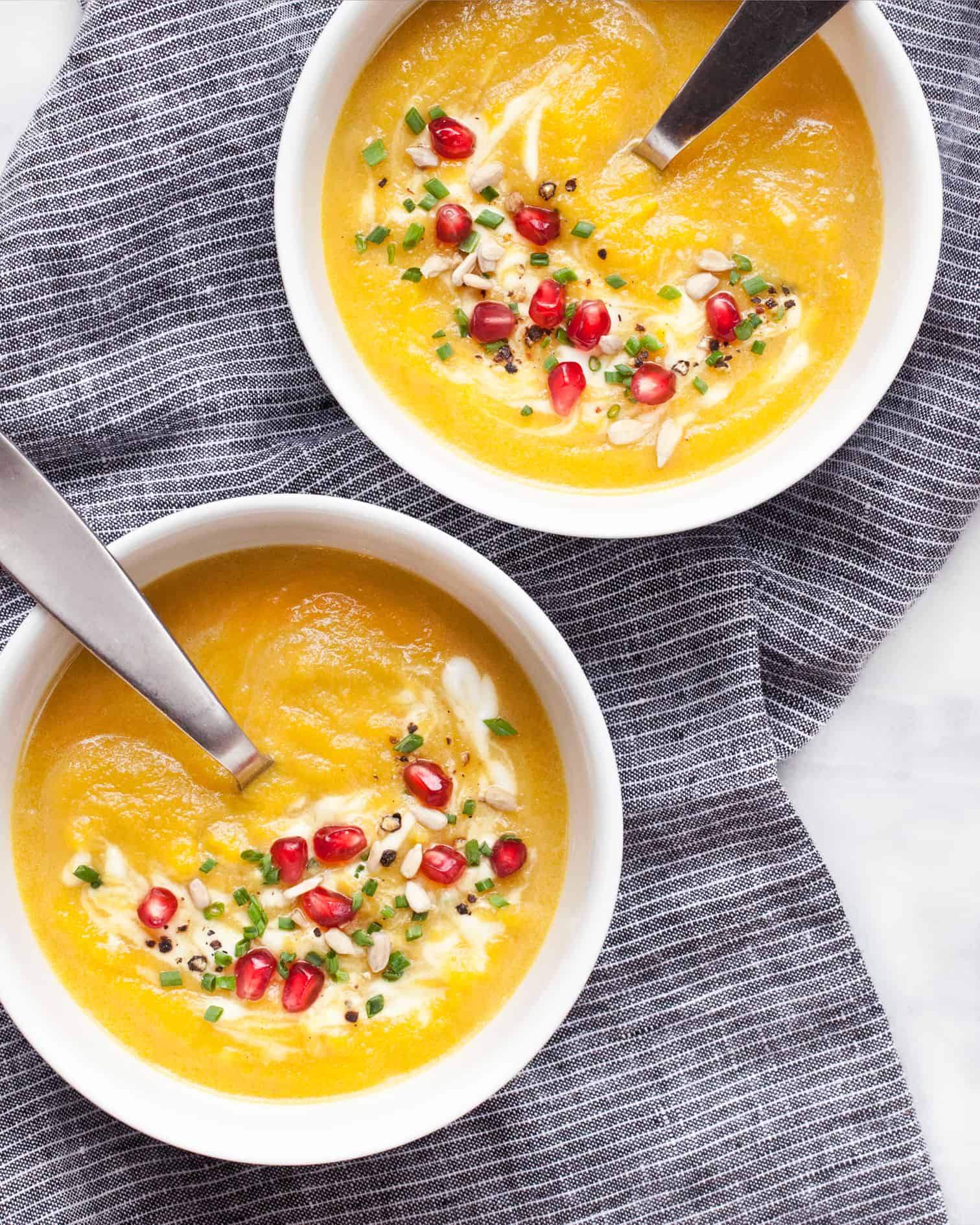 Pureed veggie soups have been on repeat in my kitchen ever since the weather started to turn a little bit chilly. I have a formula—olive oil + some kind of onion + vegetables + spices. That's it. It could not be any simpler. I skipped my routine root veggies like squash and sweet potatoes and made this golden beet soup.
I roasted each beet in a foil packet with a sprig of thyme, a drizzle of olive oil and a sprinkle of salt and pepper. I cubed the beets after they finished roasting and added them to a pot with fragrant minced shallots and garlic. I pureed the beets in the blender and topped each bowl with yogurt, chives, pomegranate and sunflower seeds.
Golden Beet Soup
Serves 4-6
4-6 medium golden beets (about 2 pounds)
4-6 fresh thyme sprigs
2 tablespoons olive oil
1 teaspoon kosher salt plus more serving
1/2 teaspoon black pepper plus more serving
2 shallots, minced
2 garlic cloves, minced
3-4 cups water
Yogurt, chives, pomegranate seeds & sunflower seeds for serving
Preheat the oven to 375 degrees F.
Wash the beets and place each one with a thyme sprig on individual sheets of aluminum foil. Drizzle the beets with 1-1/2 tablespoons olive oil and season with 1/2 teaspoon salt and 1/4 teaspoon pepper. Fold into loose packets and transfer to a sheet pan. Roast the beets for 50-60 minutes until they are easily pierced with a knife. Once the beets have cooled slightly, cube them. Discard the thyme sprigs.
In a large saucepan over medium high heat, sauté the shallots in the remaining olive oil until they are soft and translucent, about 3 minutes. Add the garlic and continue cooking for 1 minute until fragrant. Stir in the beets, water, salt and pepper. Bring to a boil, reduce heat and simmer for 10 minutes.
Carefully transfer the soup to a blender and puree in batches. Return the soup the saucepan to reheat. Season to taste with salt and pepper. Drizzle with yogurt and to with chives, pomegranate seeds and sunflower seeds before serving.