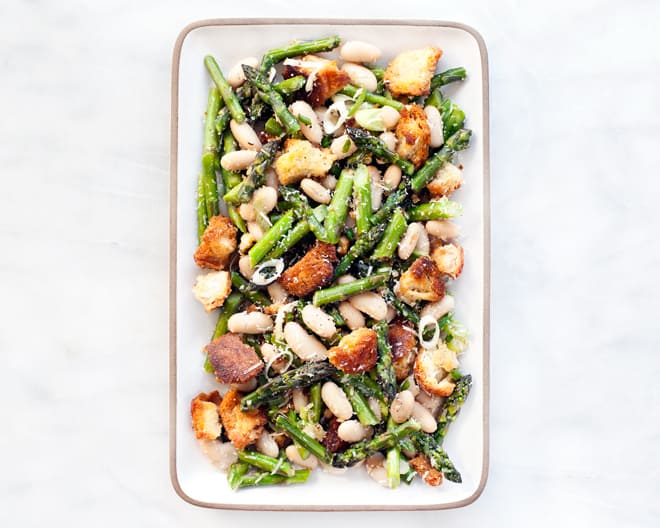 Last Friday I had trouble sleeping. It wasn't because my mind was racing with anxiety or nerves. Nope. It was actually just pure excitement. Saturday morning was the official start of outdoor farmers market season in Chicago. It was a day I had been waiting for since the last market of 2016. Yes, stands appear indoors in the slog from November to April, but it isn't the same feeling.
I joined the early crowd—before 8am. The almost glove-worthy weather was windy and cool, but I didn't mind. The selection was dominated by greens with a few pops of color here and there. I bought a couple bunches of slender asparagus. They were so fresh they didn't require much fuss. When I got home I made an asparagus, cannellini bean & sourdough salad with Parmesan & scallions.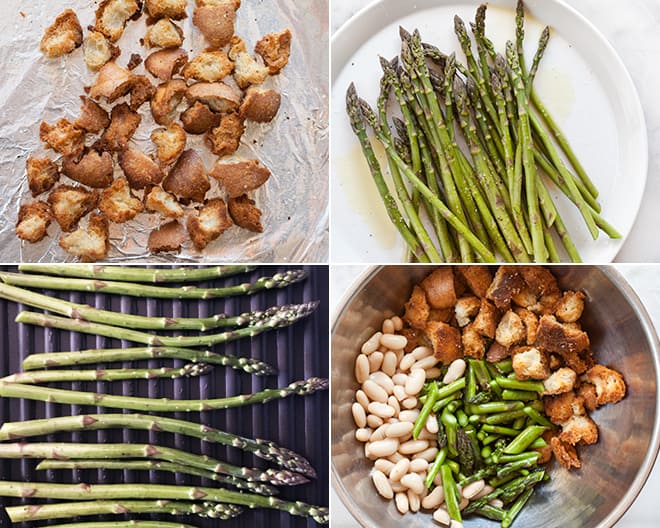 Asparagus, Cannellini Bean & Sourdough Salad
Serves 2-4
6 ounces sourdough bread, torn into rough pieces
3 tablespoons olive oil
1 teaspoon kosher salt plus more for serving
1 teaspoon black pepper pus more for serving
1/2 lb. asparagus, bottom ends trimmed
3/4 cup cooked cannellini beans (I used canned beans.)
1 scallion, thinly sliced
1 tablespoon fresh chives
1/4 cup grated Parmesan
Juice of half a lemon
Preheat the oven to 425 degrees F.
Place the bread on a sheet pan and toss with 1 tablespoon olive oil, 1/2 teaspoon salt and 1/2 teaspoon pepper. Bake the bread until it toasted and deep golden brown, about 15 minutes, stirring halfway through baking.
For the asparagus, preheat a grill pan over medium high heat. Toss the asparagus with 1 tablespoon olive oil, 1/2 teaspoon salt and 1/2 teaspoon pepper. Lightly grill the asparagus, until it is warm, but is still a bit crisp, about 2-3 minutes. Slice the asparagus into 1-inch pieces
In a large bowl, combine the toasted bread, asparagus, cannellini beans, scallions, chives and Parmesan. Stir in the remaining olive oil and lemon juice. Taste and season with additional salt & pepper before serving.