I have a tendency to cook certain ingredients the same way every time because I love how they turn out.

Call me a creature of habit. I won't be offended. In fact, I might be flattered!

One the best things about blogging is that it keeps me from getting stuck in a routine. It pretty much forces me to do different things all the time.

Yes, those cooking experiments have resulted in culinary disasters, but the moment I discover a new dish or master a technique, I am reminded that those failures are completely worth it.
I like to take chances seasonally. Spring brings with it so many wonderful green vegetables.

Asparagus is what really makes my heart flutter. Part of it is because I am desperate for fresh veggies after a long winter.

Most of the time I default to tossing asparagus spears in olive oil, salt and pepper and throwing it on the grill.

With this first bunch of the season, I decided to break from my usual method. It was about time that I tried to expand my asparagus repertoire.


I ended up making chilled asparagus soup. We are still in that time of year when warm soups are appropriate, but I am trying to push ahead a bit.

I sautéed sliced white onions in olive oil until they became soft and translucent.

Then I added the asparagus, cut into 1/2-inch pieces. It didn't take long for those stalks to turn a vibrant shade of green.

After that I poured in the stock and let the mixture simmer until the asparagus was tender.

I stirred in baby spinach and that wilted in a couple minutes.

Then it was time to puree everything in the blender. I poured the mixture through a fine mesh strainer to remove any stubborn stringy pieces of asparagus.

My patience was tested as I waited for the soup to cool to room temperature and then chill in the fridge.

Each spoonful tasted like early spring.
Print
Chilled Asparagus Soup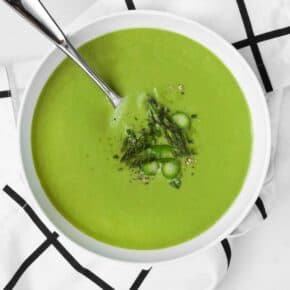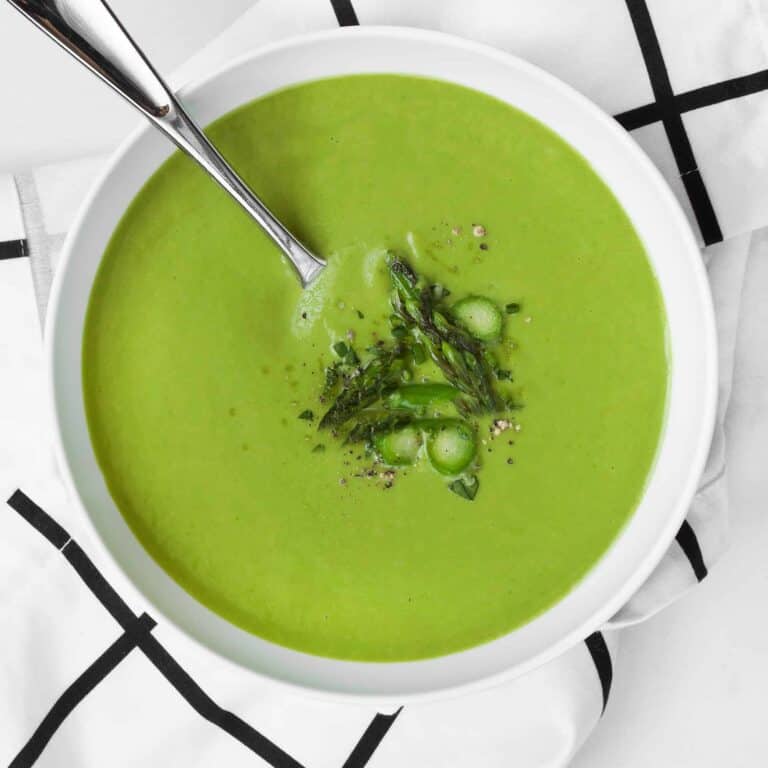 Prep Time:

5 minutes

Cook Time:

22-27 minutes

Total Time:

27-32 minutes + chilling

Yield: Serves

4

1

x
Scale
Ingredients
2 tablespoons olive oil
1 medium white onion, thinly sliced
1-1/2 pounds asparagus, trimmed and cut into 1/2-inch pieces
1/2 teaspoon kosher salt plus more for serving
1/4 teaspoon black pepper plus more for serving
2 cups vegetable stock
4 ounces fresh baby spinach
Minced chives and fresh parsley for serving
Instructions
Heat the olive oil in a large saucepan over medium heat. Sauté the onions until they are completely soft and translucent, about 8-10 minutes. Add the asparagus, salt and pepper and continue cooking until the stalks turn bright green, about 4-5 minutes. (Reserve about 1/4 cup asparagus to garnish the soup.
Increase the heat and add the stock. Once the stock is boiling, reduce the heat and simmer until the asparagus is tender, about 8-10 minutes. Then add the spinach stirring until it has wilted, about 2 minutes. Allow the soup to slightly cool.
In batches, transfer the soup to a blender to puree. Strain the soup in a fine mesh sieve. Cool to room temperature and then chill in the refrigerator before serving.
Top each bowl with the reserved asparagus, salt, pepper, chives and parsley.
SHARE THIS