Strawberry and Rhubarb Slab Pie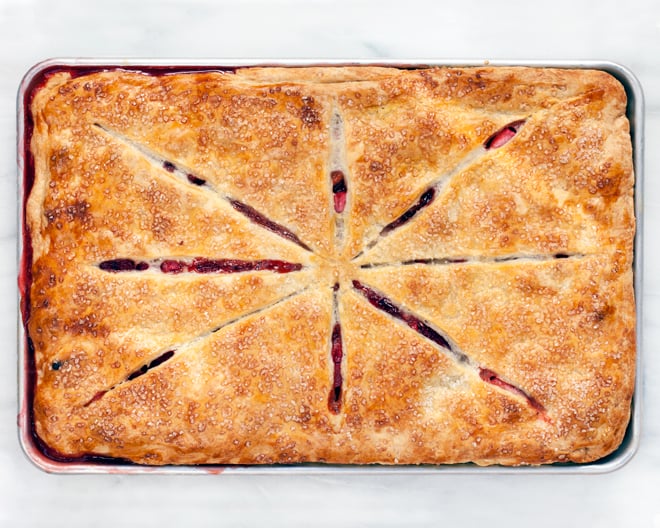 Last summer I got in the habit of buying fresh flowers at the farmers market almost every week. I couldn't resist indulging in those mixed bouquets, and at $10-12 a bunch it didn't seem like too much of an extravagance. Even though my wardrobe and my house are white, black and gray, I love pops of saturated color. Bright fresh flowers on my kitchen counter or dining table just make me happy.
When I bought Michigan-grown rhubarb at our neighborhood market, the cashier wrapped up the fuchsia stalks in brown paper and tied them off with raffia like they were flowers. At home I thought about arranging my rhubarb in a vase, so I could admire the bunch. Instead I made a strawberry and rhubarb slab pie. Baked in a jelly-roll pan, I took the pie to a friend's going away, and it didn't last long.

Strawberry and Rhubarb Slab Pie
Adapted from Everyday Food May 2012
For crust
5 cups all-purpose flour (spooned and leveled), plus more for rolling
2 tablespoons granulated sugar
1 teaspoon fine sea salt
2 cups (4 sticks), chilled unsalted butter, cut into 1/2-inch pieces
1 cup ice water
For filling
2 pounds strawberries, hulled and halved or quartered depending on size
2 pounds rhubarb, cut into 3/4-inch pieces
2/4 cup granulated sugar
1/3 cup packed light brown sugar
1/3 cup quick-cooking tapioca
1-1/2 packed teaspoons grated orange zest, plus 2 tablespoons orange juice
2 large egg yolks, lightly beaten with 2 teaspoons water
1/3 to 1/2 cup sanding sugar
For the crust, pulse the flour, sugar and salt in a food processor. Add the butter and process until the mixture looks like coarse meal with a few pea-sized pieces of butter. With the motor running, pour in the ice water and continue processing until the dough forms. Divide the dough in half and pat into round disks. Wrap them in plastic wrap and chill in the refrigerator until firm, 1 hour or up to overnight.
Preheat the oven to 400 degrees F.
To make the filling, combine the strawberries, rhubarb, granulated sugar, brown sugar, tapioca, orange zest and juice in a large bowl.
Roll out one disk of dough on a lightly floured work surface with a floured rolling pin to a 12-inch-by-16-inch rectangle. Transfer the dough to a 10-inch-by-14-inch jelly-roll pan pressing the dough into the pan. Spread the filling into an even layer.
Roll out the remaining dough on a lightly floured work surface to a 12-inch-by-16-inch rectangle. Place the dough on top of the filling. Trim the edges leaving a 1-1/2-inch overhang and tuck it under in the pan. Brush the top with the egg yolk-mixture and sprinkle with sanding sugar. Use a pairing knife to cut slits in the dough to vent. Put the pie in the oven and reduce the oven temperature to 375 degrees F. Bake for 55 to 65 minutes until the crust is golden brown and the filling is bubbling. Cool for at least 1 hour on a wire rack. The pie can be served warm or at room temperature.
SHARE THIS