Acorn Squash Chickpea Quinoa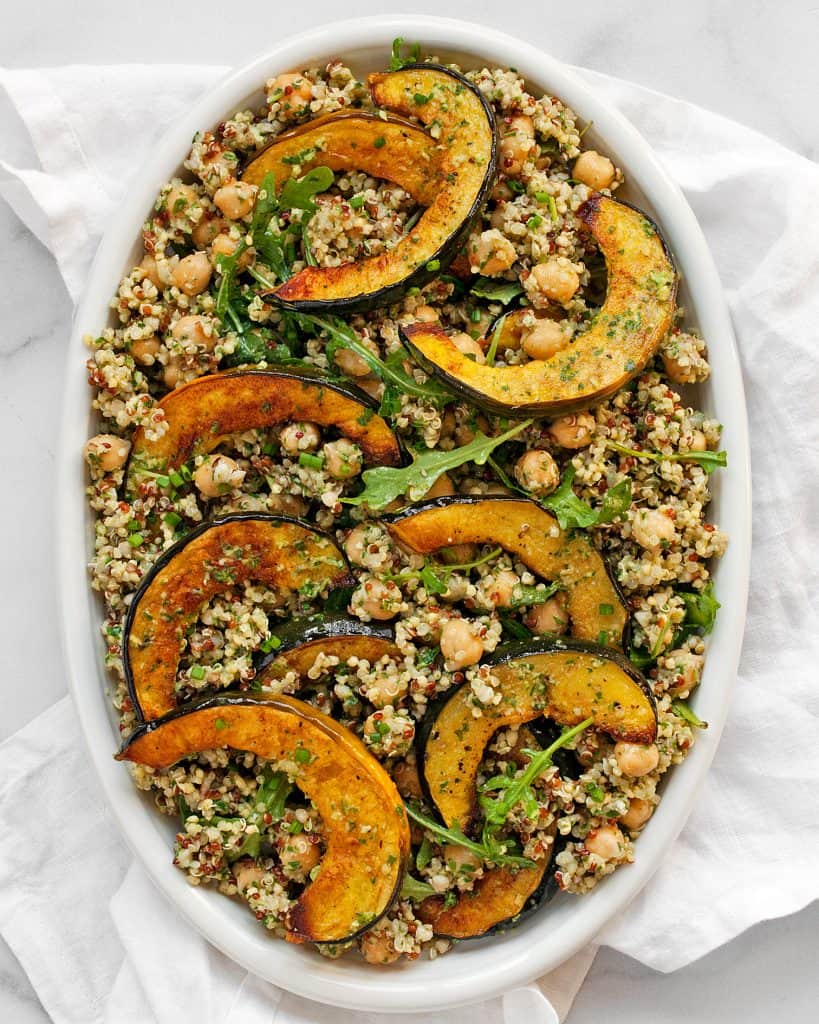 The 7-day forecast has me cheering with a big whoo hoo. There are 40s and even 50s!
Those warmer temperatures will come with rain, but I don't care. Bring on soggy pre-spring days. I am here for them.
So long puffy coat. Hello, jacket!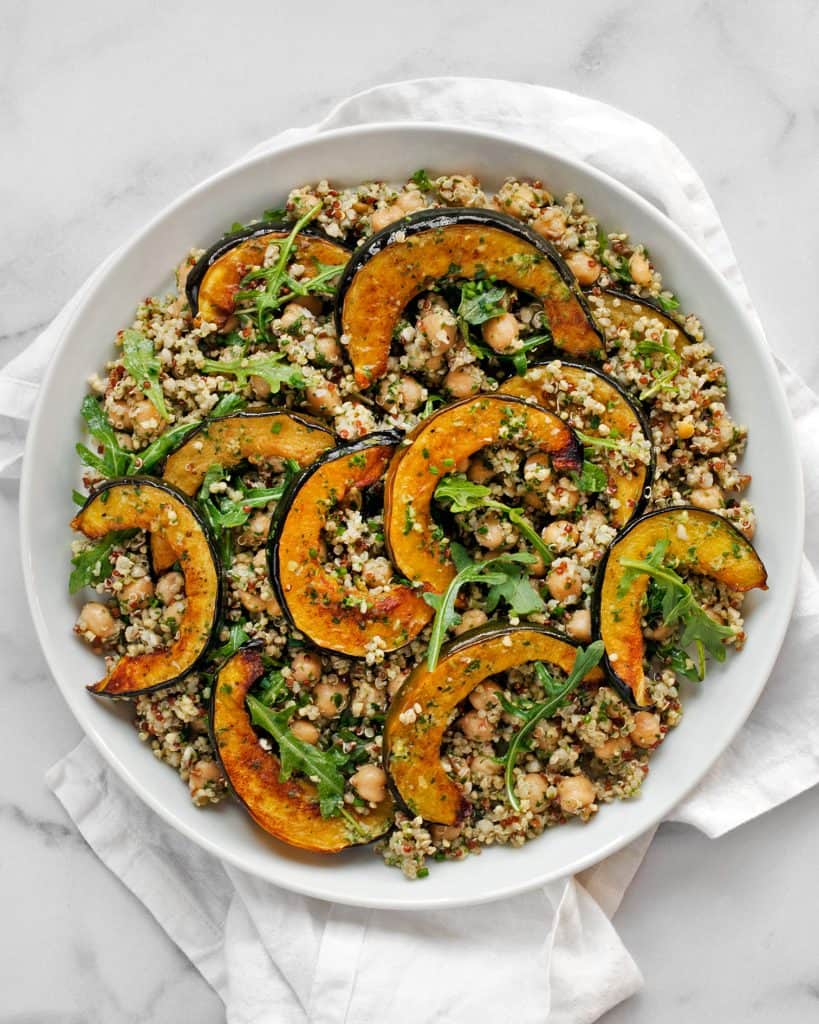 While things may be looking up in the wardrobe department, the long growing season, that is part of the Midwest's charm, still has a ways to go.
The start of outdoor farmers market season here in Chicago is 54 days away. Not that I'm counting or anything!
Right now I am trying to approach my trusted and loyal root vegetables with a certain amount of lightness as the seasons start their slow transition.
I'm not saying goodbye to soups and comfort foods just yet, but I want to revamp them with some much-needed freshness.

That means throwing in more greens and a few less starches and grains. Dishes become hybrids that don't fit into a single category.
I consider it a small victory when I can skip peeling any root vegetable.

Fortunately, the skin on squash softens up enough as it roasts making it easy to eat in this acorn squash chickpea quinoa.

Eliminating steps from my to-do list is always a good thing!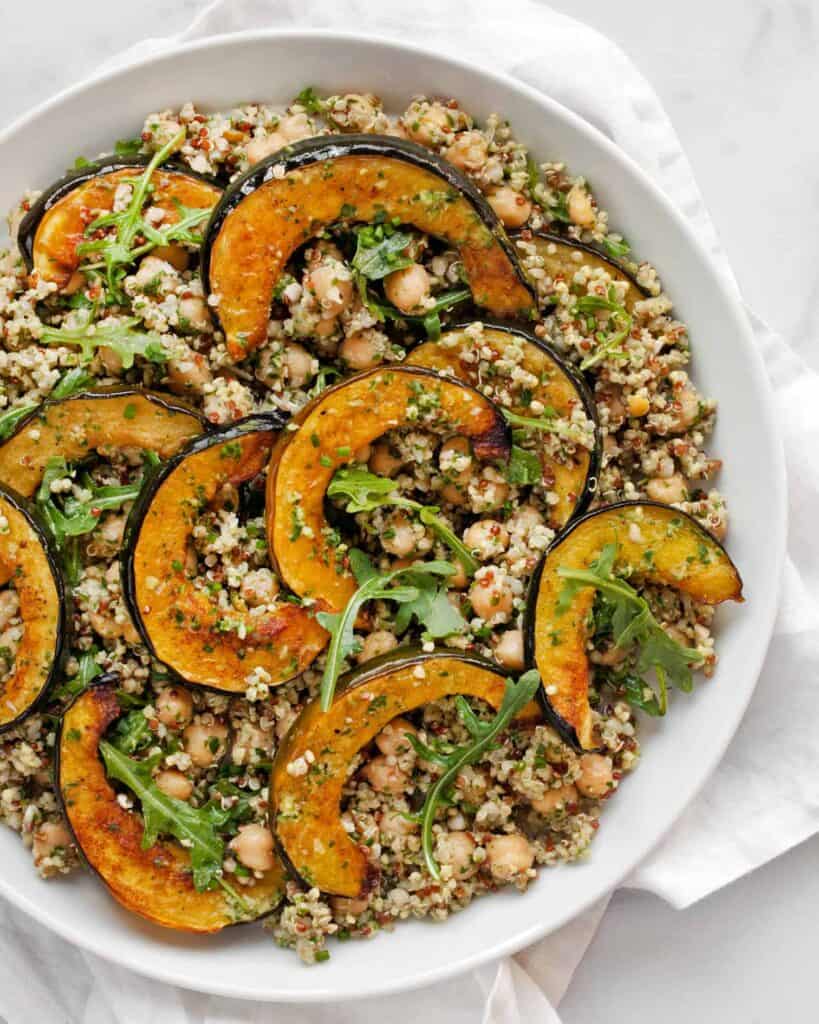 How To Make Acorn Squash Chickpea Quinoa
With the oven preheated, I halved an acorn squash and scooped out the seeds.

Then I cut it into thick wedges, tossed them with olive oil, salt and pepper and arranged them in a single layer on a sheet pan.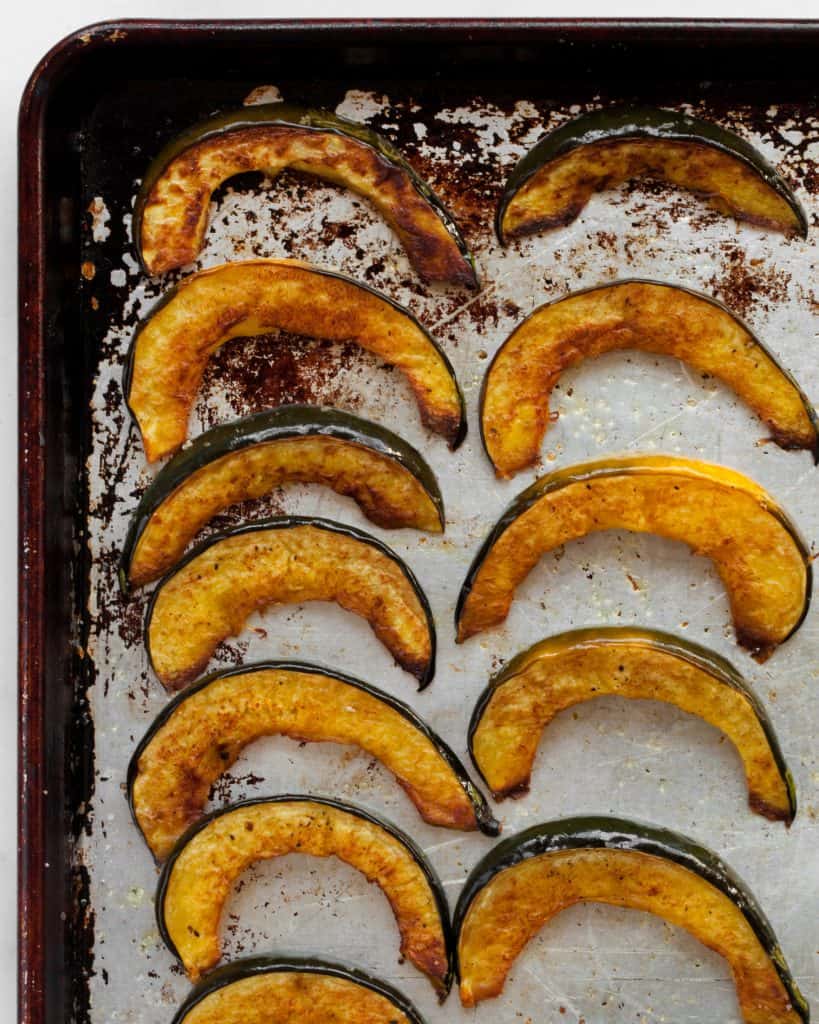 While the squash roasted, I made a small batch of tri-colored quinoa and folded in arugula pesto and chickpeas.

Alternate / non-basil pestos are an easy way to add herby flavor to pretty much any dish. I always makes sure to have at least one jar in my fridge at all times.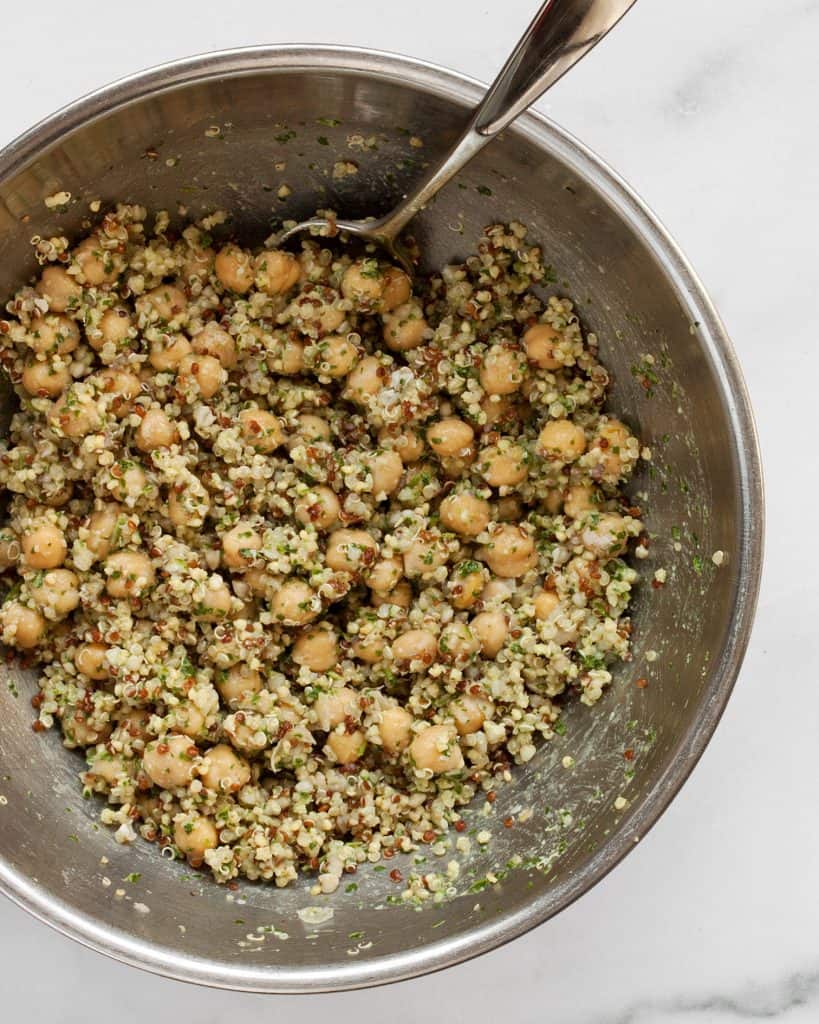 Once the squash wedges were tender and golden, I carefully combined them with the chickpea quinoa making sure not to break them.

It's tough to say whether this acorn squash chickpea quinoa is a salad, side or vegetarian main. Count it as all three!
Print
Acorn Squash Chickpea Quinoa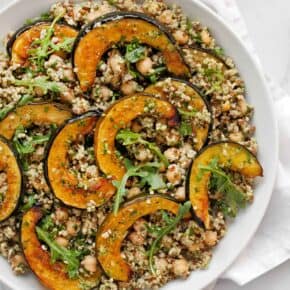 Prep Time:

10 minutes

Cook Time:

30-35 minutes

Total Time:

40-45 minutes

Yield:

Serves 4
Ingredients
For arugula pesto
2 garlic cloves, peeled
2 cups arugula
1/4 cup chopped walnuts
1 ounce grated Parmesan
Juice of 1 lemon
1 teaspoon kosher salt
1/4 teaspoon black pepper
1/3 cup olive oil
For acorn squash
1 acorn squash
1 tablespoon olive oil
1/2 teaspoon kosher salt
1/4 teaspoon black pepper
For quinoa
1/2 cup tri-colored quinoa, rinsed
1 cup water
1-15 ounce can chickpeas, drained and rinsed
1 cup arugula
1 tablespoon minced chives
Instructions
Preheat the oven to 375 degrees F.
For the arugula pesto, mince the garlic cloves in a food processor. Add 2 cups arugula, walnuts, Parmesan, lemon juice, salt and pepper. Puree the mixture. While the motor is running, drizzle the olive oil through the feeder tube until fully combined.
Halve the acorn squash lengthwise. Scoop out the seeds and discard. Slice into 1/2-inch thick wedges and toss with olive oil, salt and pepper. Arrange the squash in a single layer on a sheet pan. Roast the squash until tender and golden, about 30-35 minutes, turning over halfway through cooking. Brush the squash with pesto.
Combine the quinoa and water in a small saucepan over high heat. Bring to a boil, reduce heat and simmer for 10-12 minutes until the grains are cooked. Let stand for 5 minutes before fluffing with a fork. Stir in 1/2 cup pesto, chickpeas, 1 cup arugula and chives.
Carefully fold the squash into the quinoa.
You can also spoon on additional pesto. Extra pesto can be stored in a jar in the refrigerator up to 2 weeks.
SHARE THIS