Curried Lentil Tomato Coconut Soup

When the temperature hit 30 degrees yesterday, it felt borderline tropical. I was so excited that I almost walked out of the house in shoes with no socks and a light jacket.
Hello, Spring, but not so fast!
You would have thought I had lost my mind! It's still winter. I was really leaning into the mini-break from the punishingly cold weather. Call it total desperation.
We've been in such a deep freeze in Chicago, like lots of other places, that I felt incredibly grateful to be able to go outside without my face hurting after a few minutes in the elements.
Remind me about this when I complain about the hot, humid 90-degree days in August.
I have been debating what I prefer: bundling up head to toe or slathering myself (and my squirmy son) in sunscreen. Please pass the SPF!
I've been eating soups and stews, but the extreme cold has had me looking for things that were hot & spicy, too. Yes, I want it all.
After a couple weeks cooped up, cabin fever really set in, and I was craving food with extra flavor. I decided to make a batch of curried lentil tomato coconut soup.

I started by sautéing onions, garlic and ginger in coconut oil. Then I added fragrant curry powder and red pepper flakes.
I stirred in red lentils, tomatoes, cilantro, water, salt, pepper and coconut milk. The mixture simmered until the lentils were cooked.
The most wonderful aroma took over the kitchen and beyond.
Before serving I drizzled each bowl with a little coconut milk and lots of cilantro leaves.

Each spoonful did not disappoint with all those spices. It had been a while since I cooked with red lentils, and I had forgotten how they melt into the most cozy, creamy, thick soup.
SaveSave
Print
Curried Lentil Tomato Coconut Soup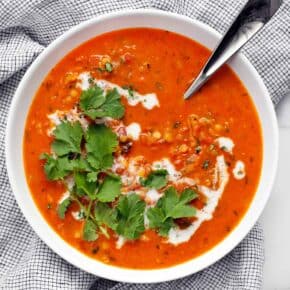 Total Time:

30-35 minutes

Yield: Serves

4

1

x
Scale
Ingredients
2 tablespoons virgin coconut oil
1 medium white onion, finely chopped
2 garlic cloves, minced
1 2-1/2-inch piece ginger, peeled and minced
1 tablespoon medium curry powder
1/4 teaspoon crushed red pepper flakes
1/4 cup red lentils
1-14.5 ounce can crushed tomatoes
1/2 cup finely chopped cilantro plus leaves with stems for serving
2-1/2 cups water
1/2 teaspoon kosher salt
1/4 teaspoon black pepper
1-13.5 ounce can unsweetened coconut milk, shaken well
Lime wedges for serving
Instructions
In a large saucepan over medium heat, warm the coconut oil until it melts. Sauté the onions until starting to lightly brown, about 6-8 minutes. Add the garlic, ginger, curry powder and red pepper flakes, cooking until fragrant, about 1 minute. Add the lentils, cooking for 1 minute. Stir in the tomatoes, chopped cilantro, water, salt and pepper. Reserve 1/4 cup coconut milk for serving and add the remaining coconut milk to the saucepan. Bring the soup to a boil and reduce to a simmer for 20-25 minutes until the lentils are soft.
Divide the soup into 4 bowls. Pour the remaining coconut oil and top with cilantro. Serves with lime wedges.
SHARE THIS