Farro Salad with Fava Beans and Corn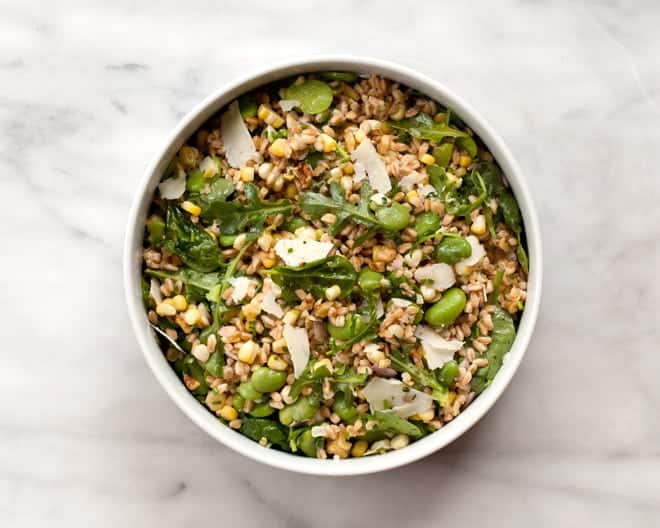 Fava beans are a lot of work. That's why I only use them in a recipe once or twice a year, and they aren't the easiest veggie to find unless precooked & vacuum-packed. Of course I wanted them fresh tucked safely in their double pods. Shopping on a non-farmers market day, I trekked to three stores to find them.
Once I got home the work began removing them from their pods, cooking them and eventually peeling off their pale green skins. With all that out of the way, I made a farro salad with fava beans and corn tossed in a lemon vinaigrette. I finished things off with pecorino, walnuts and lots of chives.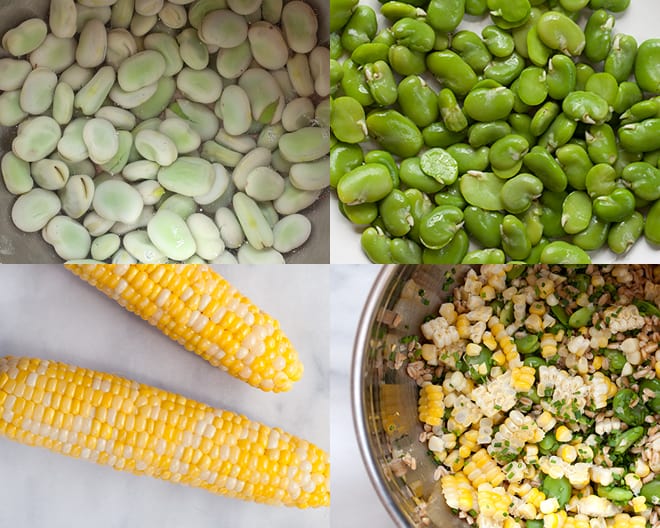 Farro Salad with Fava Beans and Corn
Serves 4-6
For vinaigrette
1 tablespoon lemon juice
1/2 teaspoon Dijon mustard
1 tablespoon minced shallots
1/4 teaspoon salt
1/4 teaspoon pepper
1/4 cup olive oil
For farro
1 cup farro
2 cups water
1-1/2 pounds fava beans, in their pods
2 ears corn, shucked
3 tablespoons chopped chives
1/4 cup chopped walnuts
1 ounce shaved, pecorino
1 handful baby arugula and spinach
1 teaspoon salt
1/2 teaspoon black pepper
For the vinaigrette, in a small bowl, combine the lemon juice, mustard, shallots, salt and pepper. Whisk in the olive oil until fully combined
In a medium saucepan, combine the farro and water. Bring to a boil, remove from heat and cover. Let stand for 15 minutes. In a mesh strainer, rinse the farro in cold water. Transfer to a large bowl.
Remove the fava beans from their pods. In a large saucepan, cook the fava beans in boiling salted water for 3-4 minutes until tender. Transfer them to a bowl of ice water to stop cooking. Once the fava beans have cooled, remove their skins.
Bring salted water to a boil in a large saucepan. Cook the corn for a few minutes until the kernels turn bright, golden yellow. Let the corn cool before cutting the kernels from the cobs.
Add the fava beans, corn and chives to the farro and stir in the vinaigrette. Toss in the walnuts, pecorino and baby arugula & spinach and season with salt and pepper.
SaveSave
SHARE THIS