Grilled Corn Fava Bean Farro

With walnuts, pecorino and Dijon vinaigrette, grilled corn fava bean farro makes a good. Add more baby greens and you can go from grain bowl to salad.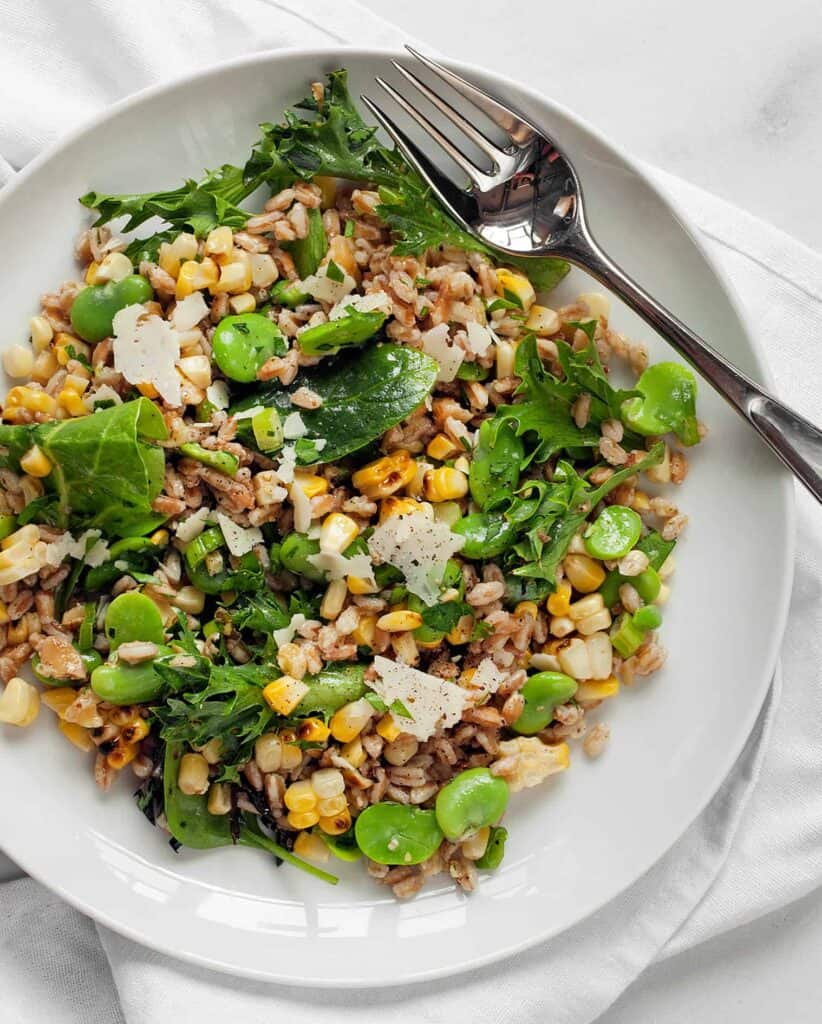 We got our first real taste of summer last weekend just in time for Memorial Day.

Of course there were downpours that took away from the 80-degree heat, but by no means was it a total washout like that this long weekend have been the past few years.

With that, my cravings have done an abrupt shift.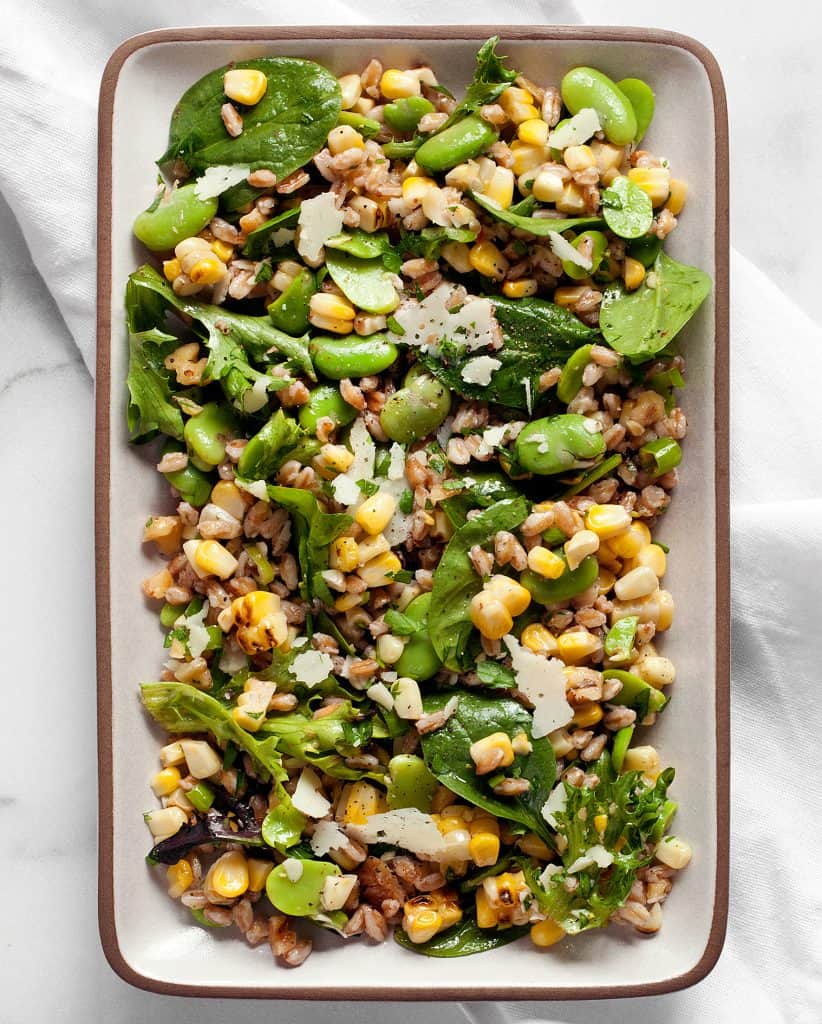 While I am not turning my back on asparagus, ramps and other spring veggies, I feel like now I have permission to go big on tomatoes and corn.

And that first bite of grilled corn of the season is always worth the wait!

Besides those warm weather staples, I am also trying to get my fill of late spring/early summer vegetables like fava beans.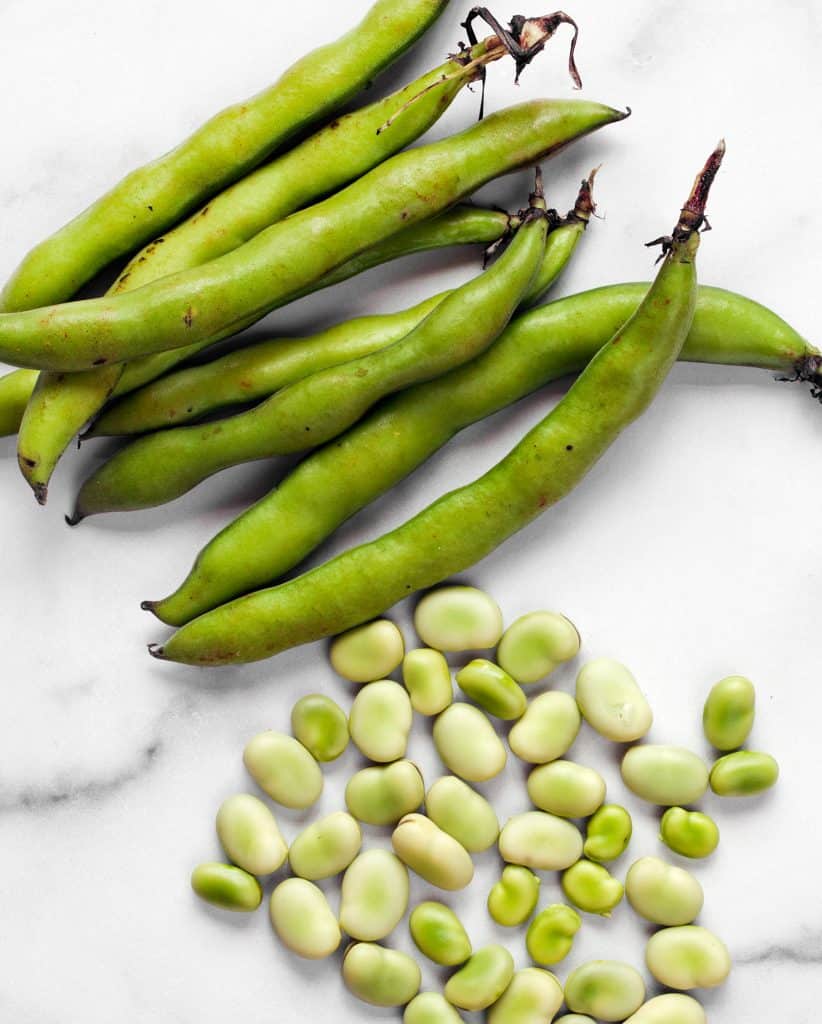 I have been doing most of my shopping lately at a local grocery that specializes in Midwest food and produce.

I couldn't have been more thrilled to score a pound of fava beans there.

Full disclosure, cooking favas is a multi-step process.

Not only do you have to pull the beans from their outer green pods, you then simmer them on the stove and pop each bean out of its skin.

It really doesn't take that long, but if you aren't familiar with favas, it's good to know.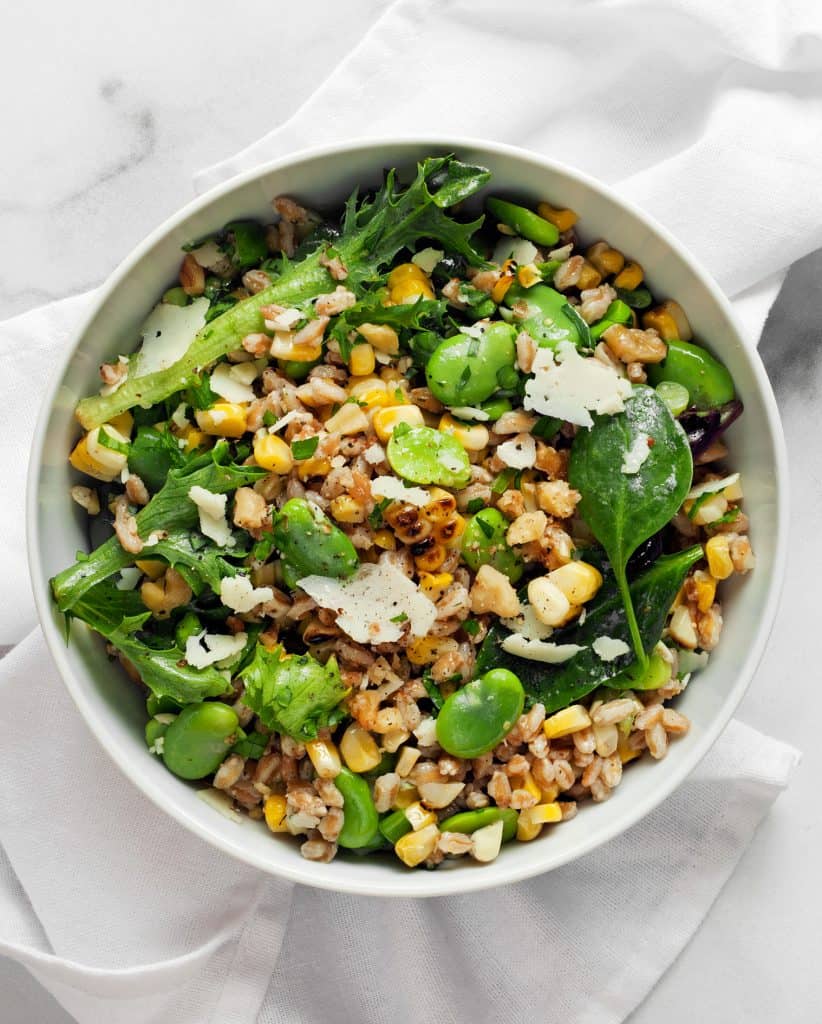 How To Make Grilled Corn Fava Bean Farro
This grilled corn fava bean farro combines two of my spring/summer favorites.

I like to start by firing up the grill and cooking the corn first. This allows time for the corn to cool while I prep the grains and beans, making it easier to slice the kernels from the cobs.

In side-by-side saucepans on the stove, I cook the farro in one and the fava beans in the other.

The fava beans are tender in 3-4 minutes. I use a slotted spoon to transfer them to a bowl of ice water. Next I slip the beans out of their skins.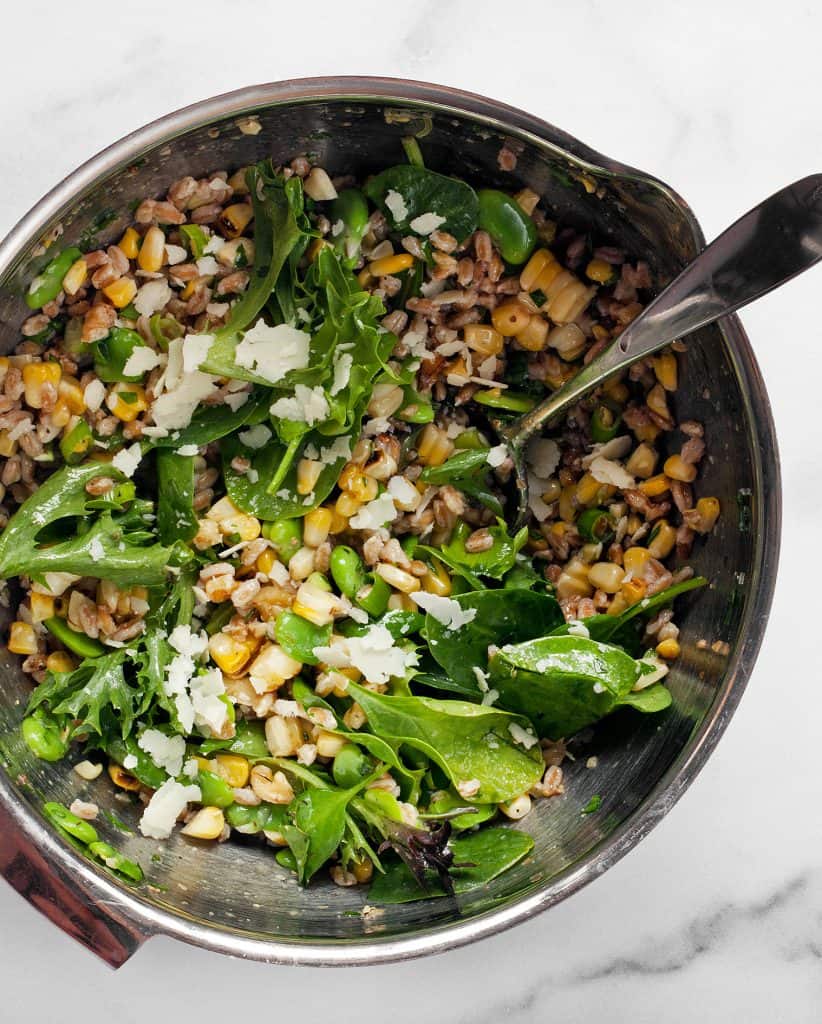 To dress this grain salad, I whisk together lemon Dijon vinaigrette.

Once I have all the components ready, I fold the farro, corn and fava beans in a big bowl with the vinaigrette, a couple generous handfuls of baby greens, sliced scallions, chopped walnuts and shaved pecorino cheese.

This grilled corn fava bean farro makes a good side.

You also can increase the amount of greens and turn it into something that looks more like a leafy salad instead of a grain bowl.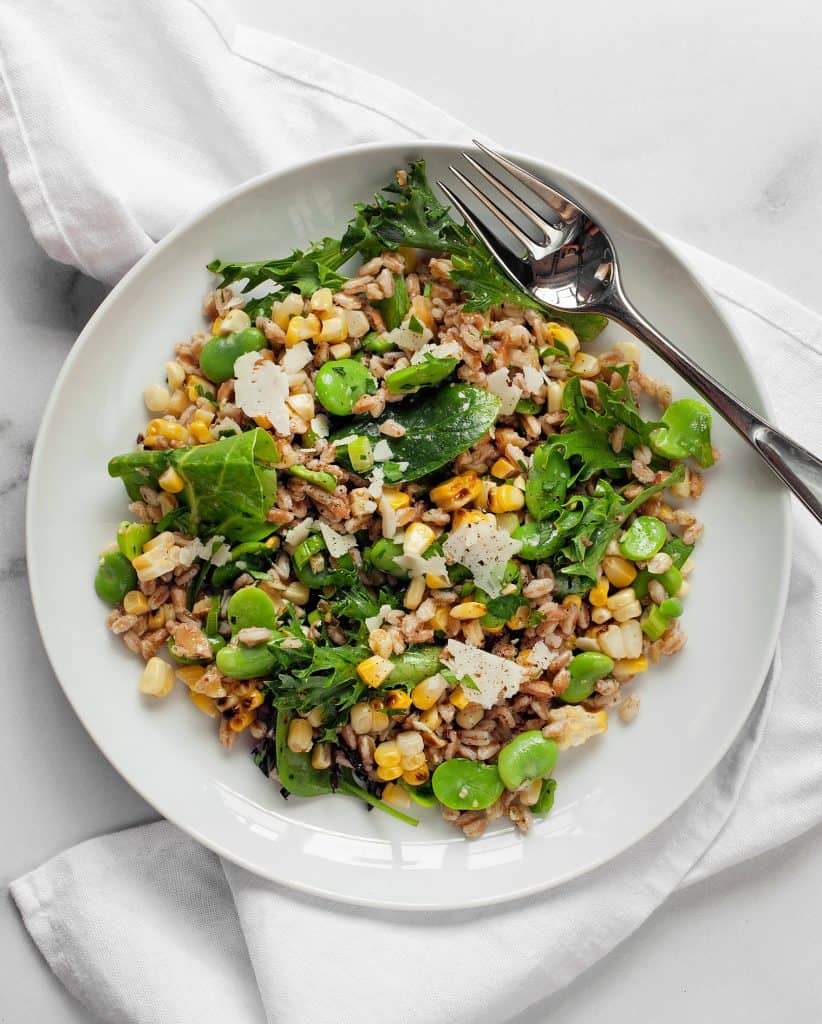 Print
Grilled Corn Fava Bean Farro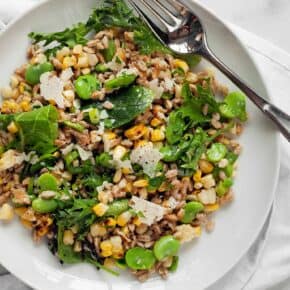 Author:
Prep Time:

10 minutes

Cook Time:

30-35 minutes

Total Time:

40-45 minutes

Yield: Serve

4

–

6

1

x
Scale
Ingredients
For corn
3 corn cobs, shucked
2 teaspoons olive oil
For farro
1 cup farro
3 cups water
1 pound fava beans, in their pods
2 scallions, thinly sliced
1/4 cup chopped walnuts
1 ounce shaved, pecorino
2 handfuls baby arugula and spinach
For vinaigrette
1 tablespoon lemon juice
1/2 teaspoon Dijon mustard
1/2 teaspoon kosher salt plus more for serving
1/4 teaspoon pepper plus more for serving
1/4 cup olive oil
Instructions
Preheat a gas or charcoal grill on high heat.
Rub the corn with olive oil. Grilled the corn until it is lightly charred, about 5-7 minutes. Let the corn cool before slicing the kernels off the cobs.
Combine the farro and 3 cups water in a small saucepan over high heat. Bring to a boil, reduce the heat to simmer and cover. Let the grains cook for 20-25 minutes until tender. Drain any remaining water.
Remove the fava beans from their pods. In a large saucepan of boiling salted water, cook the fava beans for 3-4 minutes until tender. Transfer them to a bowl of ice water. Once the fava beans have cooled, remove their outer skins.
In a large bowl, gently fold together the corn, farro, fava beans, scallions, walnuts, pecorino and baby arugula & spinach.
For the vinaigrette, combine the lemon juice, mustard, salt and pepper in a small bowl. Whisk in the olive oil until fully combined.
Stir the vinaigrette into the farro and season to taste with salt and pepper.
SHARE THIS