A couple weeks ago I met a friend for lunch at one of our favorite Mexican restaurants.
The place is known for its tacos, but instead of sharing a bunch of different tacos per our usual routine, we both ordered mugs filled with pork posole soup.
I usually only eat vegetarian soups, but it was very cold outside. That day my cravings involved anything that would properly warm me up.
The broth had a deep red hue and just the right level of spiciness giving each spoonful a pleasant buzz.
It felt so good to have my hands wrapped around that warm mug of soup.
To say I was thrilled that I ended up ordering it would be an understatement.
My mind kept going back to the posole at the restaurant. No surprise, I wanted to make my own version at home, but I wasn't so interested in meat.

I ended up making a vegan green chile posole in my own kitchen that I've had on repeat ever since.
How To Make Green Chile Posole
The first step is to char a poblano pepper under the broiler.
Then I simmer tomatillos until they are tender.
The poblano pepper and tomatillos go into the blender along with onions, garlic, cilantro, parsley, spinach and veggie broth.
Cumin, oregano and allspice give the soup even more flavor.
After the ingredients are blended and smooth, they are simmered on the stove.

The green chile posole has hearty bites of hominy and black beans.

The bright green color mellows out as it bubbles away.

I stir fresh lime juice into the soup after it finishes cooking. Lime juice adds a much needed brightness to all the veggies.

This soup works well with lots of garnishes like cabbage, radishes, crumbled tortilla chips and of course, more cilantro.
You can never have too much cilantro–at least in my opinion!
Print
Green Chile Posole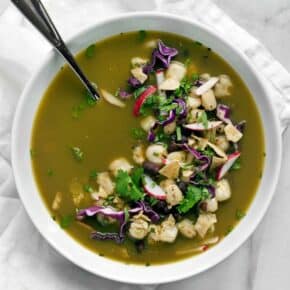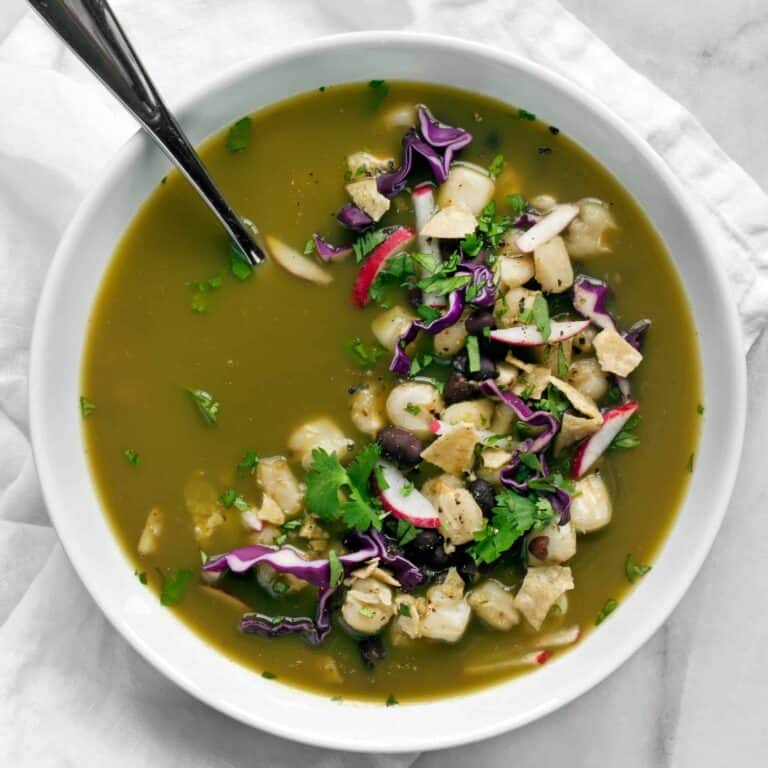 Prep Time:

20 minutes

Cook Time:

35-45 minutes

Total Time:

55-65 minutes

Yield: Serves

8

1

x
Scale
Ingredients
1 poblano chile
1/2 pound fresh tomatillos, husks removed
2 serrano chiles, stemmed, quartered, and deseeded
1/2 medium white onion, roughly chopped
4 garlic cloves, chopped
1 cup roughly chopped fresh cilantro, plus more for serving
1/2 cup roughly chopped fresh parsley
1 ounce baby spinach leaves (about 1 cup)
1 teaspoon ground cumin
1 teaspoon dried oregano
1/4 teaspoon ground allspice
6 cups low-sodium vegetable broth
1-29 ounce can hominy, rinsed and drained
1-15 ounce can black beans, rinsed and drained
2 tablespoons fresh lime juice
1/2 teaspoon salt
Shredded red cabbage, radishes and crumbled tortilla chips for serving
Instructions
Adjust the oven rack to the top position and set the broiler on high. Place the poblano on a foil-lined sheet pan. Broil for 5 minutes per side until fully charred. Transfer the poblano to a bowl and cover with plastic wrap. Let stand for 15 minutes before using a paper towel to rub off the skin. Stem and deseed the poblano and transfer to a blender.
Cook the tomatillos in a large saucepan of boiling water for 5 minutes until soft. Add the tomatillos, serranos, onions, garlic, cilantro, parsley, spinach, cumin, oregano, allspice and 2 cups broth to the blender and puree.
Pour the tomatillo mixture into a large saucepan over high heat. Add the remaining broth, hominy and black beans and bring to a boil. Reduce the heat to low and simmer until thickened about 35-45 minutes. Before serving stir in the lime juice, season with salt and top with cilantro, cabbage, radishes and tortilla chips.
SHARE THIS