Grilled Nectarine Halloumi Couscous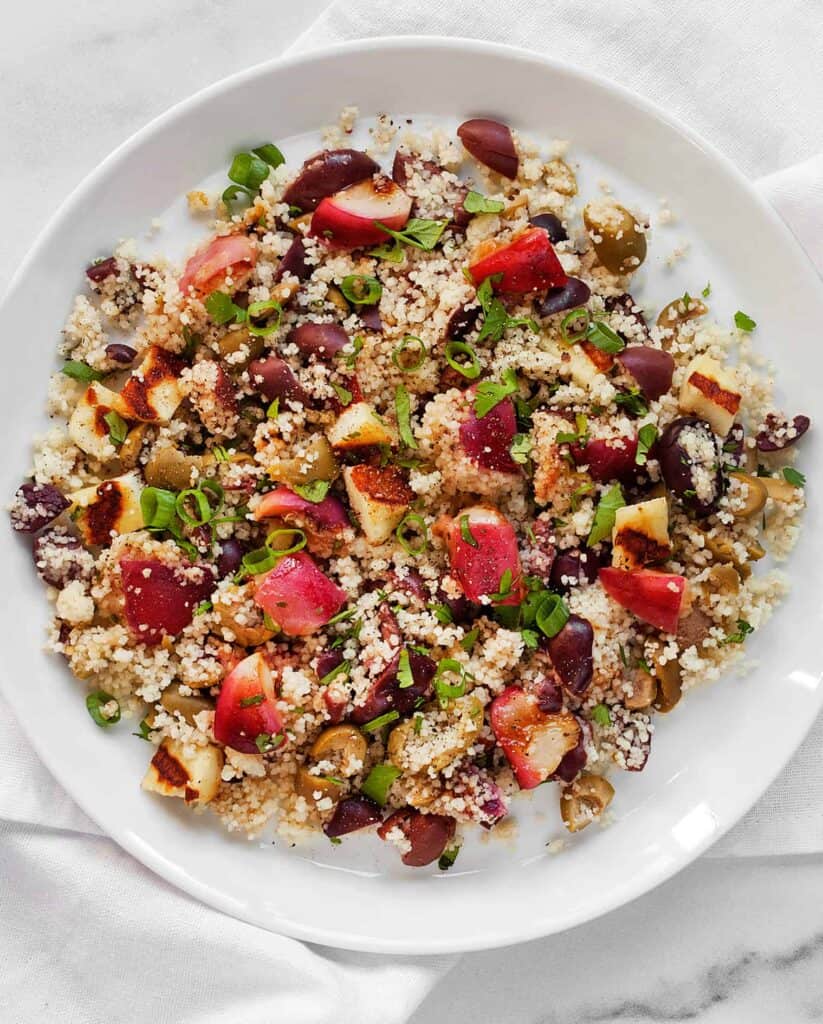 Making a salad can be exhausting.

It's always my fault. I like to think of every salad as a garbage salad, and I just keep adding more and more components.
The best salads are the ones that have something in every bite.
I take this same exact strategy when I'm skipping the greens and instead going for grains like farro, barley and quinoa.
Whether it's a salad or a grain bowl, you should take advantage of the opportunity to use up as many fresh and leftover cooked ingredients at once.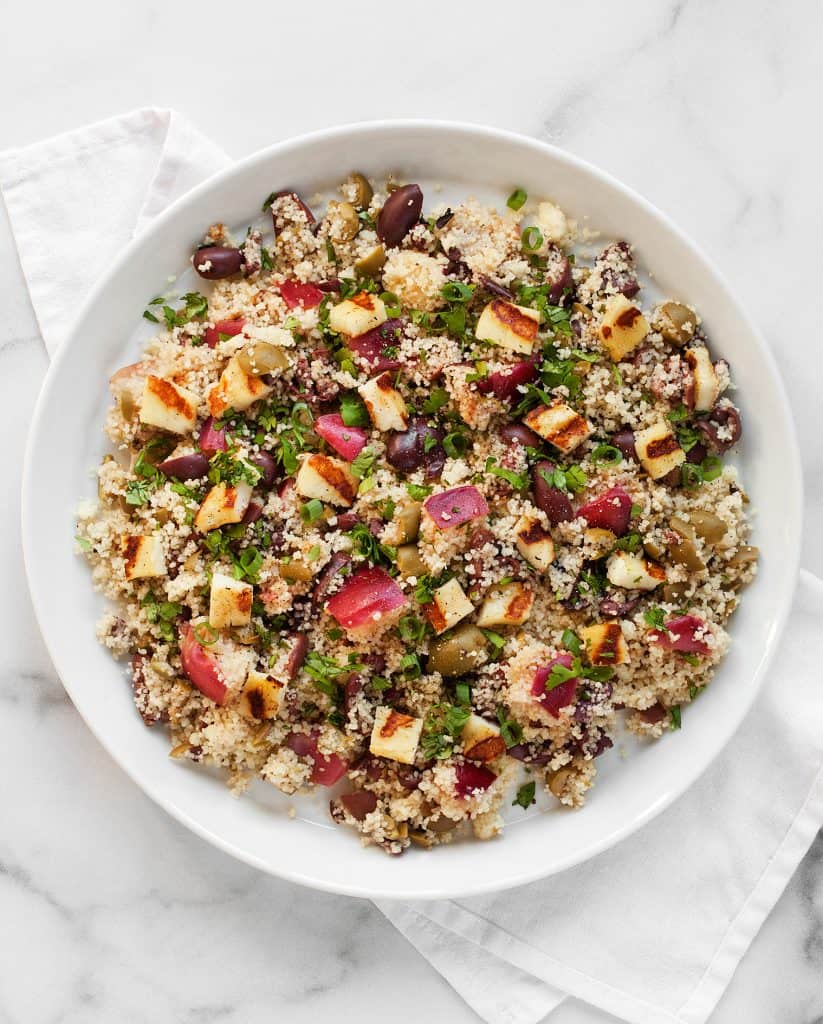 Now that summer is in full swing, I've been eating a lot of stone fruit.

Having that first bite of a peach or plum is one of the season's simple joys along with eating excessive amounts of tomatoes and ice cream—not together of course!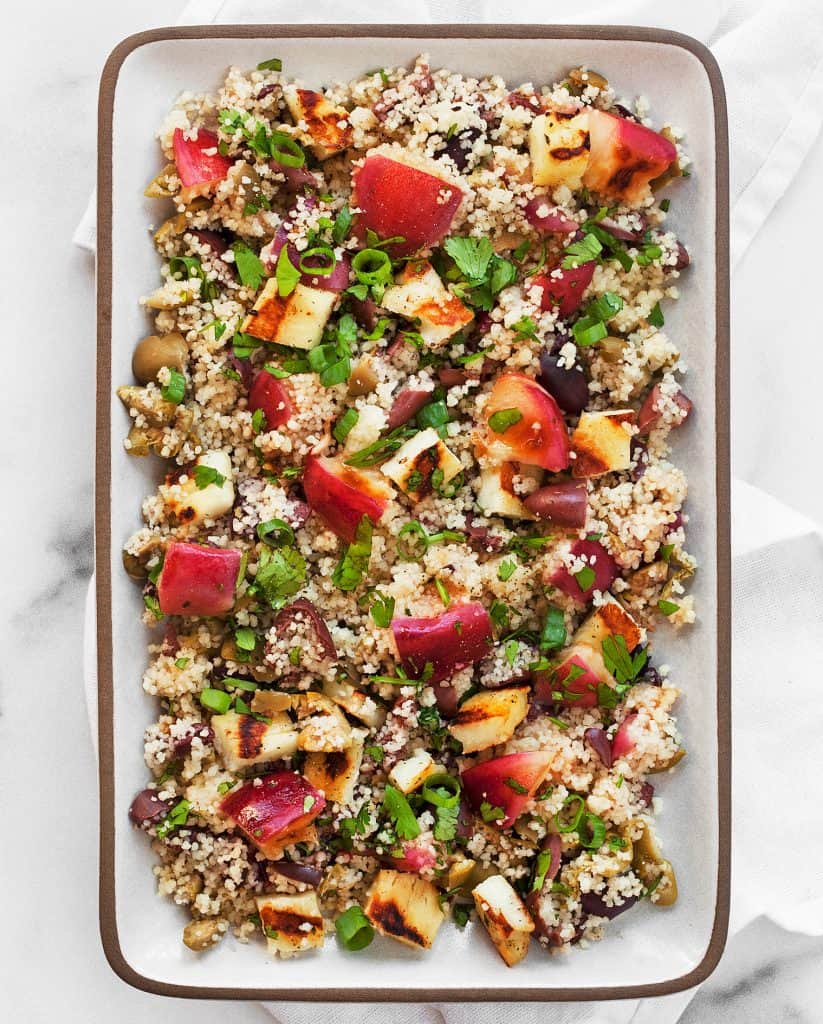 I love the subtle sweetness that stone fruit brings to savory dishes.

A mix of peaches, cherries and plums can temper the most wonderfully bitter bunch of dark green Lacinato kale leaves.

I also adore peaches paired with grilled corn.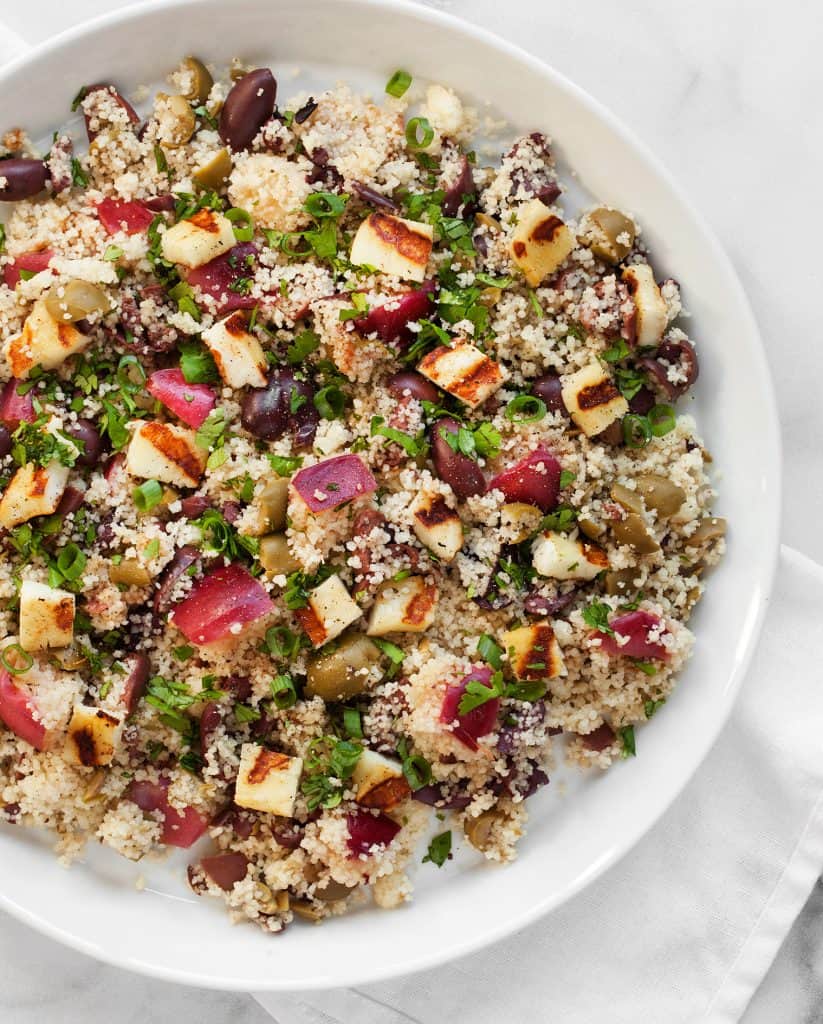 No matter what it is, that combination of salty and sweet that gets me every single time.

This grilled nectarine halloumi couscous is the perfect way to achieve that specific balance of flavors.

For this recipe, I turn to my grill pan on the stovetop rather than going outside to the actual grill.

With these more delicate ingredients, it can be easier to cook them on the safety of the ridges of the pan rather than the open grates of a grill.
How To Make Grilled Nectarine Halloumi Couscous
To start, I make the couscous using cumin, salt and pepper to season it.

Then I preheat my non-stick grill pan.

With the nectarines cut into wedges, I grill them on both sides until they are striped with grill marks. When they have cooled off a bit, I chop them into chunks.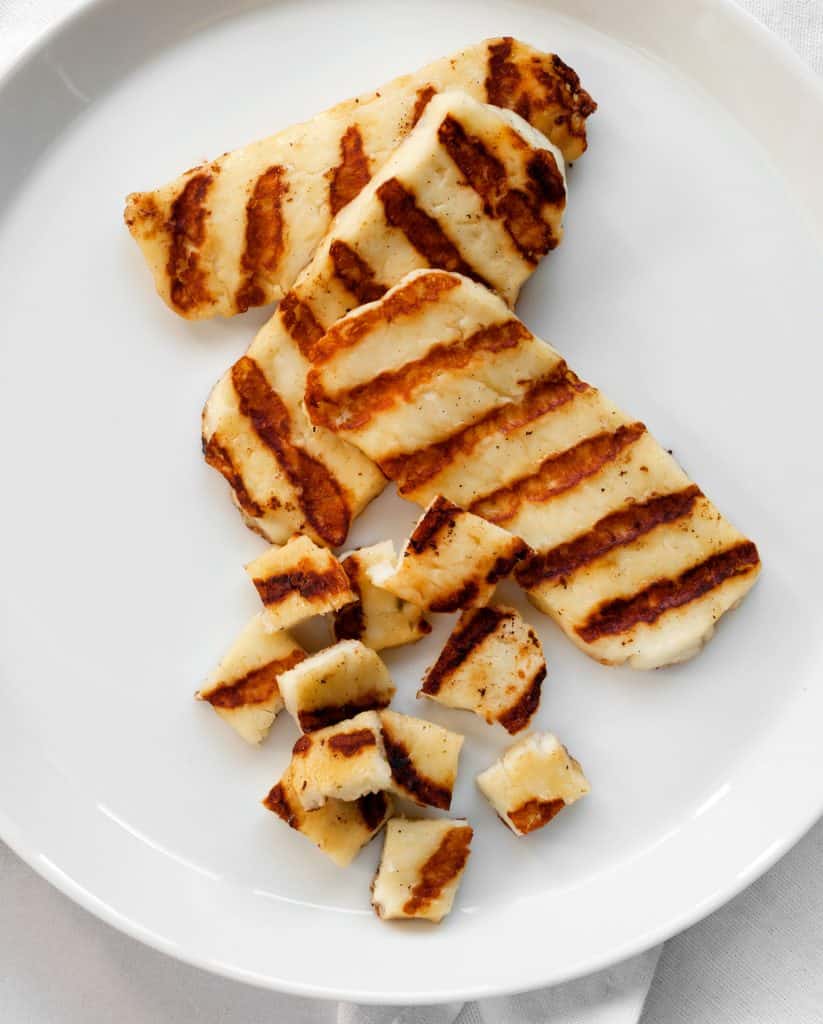 After the nectarines, I grill the halloumi.

Halloumi is a cheese hailing from Cyprus that's meant to be cooked. It's pleasantly salty, so I like serving it with fruit.

In the big bowl of couscous, I carefully fold in the nectarines and halloumi along with a mix of chopped olives, scallions, cilantro and parsley.

I serve grilled nectarine halloumi couscous both as a side and a vegetarian main. It's also great for leftovers that can be devoured cold straight from the fridge.
Print
Grilled Nectarine Halloumi Couscous
Prep Time:

5 minutes

Cook Time:

12 minutes

Total Time:

17 minutes

Yield: Serves

4

1

x
Scale
Ingredients
1 cup couscous
1/2 teaspoon cumin
1/2 teaspoon kosher salt
1/4 teaspoon black pepper
1 cup boiling water
4 nectarines, each pitted and sliced into 6–8 wedges
4 ounces halloumi, sliced 1/4-inch thick
2 cups mixed olives, pitted and roughly chopped
3 scallions, thinly sliced
1/4 cup roughly chopped parsley and cilantro
Salt and pepper to taste
Instructions
Place the couscous, cumin, salt and pepper in a large bowl. Pour in the boiling water, cover and wait 8-10 minutes for the water to absorb. Then fluff the grains with a fork.
Preheat a non-stick grill pan over medium high heat.
Grill the nectarines until they have grill marks, about 1-2 minutes per side. When the fruit is cool enough to handle, chop the nectarines into chunks.
Grill the halloumi until each slice has golden brown grill marks, about 2-3 minutes per side. When it has cooled slightly, dice the halloumi.
Fold the nectarines, halloumi, olives, scallions, parsley and cilantro into the couscous.
Season with salt and pepper to taste.
SHARE THIS