Mango Jicama Black Bean Salad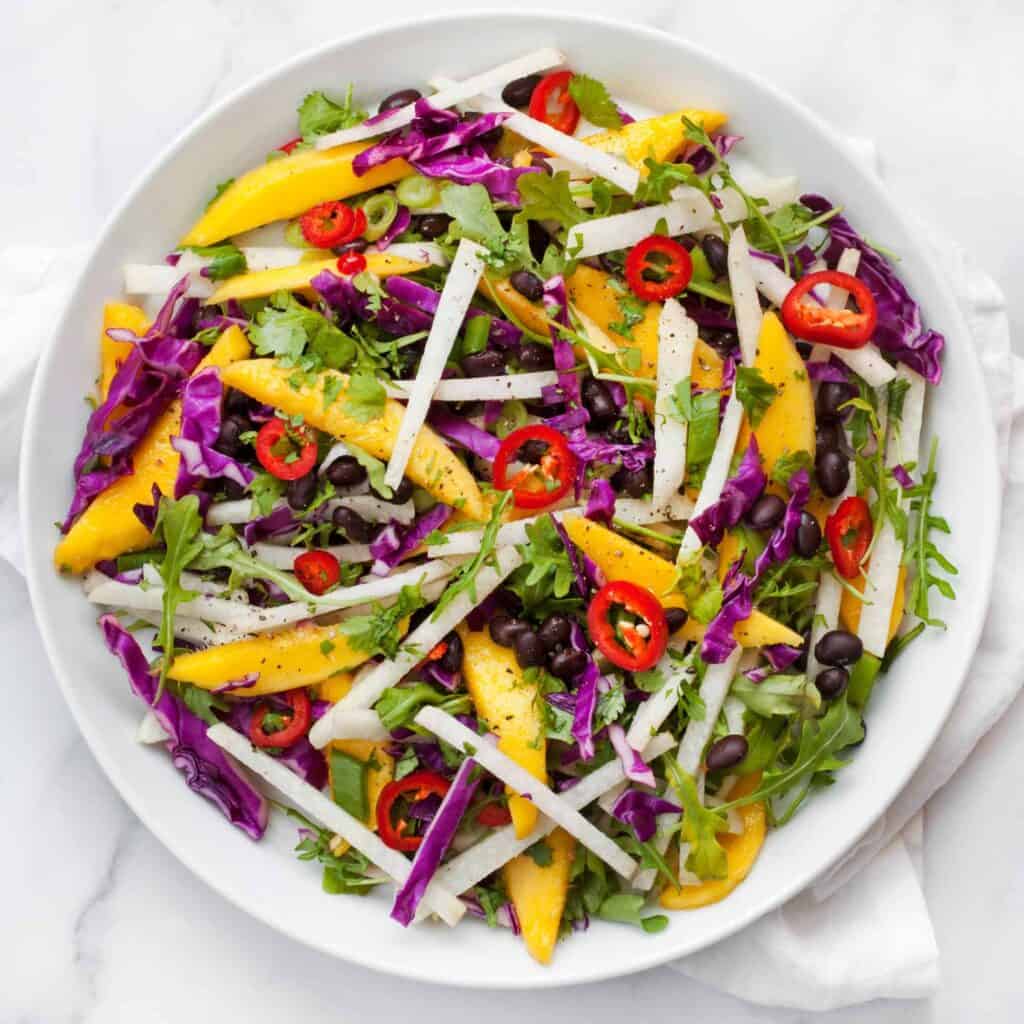 It's taken me way too long to appreciate the absolute joy that is a mango.

Once you figure out how to cut one, I guarantee you will be eating mangoes all the time. With their long slender pits, mangoes can be a bit confusing and kind of intimidating to prep.

Mangoes are wonderfully fragrant and tropical. They are sweet, but not so sweet that you can't use them in something savory.

Other than eating mangoes on their own or in yogurt with granola, I love incorporating them into salads or grain bowls.

I'm a big fan of using fruit in salads. There is something about it that feels a little unexpected. Fruit somehow makes an already fresh and crisp salad taste brighter and even more fresh.

This mango jicama black bean salad is the best kind of mess of different flavors. That's why I find it so addictive.

The recipe serves 4, but I have been known to polish off nearly all of it myself!

The salad has slender slices of sweet mangoes, of course. They are offset with crunchy purple cabbage and jicama.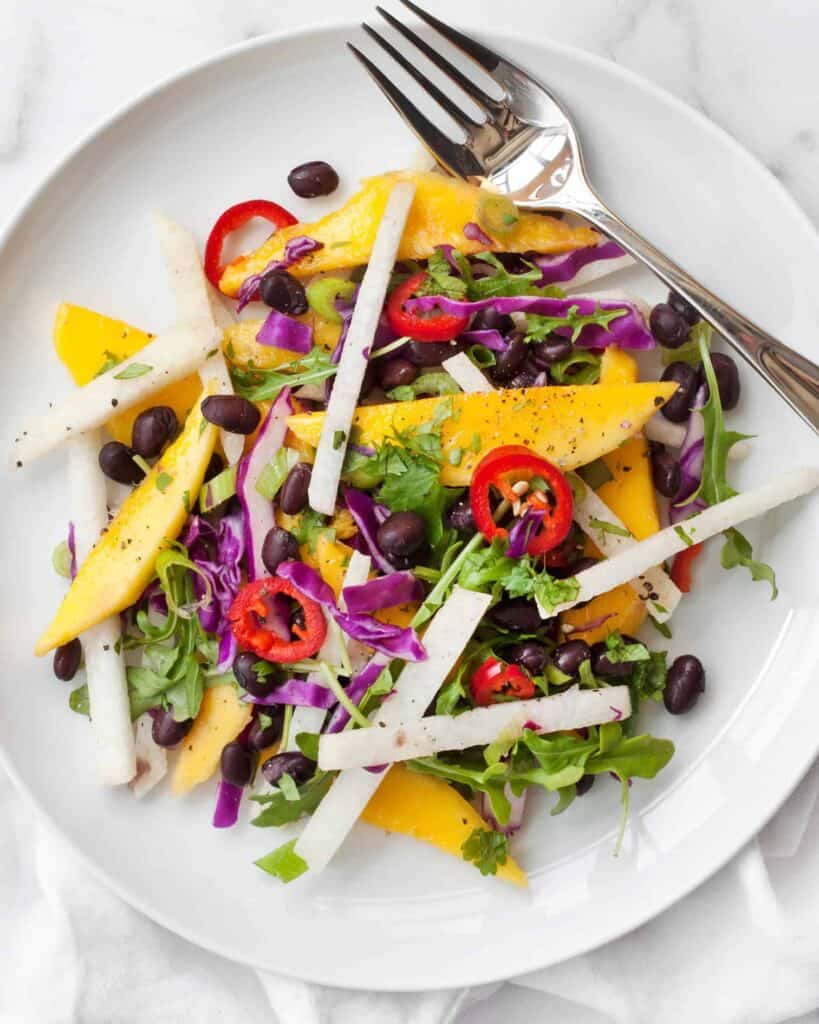 Jicama is one of my favorite salad veggies. Native to Mexico, this root vegetable is crunchy and juicy. It's mild flavor means that it plays well with any dish that has lots of other ingredients with their own distinct personalities.
Not one to shy away from heat, I added a thinly sliced chili to the mix. I like pairing mangoes with something spicy.

Cilantro was the obvious fresh herb to choose. I threw in a bunch of roughly chopped leaves along with sliced scallions.
I felt like I had to add more greens to officially call this a salad, so I chose peppery baby arugula.
Black beans gave it a little heft making it more filling. To finish, I drizzled the salad with cilantro lime vinaigrette.
Print
Mango Jicama Black Bean Salad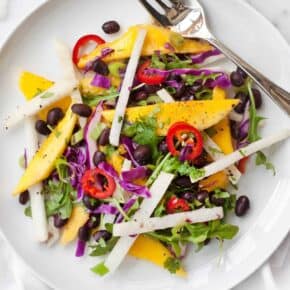 Prep Time:

15 minutes

Total Time:

15 minutes

Yield:

Serves 4
Ingredients
For salad
2 ripe but firm mangos, peeled and cut into 1/4-inch thick spears
1 jicama, peeled and cut into matchsticks
1 cup shredded red cabbage
1-14.5 ounce can black beans, rinsed and drained
1 red chili, thinly sliced
2 scallions thinly sliced
1/4 cup roughly chopped cilantro
2 ounces baby arugula
For vinaigrette
Juice of 1 lime
1 tablespoon finely chopped cilantro
1 garlic clove, minced
1 teaspoon cumin
1/2 teaspoon kosher salt
1/4 teaspoon black pepper
1/4 cup olive oil
Instructions
In a large bowl, combine the mangoes, jicama, cabbage, black beans, chilies, scallions, cilantro and arugula.
For the vinaigrette, whisk together the lime juice, cilantro, garlic, cumin, salt, pepper and olive oil until fully combined. Drizzle in the salad.
SHARE THIS