This roasted Pumpkin Wild Rice Salad has seasonal flavors that are both salty and sweet including apples, spinach, crumbles blue cheese, pecans and maple vinaigrette.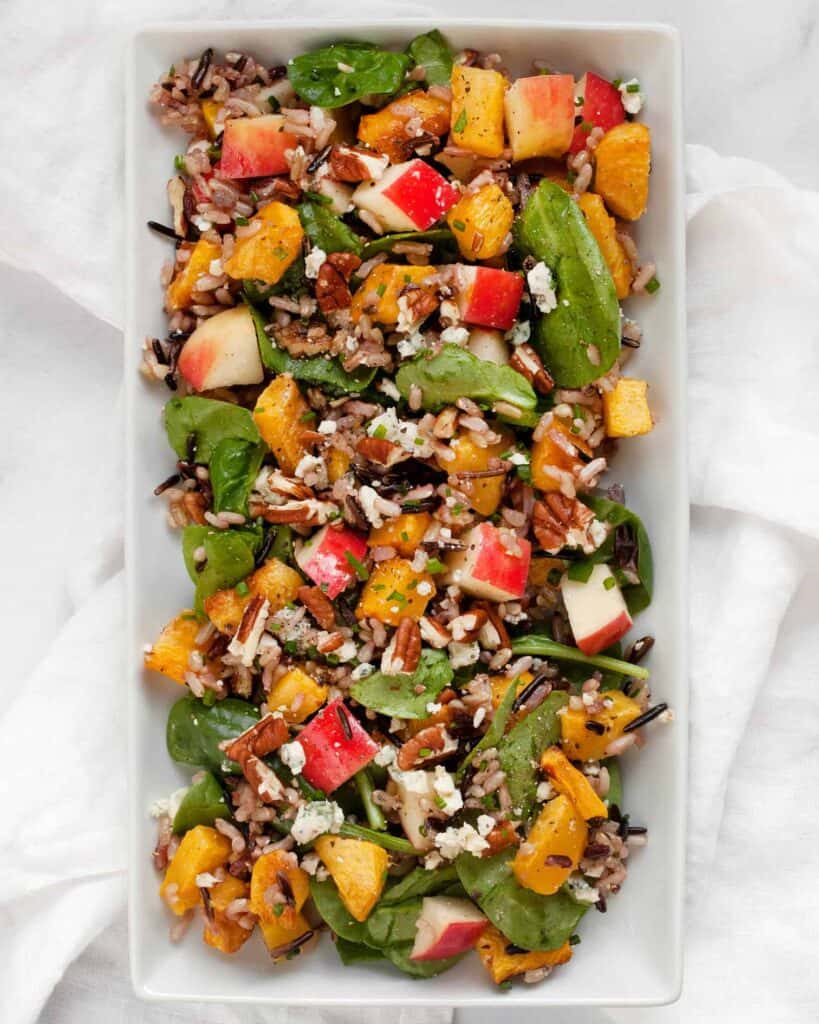 With just a week to go until Halloween, my five-year-old is very excited about pumpkins.
We went apple picking last week, and conveniently enough, there was a pumpkin patch, too.

From apples to cider donuts to pumpkins, that farm had all our fall cravings covered.
The assortment of pumpkins included those tiny decorative ghords and giant orange monsters that would require at least two people to move. That's not an exaggeration.
We came home with an appropriately medium-sized pumpkin that we could easily carry up the stairs of our city condo.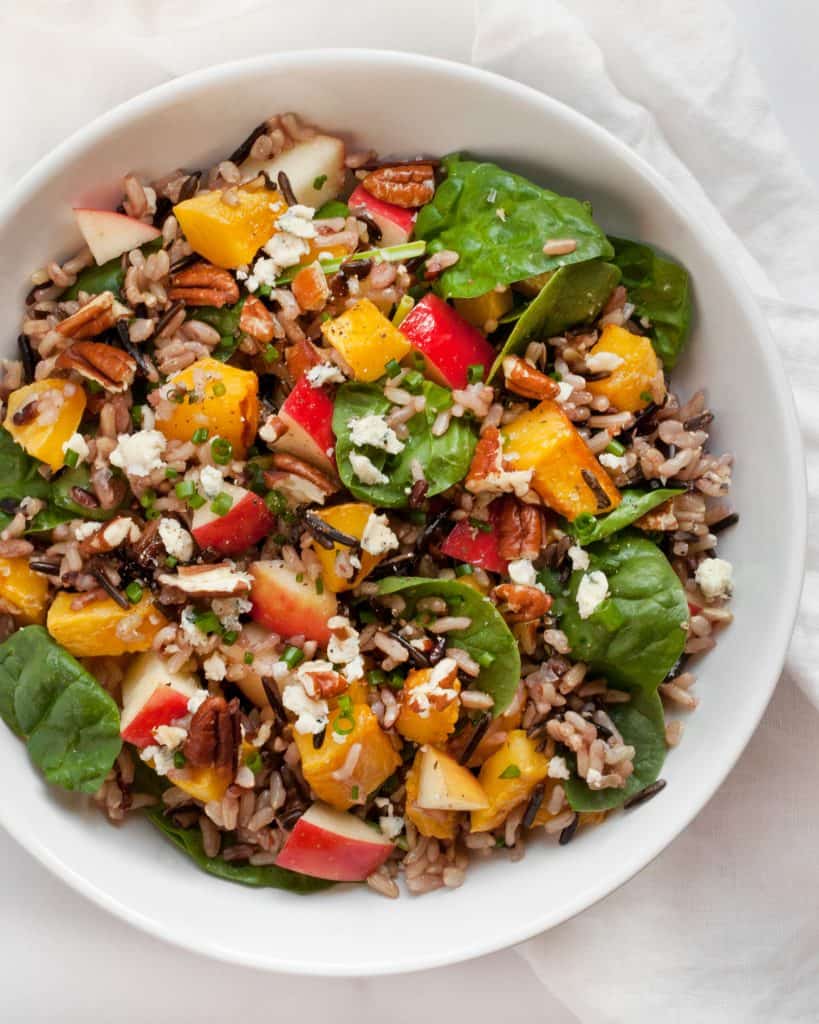 Besides the logistics, I didn't want to end up with a huge pumpkin that would require lots of time scooping out the seeds and flesh before carving could even begin.
That wasn't the only pumpkin we came home with. I managed not to get too distracted by all the decorative pumpkins, so I could pick up an edible pie pumpkin, too.
But I had no plans to bake pie.
On a roasted veggie kick, I made a pumpkin wild rice salad.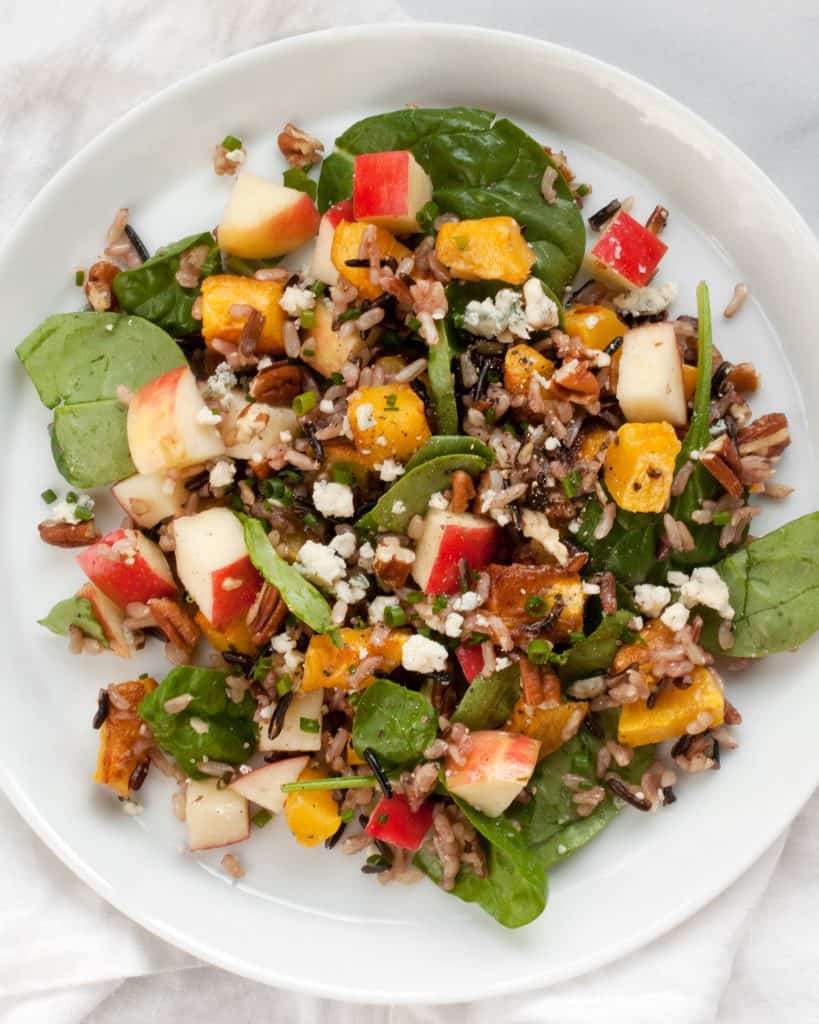 Pumpkin Wild Rice Salad: The Ingredients
Once the oven was preheated, I sliced the pumpkin into wedges and tossed it in olive oil, salt and pepper.

Do not try to peel the skin of a pumpkin before you roast it. You would be crazy to take on all that work!

When the pumpkin finished roasting and cooled off enough so I could handle it, I sliced the flesh, but not all the way through the skin.

Then with a sweep of the knife, I removed the skin in a single motion.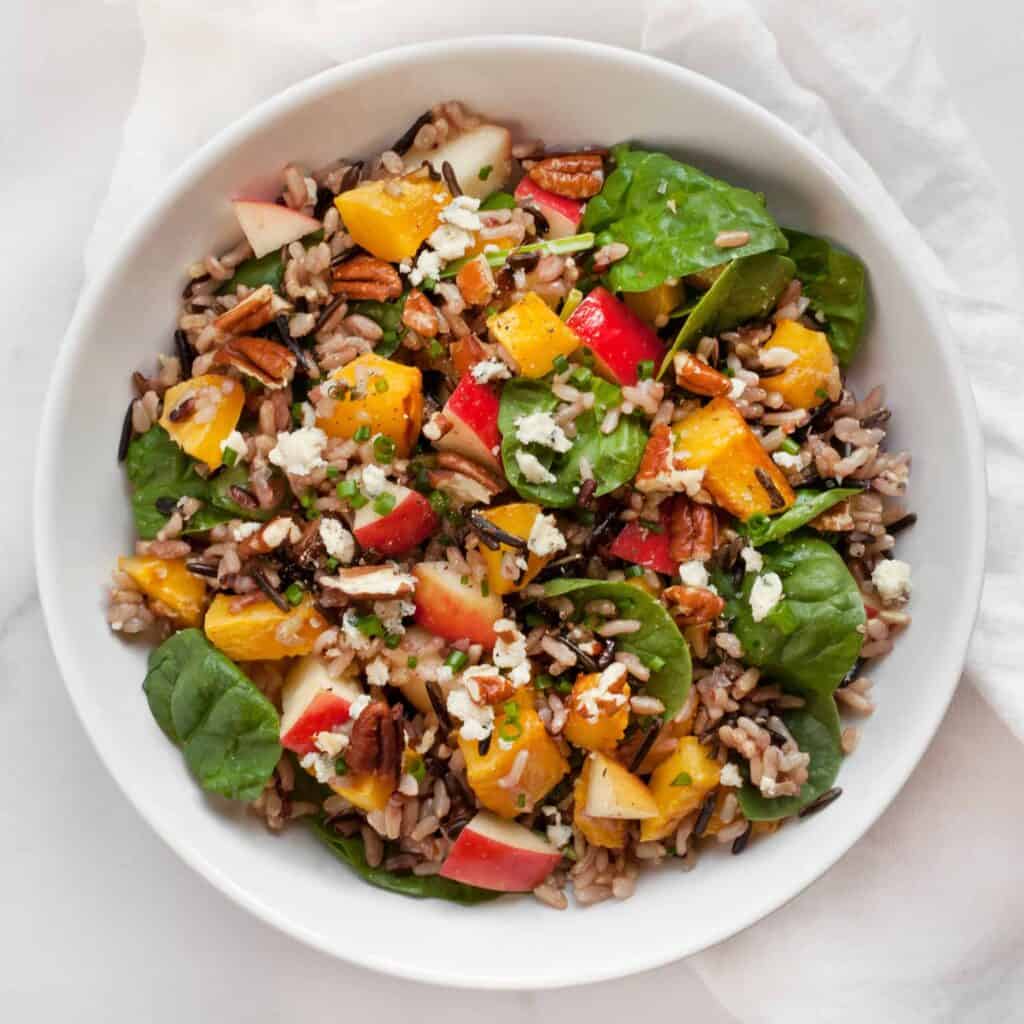 While the pumpkin roasted, I simmered the rice on the stove.

In a big bowl, I combined the wild rice with pumpkin, apples, spinach, blue cheese and pecans.
The crisp apples gave subtly sweet freshness while the blue cheese added something savory and salty.
I whisked together lemon maple vinaigrette to drizzle over the pumpkin wild rice salad.
As with any salad or grain bowl, my goal is that there's something different in each bite!
Print
Pumpkin Wild Rice Salad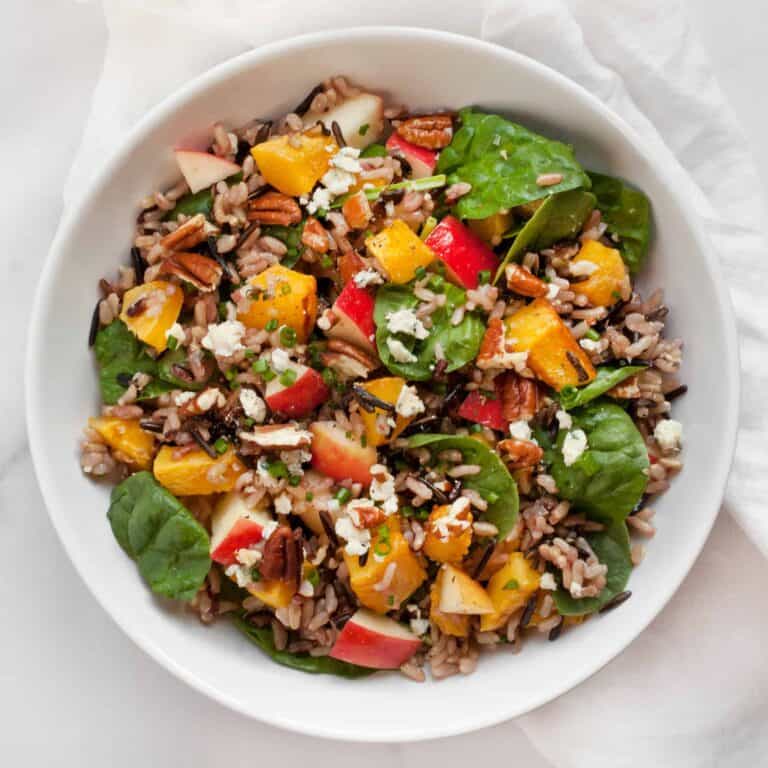 Prep Time:

20 minutes

Cook Time:

30-35 minutes

Total Time:

50-55 minutes

Yield: Serves

4

–

6

1

x
Scale
Ingredients
1 small pie pumpkin (about 2–3 pounds)
3 tablespoons olive oil
1 teaspoon kosher salt
1 teaspoon black pepper
1 cup wild rice
1–3/4 cups water
Juice of 1 lemon
2 teaspoons maple syrup
1 garlic clove, minced
1 crisp apple, cored and diced
1 generous handful baby spinach
2 tablespoons minced chives
1/4 cup crumbled blue cheese
1/4 cup roughly chopped pecans
Instructions
Preheat the oven to 400 degrees F.
Cut the top off the pumpkin and slice in half lengthwise. Scoop out the seeds and cut into 2-inch-wide wedges. Toss the wedges in 1 tablespoon olive oil, 1/2 teaspoon salt and 1/2 teaspoon pepper. Arrange on a sheet pan. Roast for 25-30 minutes until tender when pierced with a knife. Cool for 10 minutes before cutting the flesh of each wedge into cubes and removing the skin.
Combine the rice and water in a medium saucepan over high heat. Bring to a boil, reduce the heat, simmer, cover and cook for 30-35 minutes until the rice is tender and cooked through.
To make the vinaigrette, whisk together 2 tablespoons olive oil, lemon juice, maple syrup, garlic and the remaining salt and pepper in a small bowl.
In a large bowl, combine the rice, pumpkin, apples, spinach, chives, blue cheese and pecans and drizzle in the vinaigrette. Serve warm or at room temperature.
SHARE THIS