Roasted Carrot Feta Salad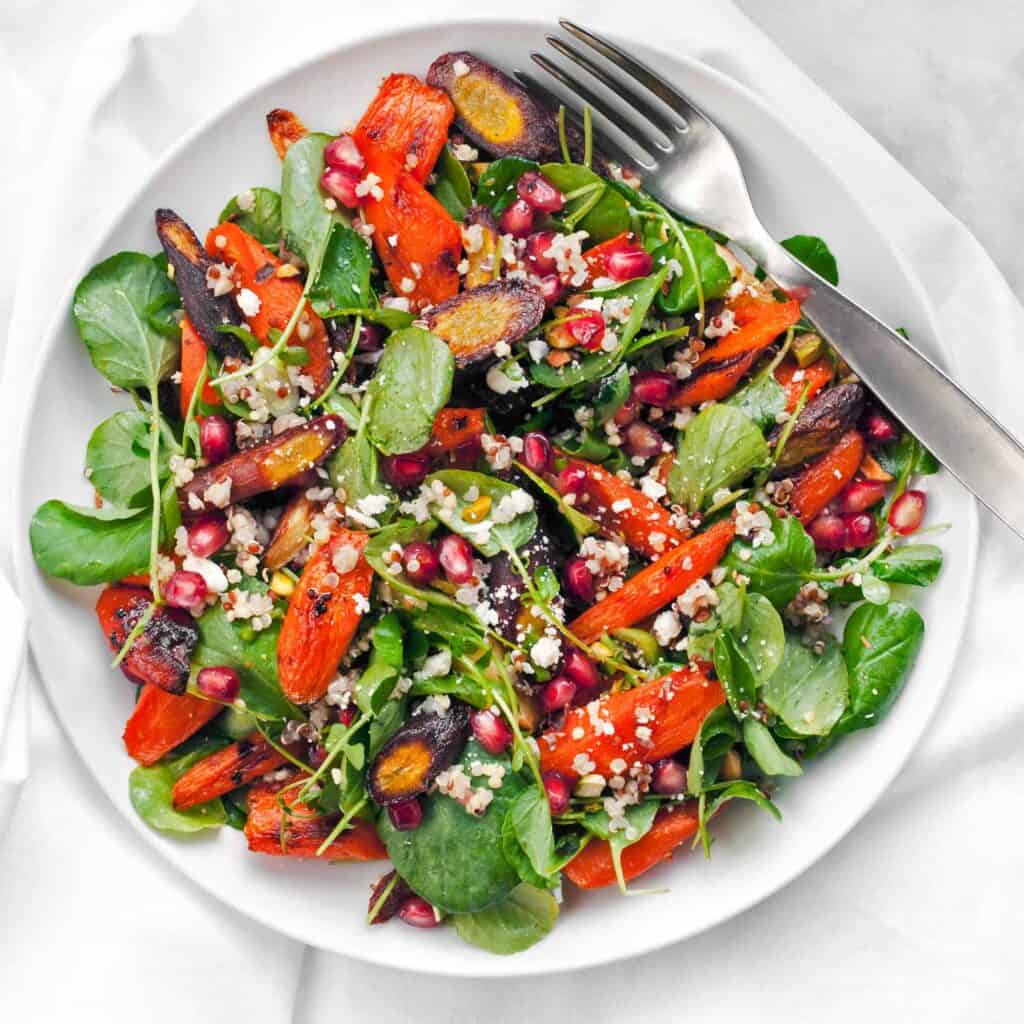 There's a battle going on at my house: cookies vs. vegetables.

My pantry is stocked with flour, sugar, sprinkles and everything else needed to bake up holiday treats at a moment's notice.
But I shouldn't use the holidays as an excuse. No matter what time of year, I am baking. I find it incredibly relaxing.
Baking requires a level of concentration where I can tune out everything else that's going on and just think about the ingredients and the steps.
I'm always juggling a bunch of things at once. Baking forces me to pause my multi-tasking.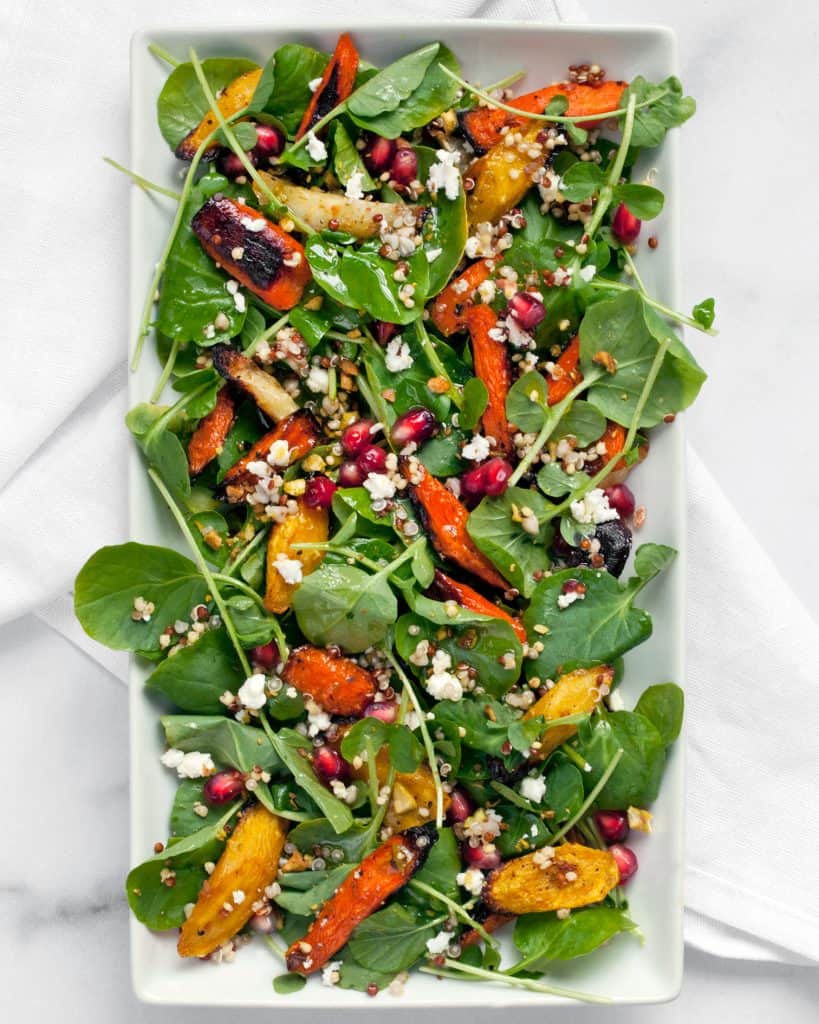 I've been trying to have those same zen feelings when I am cooking with vegetables. It seems like a more balanced approach.
My diet centers around vegetables and dessert with a few whole grains thrown into the mix.
I have a bowl on my counter that's always full of vegetables. What those are depends on the season.
Right now that bowl is stocked with root veggies, and that doesn't count what's in the fridge. There's always more hiding somewhere.
I love rainbow carrots. From white to yellow to purple to orange, their color is so inspiring especially during the winter months.
With the bunches of carrots I had, I made a roasted carrot feta salad.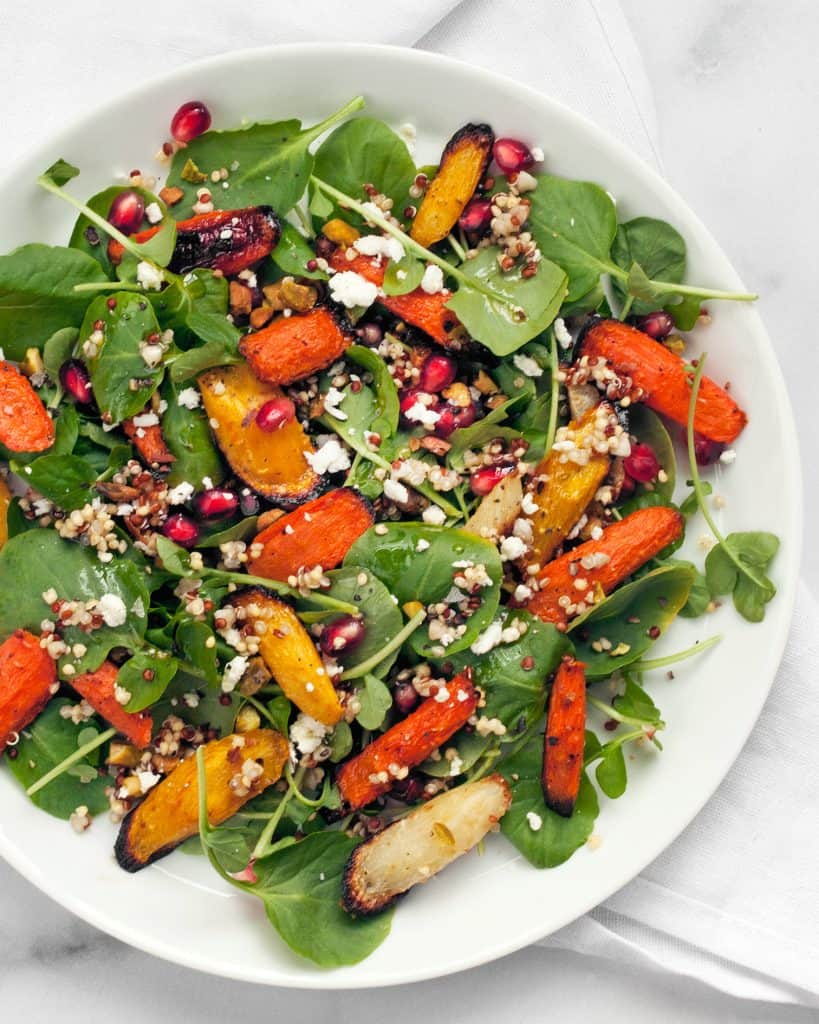 Roasted Carrot Feta Salad: The Ingredients
Once the oven was preheated, I tossed sliced rainbow carrots in olive oil, salt and pepper. I roasted them until they were slightly wrinkling and just starting to brown at the edges
As the carrots were cooling, I whisked together a cumin lemon vinaigrette.
For greens, I went with peppery watercress, which has a ton of flavor and bite.
To bulk up the salad, I tossed in quinoa along with pomegranate seeds and pistachios.
This roasted carrot feta salad had just the right amount of fresh crunch.
Print
Roasted Carrot Feta Salad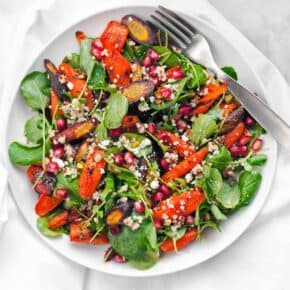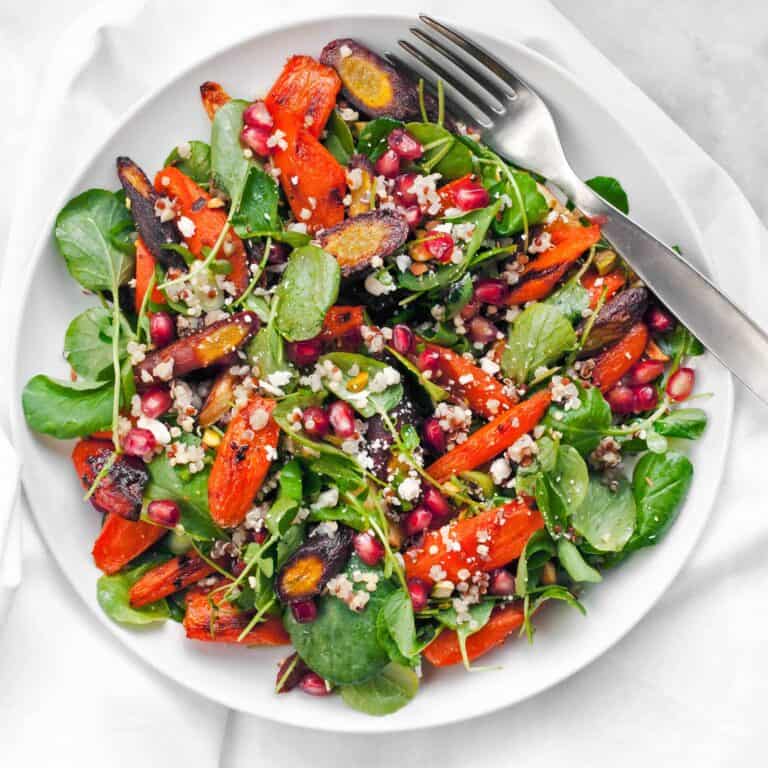 Prep Time:

10 minutes

Cook Time:

25 minutes

Total Time:

35 minutes

Yield:

Serves 4
Ingredients
For carrots
1-1/2 pounds rainbow carrots, peeled and cut into 1/2-inch thick on the bias
1 tablespoon olive oil
1/2 teaspoon kosher salt
1/4 teaspoon black pepper
For vinaigrette
Juice of 1 lemon
1 garlic clove, minced
1/2 teaspoon ground cumin
1/4 teaspoon kosher salt
Pinch black pepper
1/4 cup olive oil
For salad
5 ounces watercress
1 scallion, thinly sliced
1/2 cup cooked quinoa, cooled
1/3 cup pomegranate seeds
1/4 cup chopped pistachios
1/4 cup crumbled feta
Instructions
Preheat the oven to 425 degrees. Toss the carrots with olive oil, salt and pepper on a sheet pan and spread into a single layer. Roast for 25 minutes until they are tender and starting to brown at the edges.
In a small bowl, whisk together the lemon juice, garlic, cumin, salt, pepper and olive oil.
In a large bowl, combine the carrots, watercress, scallions, quinoa, pomegranate seeds, pistachios and feta. Drizzle the vinaigrette over the salad before serving.
SHARE THIS