Roasted Rainbow Cauliflower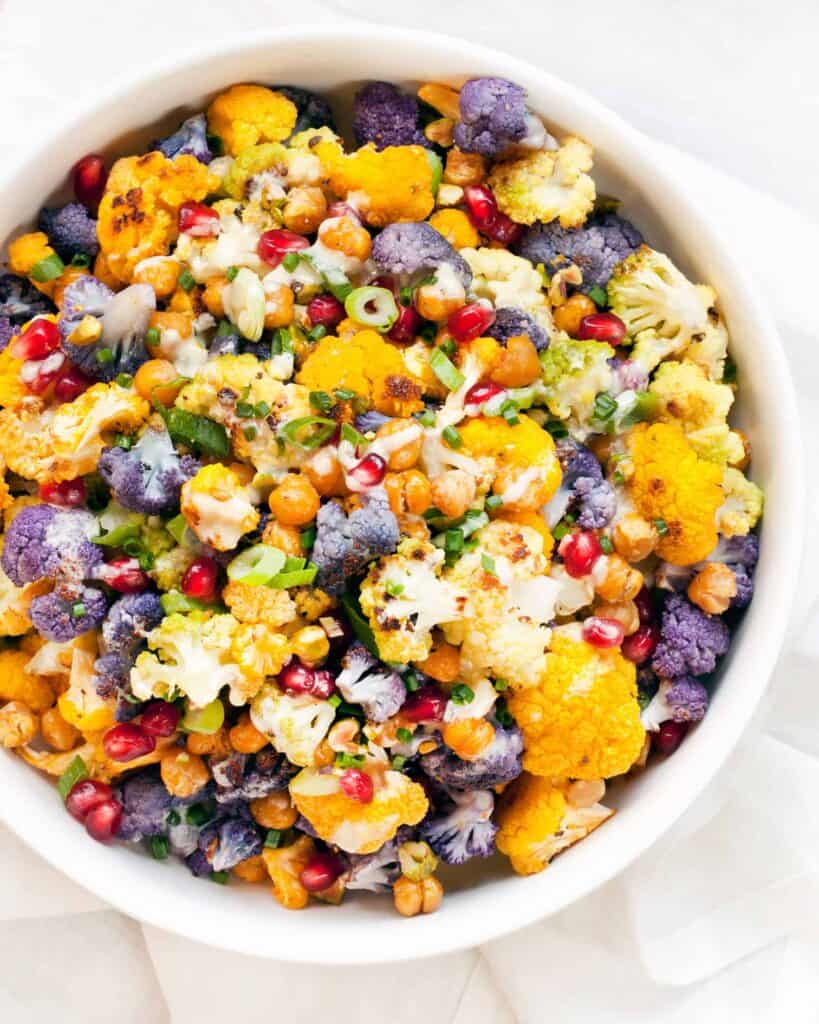 As expected, the grocery was a total madhouse the day before Thanksgiving. I thought I was playing it smart getting there before 10am, but everyone else had the same brilliant idea.
My three-year-old and I navigated the aisles avoiding traffic jams. It was a lesson in defensive driving.
With my list in hand, I tried to stay focused, but I got distracted when I spotted cauliflower in every color.

From purple to orange to green, I was totally mesmerized by their beauty.
Then I had to remind myself to focus.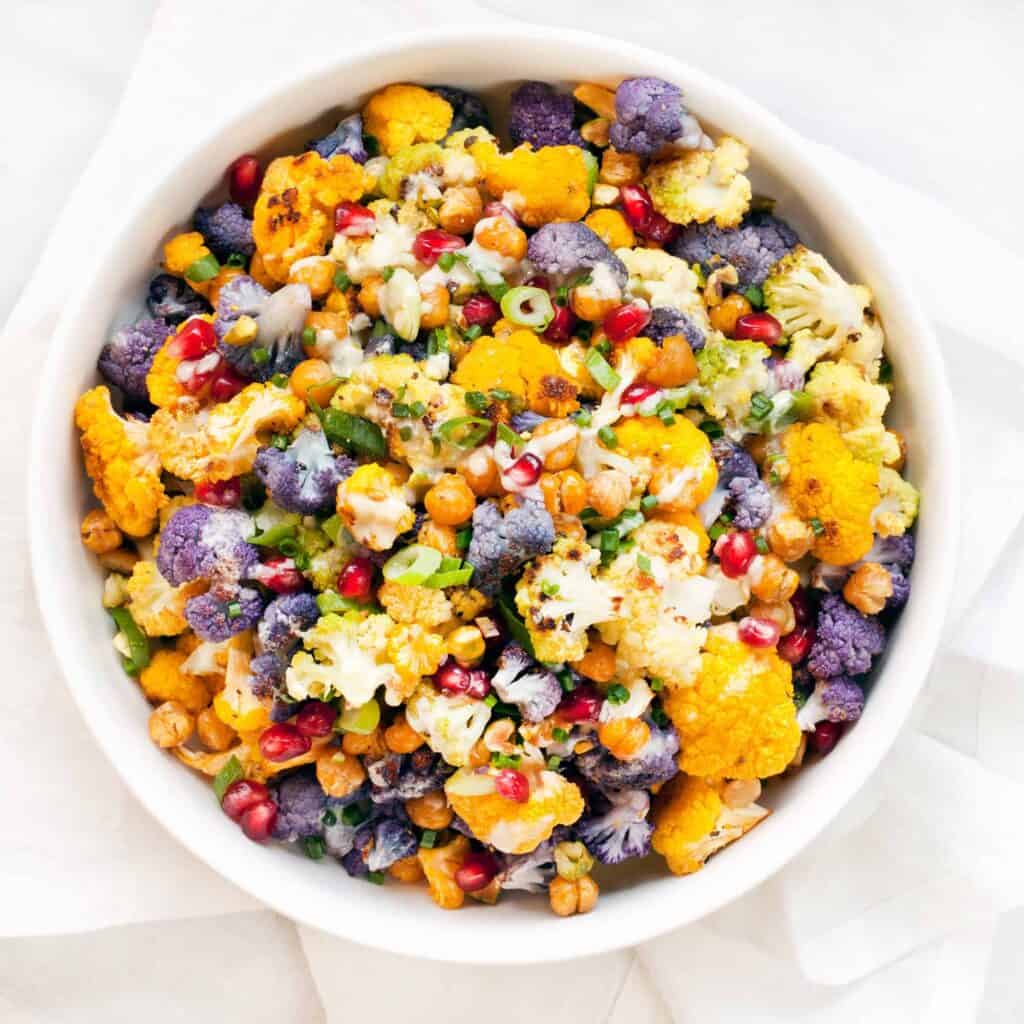 There was a list of things that I still needed, and it seemed like as each minute passed, the store got busier and busier.
In stressed shopper mode, I threw three heads into the cart figuring I would make some sort of roasted rainbow cauliflower.
Thanksgiving was wonderful from the food to catching up with family, but I didn't get around to those gorgeous heads of cauliflower until after the holiday.
It was definitely worth the wait because I could give them the full attention that they deserved.
Simply roasting all those florets wasn't enough. They needed more.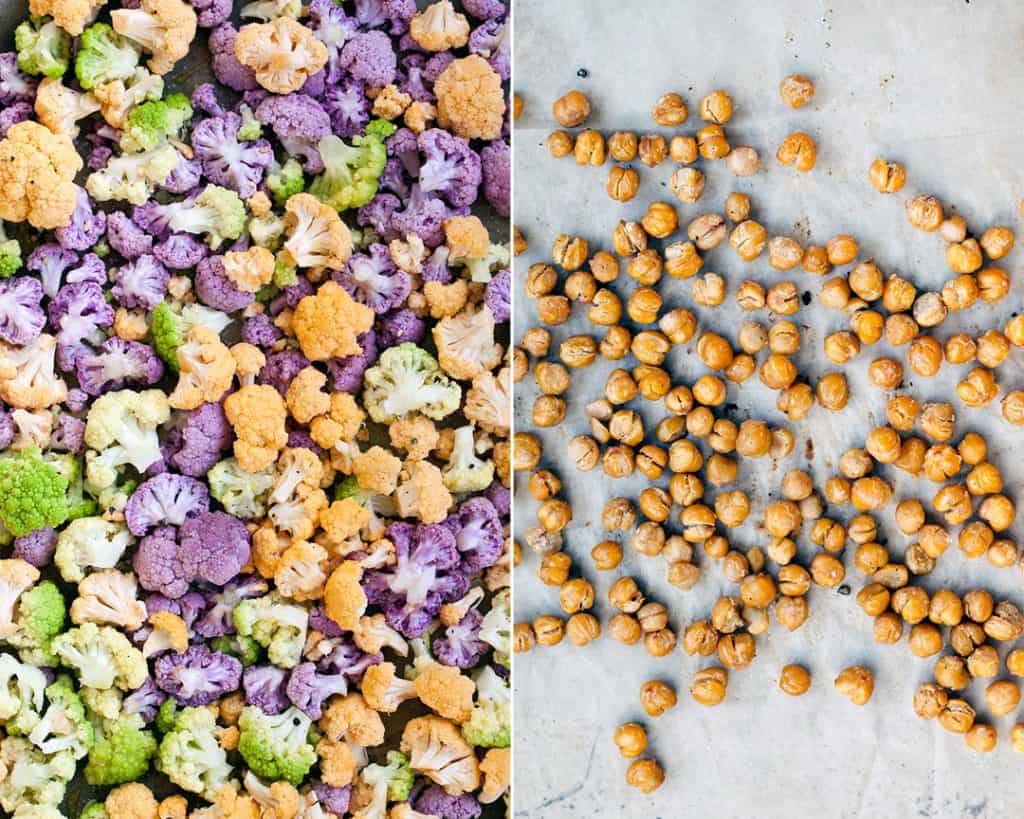 How To Make Roasted Rainbow Cualiflower
I tossed chickpeas in olive oil, lemon juice, cumin, salt and pepper and roasted them until they were crispy on a separate pan while the cauliflower was roasting.
Along with the cauliflower and chickpeas, I added scallions, pomegranate seeds, pistachios and chives. Then I whisked together lemon tahini dressing to drizzle over the bowl.
It turned out to be so much more than just a side. I just love the nutty flavor of roasted cauliflower.

I regret all those years I claimed to not like cauliflower.

What a mistake! I absolutely missed out.
Combined with a bowl of quinoa, this roasted rainbow cauliflower and chickpea combo became a fresh vegan lunch, much-needed after our Thanksgiving feast.
Print
Roasted Rainbow Cauliflower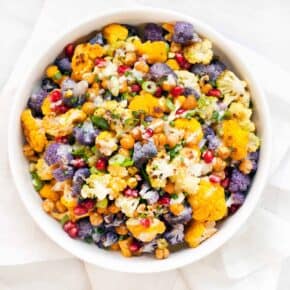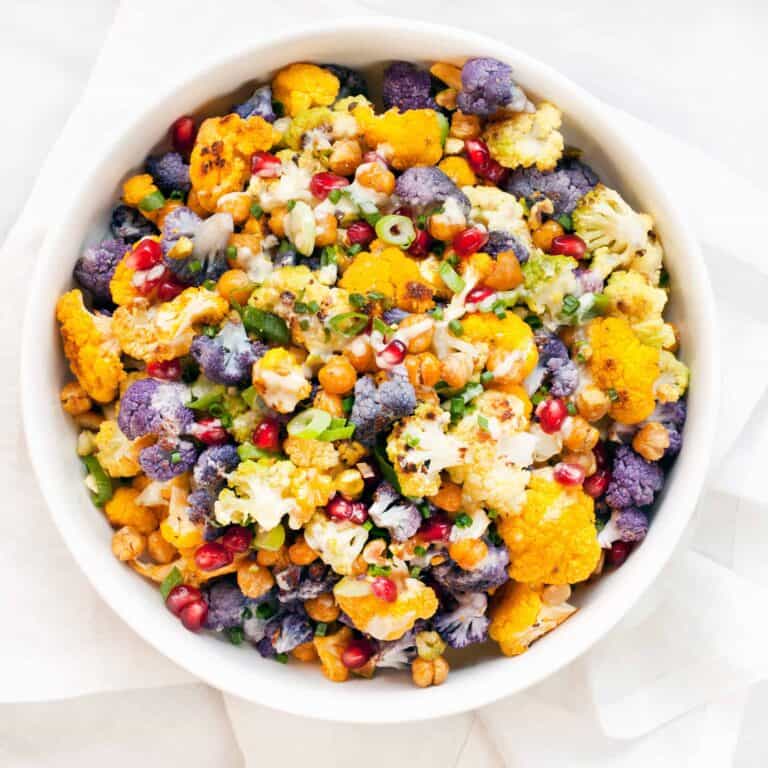 Prep Time:

10 minutes

Cook Time:

25-30 minutes

Total Time:

35-40 minutes

Yield:

Serves 4
Ingredients
For chickpeas
1-15 ounce cans chickpeas
Juice of 1/2 lemon
1 teaspoon olive oil
1/4 teaspoon ground cumin
1/4 teaspoon kosher salt
1/4 teaspoon black pepper
For cauliflower
1 pound cauliflower florets (orange, purple & green)
1 tablespoon olive oil
1 teaspoon kosher salt
1/4 teaspoon black pepper
For dressing
3 tablespoons tahini
Juice of 1/2 lemon
3 tablespoons water
1 garlic clove, minced
1/2 teaspoon kosher salt
1/4 teaspoon black pepper
For serving
1 scallion, thinly sliced
1 tablespoon minced chives
1/4 cup pomegranate seeds
1/4 cup roughly chopped salted pistachios
Instructions
Preheat the oven to 400 degrees F. Line two sheet pans with parchment.
Drain and rinse the chickpeas. Pat them dry with paper towels and remove any loose outer skins. In a small bowl, whisk together the lemon juice, olive oil, cumin, salt and pepper. Stir in the chickpeas. Use a slotted spoon to transfer them to one of the prepared sheet pans.
Place the cauliflower in a single layer on the other prepared sheet pan. Toss with olive oil salt and pepper.
Bake the chickpeas and cauliflower for 25 – 30 minutes until the chickpeas are crisp and golden brown, and the cauliflower is starting to brown at the edges.
For the dressing, whisk together the tahini, lemon juice, water, garlic, salt and pepper in a small bowl.
In a large bowl, combine the chickpeas, cauliflower, scallions, chives, pomegranate seeds and pistachios. Drizzle with the tahini dressing before serving.
SHARE THIS