Roasted Sweet Potato Cauliflower Soup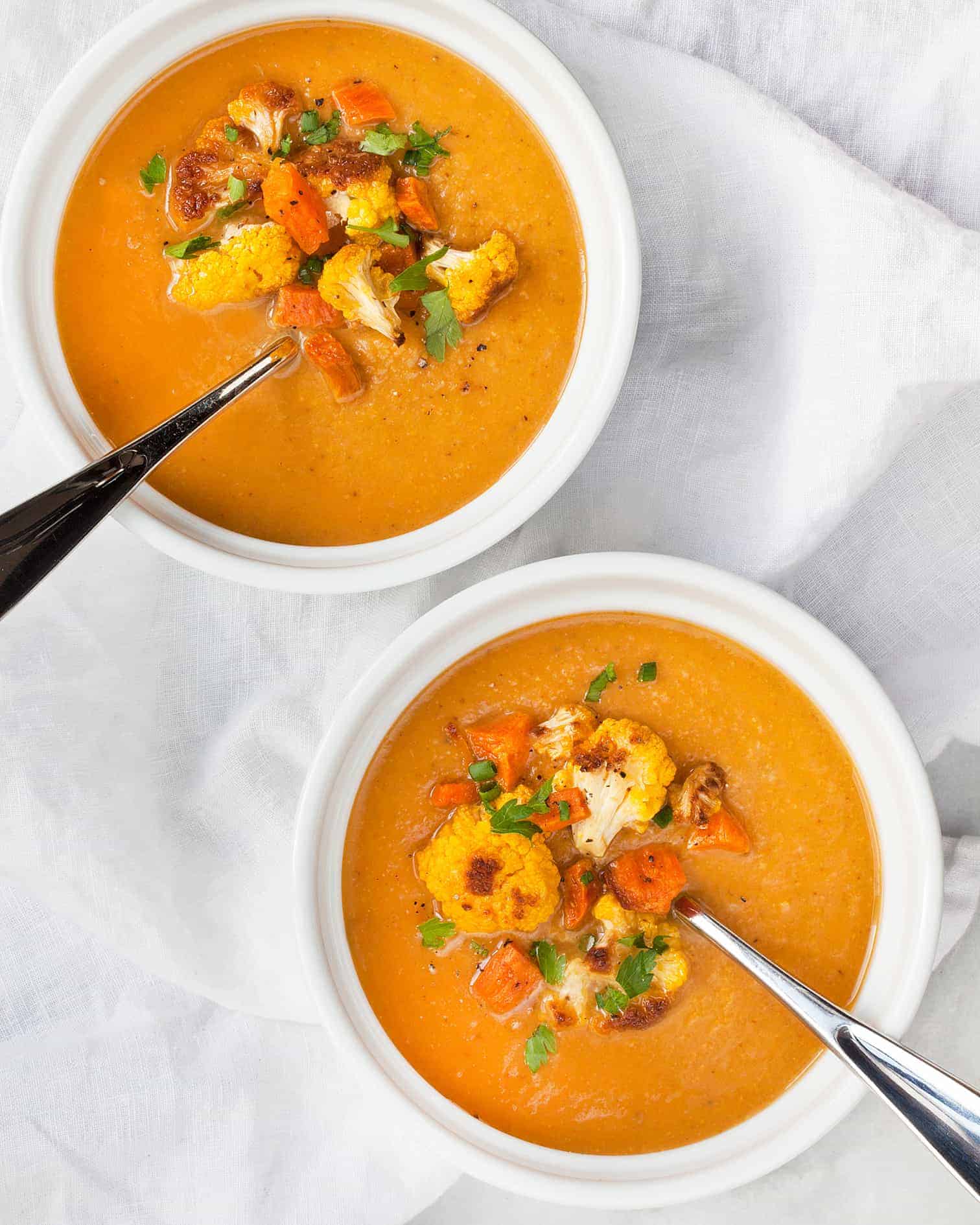 There's a cold floating around my son's preschool. We affectionately refer to it as the "classroom cough."
Humor is one of my many survival tips for navigating the germy world of small children in school.
It has struck siblings, parents and pretty much everyone in between. I'm not sure that any amount of hand-washing will keep me safe.
Should I be wearing a mask?
The slightest tickle in my throat or sniffle has me downing Vitamin C and Zinc and trying to stay calm.
I am always going at warp speed, so the thought of anything slowing down my pace freaks me out. Every last item on my perpetual to-do list must be completed.
Besides slathering on hand sanitizer, I've been devouring pot after pot of soup. Each spoonful is warm, comforting and keeps me calm.
I even felt inspired to add a new one to my repertoire—roasted sweet potato cauliflower soup.
What is it that has me hooked on orange veggies? When the color of an ingredient is very intense and saturated, I am convinced it is even more nutritious.
I used orange cauliflower for this recipe to get that bright hue. Other than salt and pepper, I just added a little cumin because I didn't want to mask the flavors of the sweet potatoes and nutty cauliflower.
There is a bowl on my kitchen counter with at least one sweet potato. They are so easy to turn into soup or even just prick with a fork and bake.
Instead of stock, I used water to thin out the cooked vegetables to a soup-like consistency. If I'm really in the need for a soothing meal, I like a thicker, almost mash-like consistency.
This soup comes in handy when you freeze it into individual portion sizes. Then you are all set if you're looking for a last minute meal.
Print
Roasted Sweet Potato Cauliflower Soup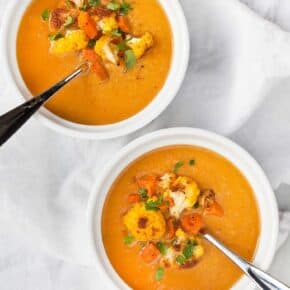 Prep Time:

10 minutes

Cook Time:

45-47 minutes

Total Time:

55-57 minutes

Yield: Serves

4

1

x
Scale
Ingredients
1–1/2 pounds sweet potatoes, peeled and diced
1 head orange cauliflower (about 1 pound), trimmed and broken into florets
2 tablespoons olive oil
1 teaspoon cumin
1 teaspoon kosher salt plus more for serving
1/4 teaspoon black pepper plus more for serving
1 small white onion, roughly chopped
4-5 cups water (you can also use veggie or chicken stock)
Chopped fresh parsley for serving
Instructions
Preheat the oven to 375 degrees F. Line 2 sheet pans with parchment paper.
Toss the sweet potatoes and cauliflower with 1 tablespoon olive oil, cumin, salt and pepper. Spread into a single layer on the prepared sheet pans. Roast until the vegetables start to brown at the edges and the sweet potatoes are tender, about 30 minutes.
Heat the remaining olive oil in a large saucepan over medium heat. Add the onions and sauté for 5-7 minutes until they soften. Add sweet potatoes and cauliflower, reserving 1 cup veggies for garnish and 4 cups water. Simmer for 10 minutes.
Carefully transfer the soup in batches to a blender to puree. Add more water to reach desired consistency, as needed. Return the soup to the saucepan to reheat before serving. Divide into bowls and top with sweet potatoes, cauliflower, parsley, salt and pepper.
SHARE THIS