Sweet Potato Mushroom Stuffing

With toasted sourdough bread, shallots and fresh thyme, this vegan sweet potato mushroom stuffing is the perfect veggie-filled side for any big meal.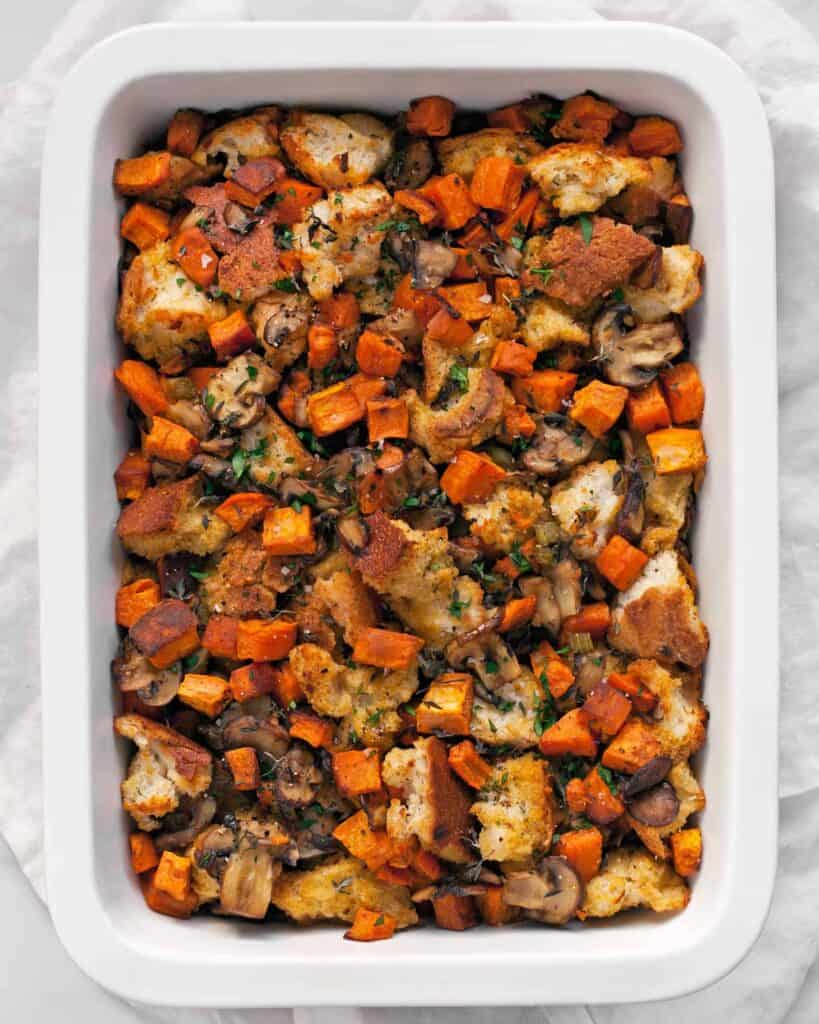 When it comes to Thanksgiving, people are in either two camps: turkey or sides.

This is really true for any major holiday or occasion. Are you here for the main dish protein or the veggie-filled sides?

Without a doubt, I am one of those people who doesn't get as excited about the bird as I do about the buffet of sides.

I strategically fill my plate, devoting the most space to the starches, greens and roasted vegetables.

Even though I love a good home-baked dinner roll like a rosemary olive knot, sometimes I will skip that too depending on my hunger.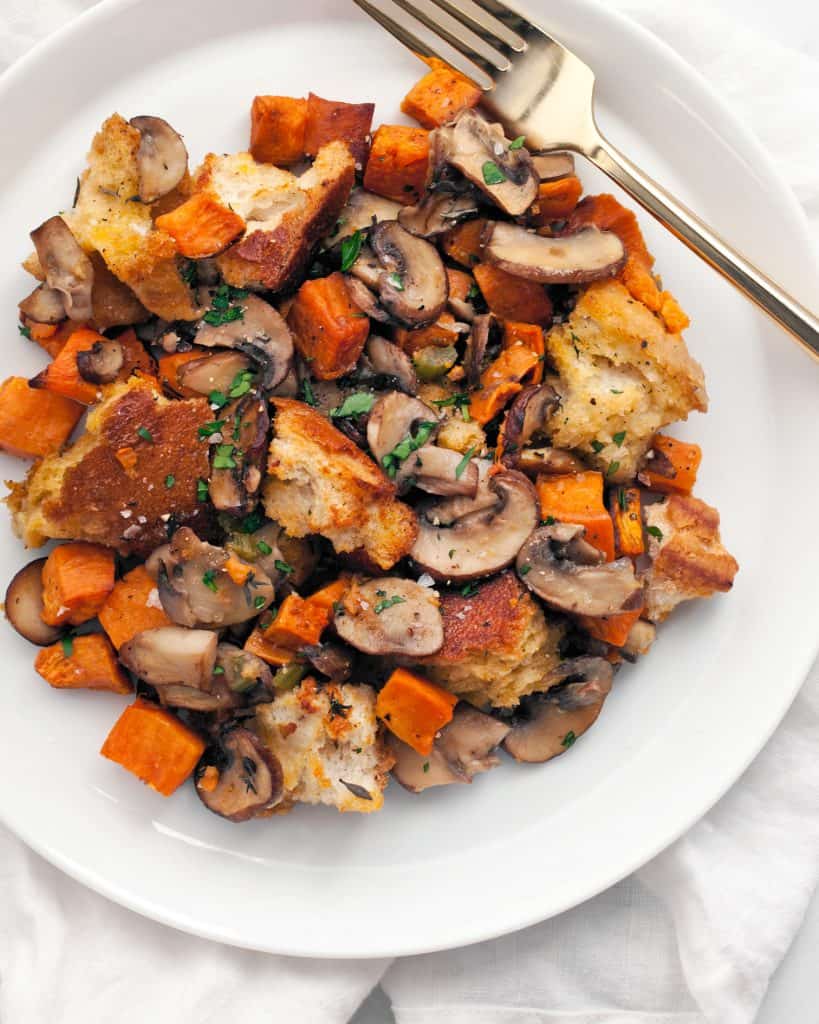 You have to prioritize at these holiday gatherings, right? Save room for sides!Stuffing is a side that is an absolute must. Thanksgiving wouldn't be complete without it.
When I think about what I love most about stuffing, it's the texture. You end up with a crispy brown top that has a soft, cozy mess of ingredients underneath.
I could eat sweet potatoes in any form from stuffed to French fries pretty much everyday of the week, so it just felt right to make sweet potato mushroom stuffing.

Earthy mushrooms pair so well with sweet potatoes.

For bread, I like sourdough. You could also use multigrain or even something enriched like brioche.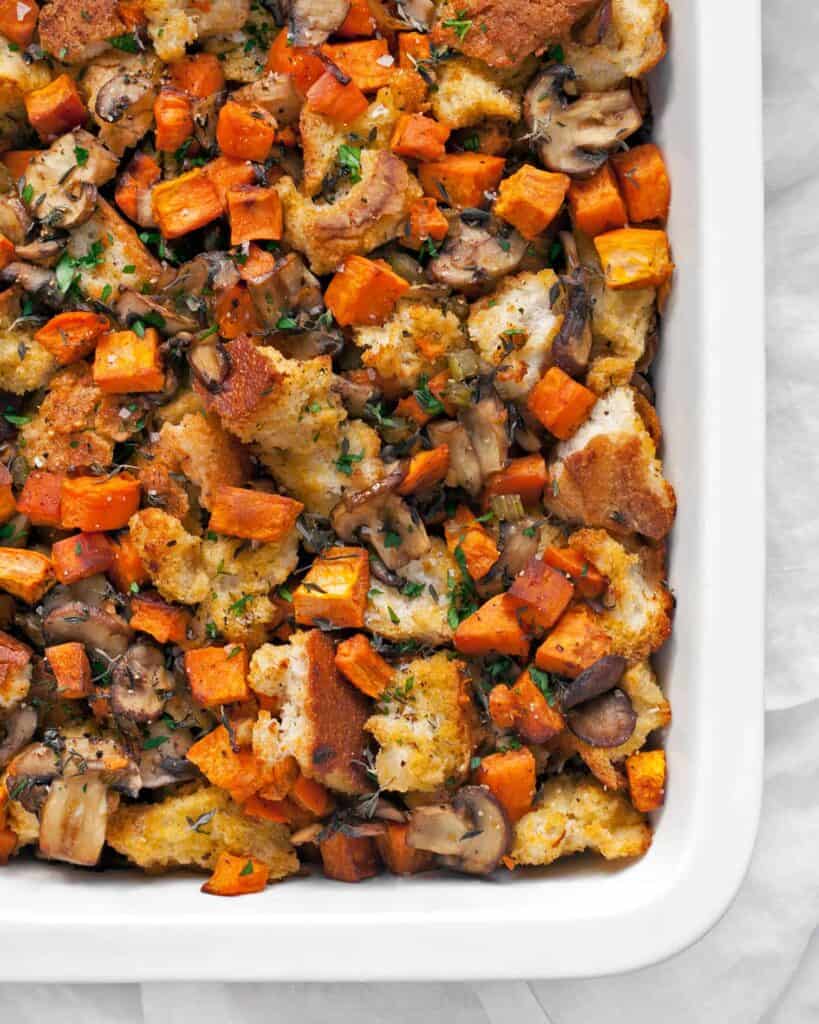 How To Make Sweet Potato Mushroom Stuffing
Never one to have stale bread at home, I start by toasting torn pieces of sourdough in the oven, so they will dry out.
Then I roast a sheet pan's worth of peeled and diced sweet potatoes.
While the potatoes cook in the oven, I sauté shallots, celery and garlic with cremini mushrooms.
Instead of just layering in all the ingredients into a 13-inch by 9-inch baking dish, I fold the toasted sourdough, sweet potatoes, mushrooms and fresh thyme in a large bowl.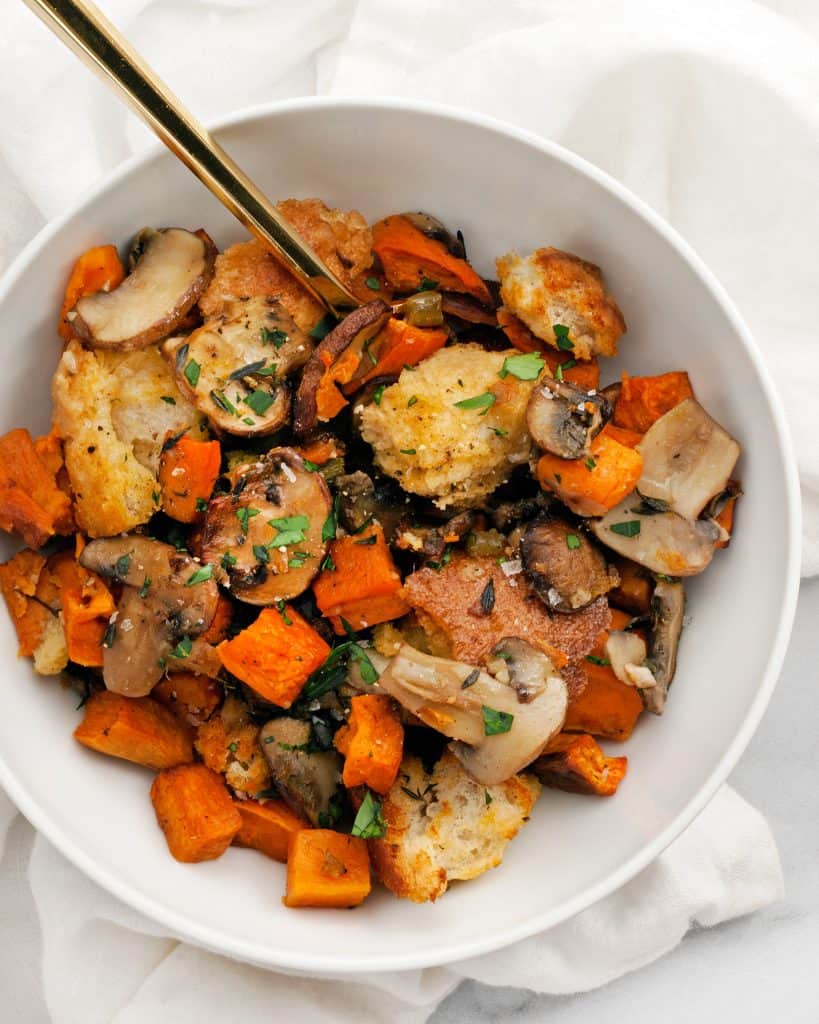 Yes, I know that bowl is another thing to wash, but it makes it easier especially as you pour in the vegetable stock.
I use a big spoon to scoop the mixture into the baking dish.
After 35-40 minutes this sweet potato mushroom stuffing has a wonderful golden crust on top crust with veggies and sourdough.
Print
Sweet Potato Mushroom Stuffing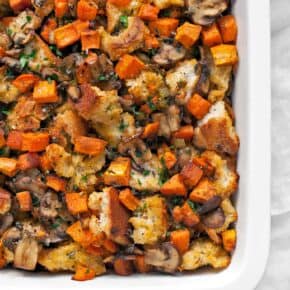 Author:
Prep Time:

40-45 minutes

Cook Time:

35-40 minutes

Total Time:

1 hour 15-25 minutes

Yield: Serves

8

–

10

1

x
Scale
Ingredients
1 loaf sourdough bread (1 pound), torn into cubes
2 tablespoons olive oil plus more for baking dish
1 teaspoon kosher salt
1/2 teaspoon black pepper
2 pounds sweet potatoes, peeled and diced
1 shallot, minced
1 celery stalk, diced
1 pound cremini mushrooms, sliced
1 garlic clove minced
1–1/2 cups vegetable broth
1 teaspoon fresh thyme
1 tablespoon chopped fresh parsley
Instructions
Preheat the oven to 400 degrees F
Place the bread on sheet pan and toast in the oven for 10-12 minutes, until the bread is dry and crusty.
Toss the sweet potatoes with 1 tablespoon olive oil, 1/2 teaspoon salt and 1/4 teaspoon black pepper on a sheet pan. Roast for 25-30 minutes until the sweet potatoes are tender and browned at the edges.
Reduce the oven temperature to 350 degrees F.
In a large skillet over medium high heat, heat 1 tablespoon olive oil. Sauté the shallots and celery for 2 minutes. Add the mushrooms and continue cooking for 5 minutes until the mushrooms start to brown. Stir in the garlic and sauté for a few minutes until the mushrooms are caramelized and fragrant.
Gently fold together the bread, sweet potatoes, mushrooms, vegetable broth and thyme in a large bowl. Spoon the mixture in a 13-inch by 9-inch oiled baking dish.
Baked the stuffing for 35-40 minutes until the top is golden brown. Sprinkle with fresh parsley before serving.
SHARE THIS